You Need Awesome
Valentine Meal Ideas
To Create The Most
Romantic Memory
Valentine meal ideas are perfect for couples decide to dine at home for celebrating this romantic day.

Take a look at this picture that I put together with some help from the internet.  "Where do you want to celebrate Valentine's Day, honey?"  "At home."  Does this sound familiar?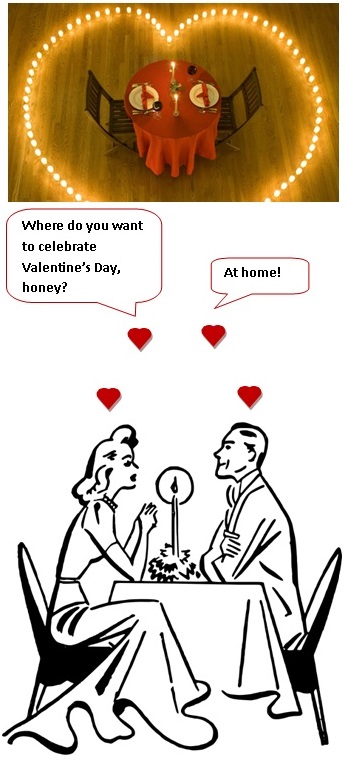 It could be either one of you to ask that same question.  It could also be one of you decided to stay home for the big day.  Then, after that, here pops another question,too, "What's for dinner?"  Or "What are we going to have?"

It could be any reasons that you decided to stay in instead of having a dinner in a restaurant.  Maybe you want to impress your partner for a new relationship.  Maybe you just want to be in a quiet environment just to enjoy both of you together.

No matter what, this menu definitely will impress your partner.
Valentine's Day Menu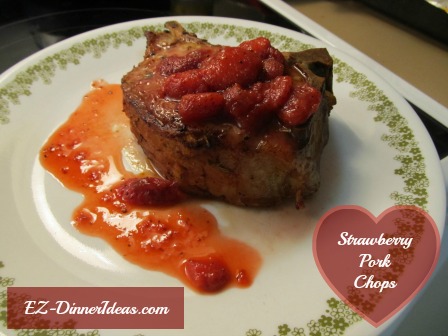 Strawberry Pork Chops - this recipe goes so well with the romantic theme.  And it is very tasty, too.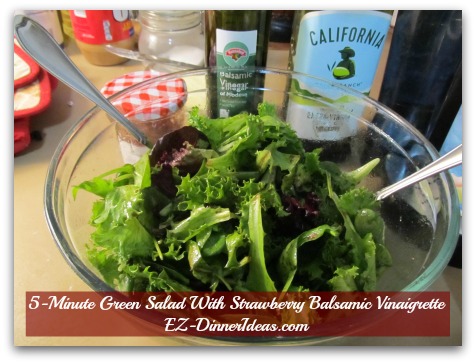 5-Minute Green Salad With Strawberry Balsamic Vinaigrette - Strawberry and balsamic vinegar always go so well together.  With a little bit of acidity, it brings out the sweetness of strawberries from both the salad and pork chops.
No-Bake Crustless Mini Lemon Cheesecake - This bite size dessert is great in so many ways.  If you want a small dessert to end a date night dinner in a sweet side, this is just perfectly for you and your significant other.
Romantic Dessert With Some Store-Bought Help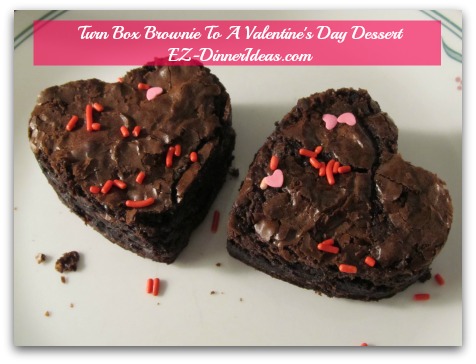 Turn Box Brownie To A Valentine's Day Dessert - Keep this under your sleeves all time. You may be surprised that you need this dessert for any date night dinner throughout the year.
Although I plan on posting a homemade dessert to go along these valentine meal ideas, you may want to use a little bit store-bought help.  In fact, it would be great if you can keep this under your sleeves all time.  Here are the kits that you need to have:

What You Need

1 Box Brownie Mix
Vanilla Ice-Cream and/or Valentine's Day Sprinkles
Baking Dish (Depends how thick you want your brownie is.  A square dish, 9" x 9", will give you a thicker brownie.  A rectangular dish, 13" x 9", will give you a thinner one.)
Heart-Shaped Cookie Cutters

Transfer brownie to a serving plate and repeat the last step for another heart-shaped brownie. Top with ice-cream and/or sprinkles
Bake brownie per package instructions and cool in room temperature (make sure cool to touch even if you want to serve the brownie warm)

Pick your desired size of heart-shaped cookie cutter and press into the brownie
Brownie will come out together with the cookie cutter and transfer brownie to serving plate
Top with ice-cream as desired (Or simply top brownies with sprinkles like I did)

Repeat from step 2 to make desired number of servings

More About Valentine Meal Ideas

A great and unforgettable valentine meal ideas is just a part of this special day.  Make sure to be attention to details.  Everybody eats with their eyes.  Having a little bit of decorations and/or table setting to go with the theme will make it more memorable.
Here are some suggestions for you:
Wine List

If you are a wine drinker, it is great to pair this romantic dinner with wine.  My hubby and I are both white wine fans.  Therefore, we always go by the white.  If you prefer red to white, please feel free to do so as well.

Romantic Dinner Table Setting

Valentine's Day Decorations


Gifts For Her


Gifts For Him


Gifts For Her and/or Him

If you have time, I highly recommend to give this sentimental and romantic gift to your significant other.  Nothing is better than in your own words when it comes to love.

You May Also Be Interested In:

Return from Valentine Meal Ideas page to Romantic Dinner For Two page

Return to Easy Dinner Ideas Homepage