Christmas Food Family Friends Festivities
Hi! Guys,

Year 2020 is and will be an unforgettable year for sure. We are in the last month of it already. There are still plenty of places closed. So, it limits a lot of shopping and gift options.

Well, I learned this very early on from my mom that gift idea can be realistic, but elegant at the same time. Let's find out!




Your Exclusive Page Password
Please note that I have added a password to protect the exclusive page for you.

Password: (You should have received it in your welcome email. If not, please email me with your email address that you used for signing up our newsletter. Thank you!)

Your Exclusive Page Link




Tip/Idea
Gift Ideas
We all love surprises and a thoughtful gift on a special day, no matter what the reason is and when it is during the year, it always feels great to receive one.

As we get older, sometimes material stuff is not as important as it used to be. My mom always asks us to give her something that she can eat and enjoy due to this same reason. So, Christmas cookies is an obvious gift idea. But some people may like to stay away from sweet. What other options you can get? Soup mix in a jar, putting together a food basket based on your knowledge of your gift recipient. For family, you can get them food delivered at their door or grocery store gift cards.




Fun Culture
Gifts / Presents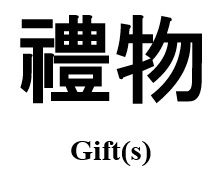 Pronunciation of the above 2 Chinese words in Cantonese is "lai mug". Mandarin is pronounced as "li wu". If we separate these words and translate them individually, their meaning is very extreme. "Lai" or "Li" means manner or polite. "Mug" or "Wu" means thing or stuff.

Wrapping gifts nicely for a big surprise is always wonderful. But you know how the wrapping process is, especially if there are more than 10 you need to wrap.

In Chinese culture, wrapping gift is optional. If you wrap it, of course, the person receives it appreciate very much. If you don't wrap your gift, no offense. People are still super happy to accept your gifts. In fact, many Chinese do not have the habit of wrapping gifts.




Featuring Recipe
Uncle Joe's Prime Rib
This is the time of the year to enjoy prime rib. It is a secret recipe from my uncle that he is so proud of that he doesn't like to disclose to anybody else. I happened to see him putting it together once, went back home, tested it and wrote this recipe.

The best part of this prime rib recipe is that it is super flavorful. I guarantee that you will never have it from the restaurant again. Recipe




Product I Recommend
Flash Drive for iPhone and iPad
I always introduce cookware or any kitchen gadgets. But this time is a bit different. This is one of the gifts that I gave to my neighbors a year back. With people using smart phone nowadays for everything, this little gadget makes transferring pics and other files from phone to your computer/laptop (or the other way round) much more convenient. Buy It Now




Be Safe and Healthy
To many people, 2020 is a horrible year. Loss of job, loss of loved ones, sickness and the list can go on and on and on. I learn during these few months about the importance of gratitude and try to find at least one thing to be grateful for on a daily basis. One is, "I woke up this morning and have the ability to tackle whatever is in front of me."

I am thankful for everybody's support of EZ-DinnerIdeas.com this year and in the past. So, let's wrap up the last monthly newsletter of 2020 with this Bible verse from 2 Corinthians 9:15, "Thanks be to God for his indescribable gift!"

Merry Christmas, everyone. Wish you and your families have a healthy and safe holiday season!




Your Support
This website is my labor of love. That's why everything is FREE. But I do have expenses, in addition of my time, to keep it going.

If you make any purchase in Amazon.com, I encourage you to click on any link on this website. Even buying a Harry Potter book, it will give me a small percentage of commission, but does NOT cost you anything.

You can also click on a "PayPal" button on the site or the link here in this newsletter to make a small donation.
Make A Donation

Any little thing you do will help this website tremendously. Thank you very much.




Spread The Words
If you think this website helps you, please spread the words to the people you care, you love and you know.

Thank you very much for your continuous support.

Until next month,
Janny

Contact Me
Facebook page
Pinterest
YouTube