Secrets To SAVE MONEY ON STEAKS – Even In This Insane Economy
Hi! Friends,

Valentine's Day will be here soon. What is your plan? If you want to have surf and turf for dinner, I am going to share with you some crazily easy tips to save big for that dinner.

No, you don't need to have a food sealer or any special kitchen gadget for that. You only need a few easy steps to follow and it will be done. The money you save here can go towards a bigger and more memorable gift you are going to get for your valentine.

Happy Valentine's Day!




Your Exclusive Page Password
Please note that I have added a password to protect the exclusive page for you.

Password: (You should have received it in your welcome email. If not, please email me with your email address that you used for signing up our newsletter. Thank you!)

REMEMBER: There is a NEW subscriber exclusive session where you can learn more Chinese fun facts. If you love history or do business with China, you will find this info fun and helpful.

Your Exclusive Page Link




Tip/Idea
Seal and Freeze Steaks for Later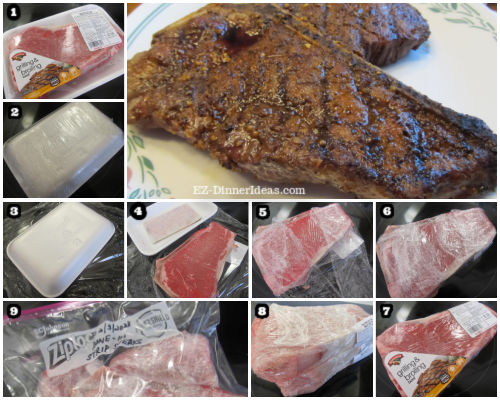 I assume that the steaks you purchased are individually packed. In most grocery stores, steaks are always packed on a foam meat tray and seal with plastic wrap. If that's the case, you are only a few easy steps away from get the meat ready for freezing.

1) On your counter, turn your completely sealed steak with meat tray upside down. (Steak side down; tray side up)

2) You should easily see where the plastic wraps are overlapping on top of each other.

3) Peel them back gently and discard the meat tray and other packaging material, but keep the plastic wrap. (Leave the price label alone. It will go along into the freezer. The advantage of keeping it is that if you need to pick out a couple steaks to thaw later, it is easier to look at the weight on the label to get the steaks with about the same weight.)

4) Your meat should be one side facing down on the plastic wrap. Use the unfolded part and wrap it around the rest of the meat tightly. During the process, try your best to squeeze out any air between the wrap and the meat. There should be more than enough to wrap up the entire piece of meat.

5) Transfer the wrapped meat into freezer storage bag and seal. Mark the date on the freezer bag so that you know when you freeze it. In a regular freezer, it is good for at least a month. In a chest freezer, it is good for at least 3 months.

If you purchased the steaks directly from the butcher counter, they may pack all of them into one. You will need to have a big piece of plastic wrap laying on kitchen counter and follow from step 4 onwards and repeat for every steak. If that's the case, you are better off to have someone to help you to rip the plastic wrap one steak at a time. It will be more efficient.

Stock up your steaks now and save BIG.




Fun Culture
Do Chinese Serve Steak for Dinner?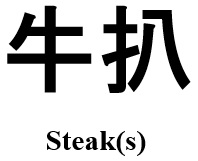 Steak in Mandarin is called "Niu Pa". In Cantonese, it is called "Aou Pa".

Steak served as a Chinese dish is very rare. Most of the time, we may use the same cut and slice it thinly and stir fry.

(Click here for MORE Subscriber Exclusive Fun Culture related to this newsletter)




Featuring Recipe
Perfectly Grilled Steaks
If you have an indoor grill, this recipe is perfect. But if you don't, here are the instructions to cook it indoor.

1) Line a baking sheet with aluminum foil for easy cleanup later if you cook more than 2 steaks at a time. A cast iron skillet will be perfect to go straight into the oven if there are only 2 steaks to cook.

2) Preheat oven at 425F with the foil-lined baking sheet in it.

3) Sear the meat on a screaming hot skillet; 2-3 minutes each side. (If you cook more than 2 steaks, you most likely will sear them separately, put the seared one aside and transfer all of them into the oven at the same time. This will make sure they all cook at the same time and evenly.)

4) Transfer meat to the pre-heated baking sheet. Follow the cook time below and turn meat over after half time. Well Done: 20 minutes Medium Well: 15 minutes Medium Rare: 10 minutes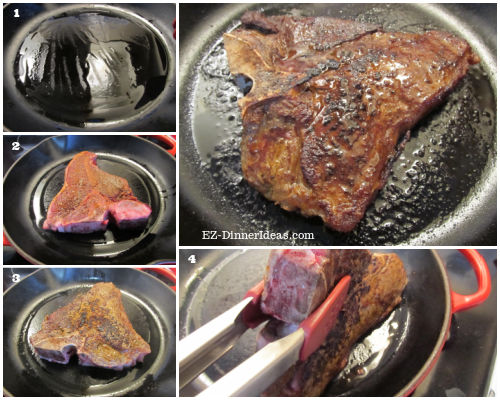 Product I Recommend
Enameled Cast Iron Skillet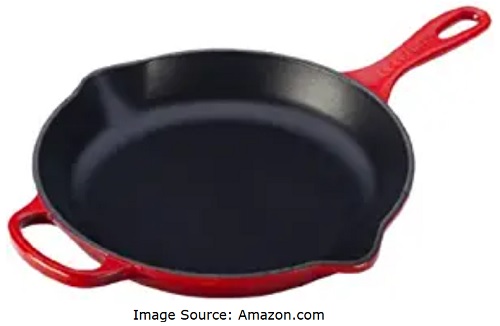 I got this exact cast iron skillet 7 years ago and love it for the convenience it gives me, especially with a glass top stove.
Be Safe and Healthy
Let's wrap up this month with this Bible verse.

"For God gave us a spirit not of fear but of power and love and self-control." 2 Timothy 1:7




Your Support
This website is my labor of love. That's why everything is FREE. But I do have expenses, in addition of my time, to keep it going.

If you make any purchase in Amazon.com, I encourage you to click on any link on this website. Even buying a Harry Potter book, it will give me a small percentage of commission, but does NOT cost you anything.

You can also click on a "PayPal" button on the site or the link here in this newsletter to make a small donation.
Make A Donation

Any little thing you do will help this website tremendously. Thank you very much.




Spread The Words
If you think this website helps you, please spread the words to the people you care, you love and you know.

Thank you very much for your continued support.

Until next month,
Janny

Contact Me
Facebook page
Pinterest
YouTube