Bacon Collard Green Spaghetti
3 Ingredients
1 Great Meal
The traditional way to prepare collard green always remind me a traditional Chinese dish that my dad loves.  But no one likes to dive into it, except him.  I
think the main reason is because of the vibrant green color disappeared from the vegetables.  Also because of this traditional dish, it inspired me to create this bacon collard green spaghetti recipe.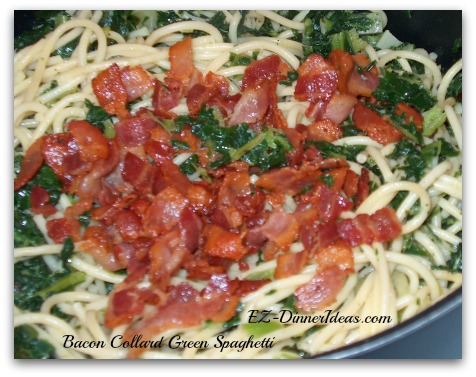 Prep Time: 5 Minutes   Cook Time: 30 Minutes   Serving: 4
People always say, "Everything tastes better with bacon."  This pasta dish tastes so good that adding garlic and onion, in my opinion, just overpowers the deliciousness of bacon.

But, by all means, if you want to add garlic and/or onion, please feel free to do so.  Enjoy!
Ingredients
1/2 pound Bacon (cut into 1/2" size)
1-2 pound Frozen Collard Green (in my opinion, more vegetables means less guilt of having bacon and pasta.  So, add more collard green if you can.)
1 pinch Crushed Red Pepper
1 pound Spaghetti
Salt and pepper to taste

1 pot of water
1 teaspoon Salt
1 tablespoon Canola Oil
Bring a pot of water to boil
Add 1 tsp salt, 1 tbsp oil and spaghetti into the boiling water; quick stir and let it cook until al dente and drain
At the same time, preheat a big skillet at medium high heat and cook the bacon
Separate into 2 batches to cook
Use spatula to stir regularly to prevent bacon sticking together
Once it is brown and crispy, transfer to a paper towel-lined plate and cook the rest of the bacon
Save 1 tbsp bacon grease and discard the rest
Using the same skillet and infuse the bacon grease with crushed red pepper at medium high heat
Stir in frozen collard green and cook until tender
Add pasta and toss to coat; salt and pepper to taste
Top it with bacon pieces and serve immediately


You May Also Be Interested In:

Return from Bacon Collard Green Spaghetti Recipe page to Pasta Recipes page

Return to Easy Dinner Ideas Homepage