Breakfast, Brunch or Dinner
Filling, But Healthy
Ham Scrambled Eggs with Onion and Pepper

Ham scrambled eggs with onion and pepper....I originally planned to make a frittata. But I decided to change it the last minute because of the principle of making quick and easy dinner recipes.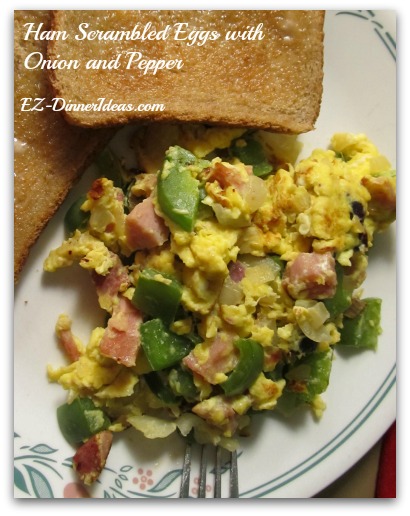 Prep Time: 10-15 Minutes  Cook Time: 10 Minutes  Serving: 4
Tips for Ham Scrambled Eggs with Onion and Pepper

I used 8 eggs in this meal. But if you have a big crowd, please feel free to add up to 12 eggs. Yes, the cook time will be longer, but just a few minutes longer, nothing significant at all.

This is a very filling and healthy meal. Not enough? Serve some hearty toasts along.

If you don't have any ham leftover, you can replace it with Canadian bacon or some ham steak.

Since the ham is very salty already, I highly recommend that you serve the salt and pepper on the side and let your guests to decide if more seasoning is needed.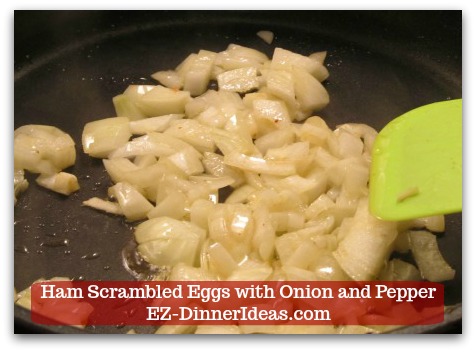 Cook onion until softened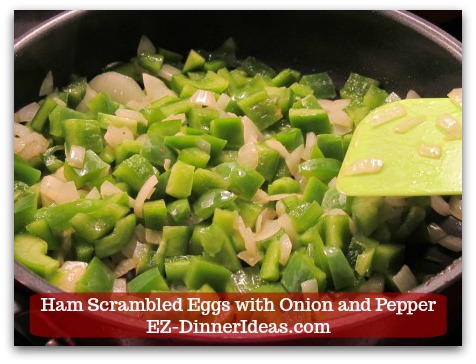 Add green pepper until warm through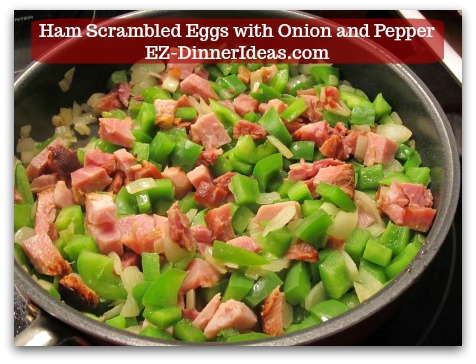 Cook ham to warm through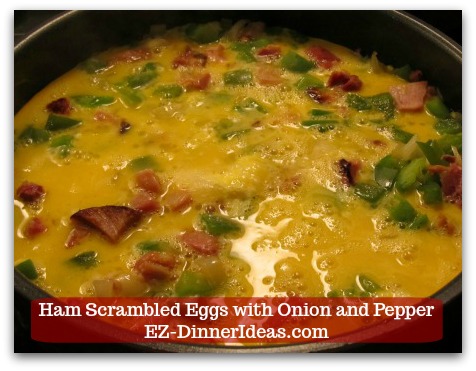 Once the edge of the eggs set, use the spatula to pull it to the center. Repeat this step until eggs are set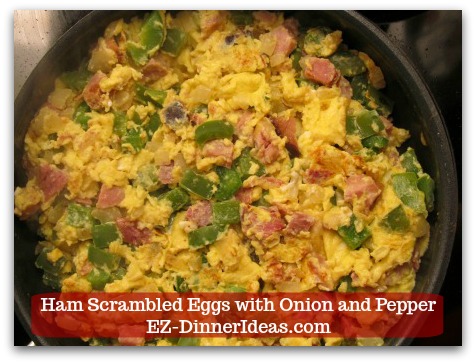 You can cook the eggs a couple more minutes to brown. Otherwise, this is ready to serve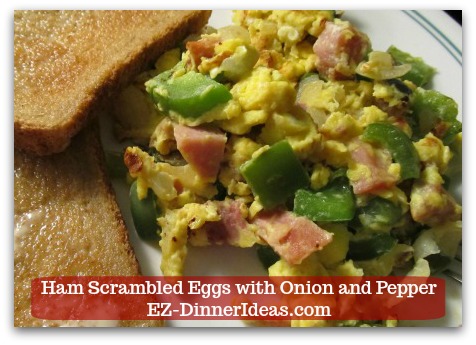 Serve ham scrambled eggs with onion and pepper with hearty wheat toasts
Ingredients
1 big Green Bell Pepper (discard membrane and seeds; diced)
1 small Onion (diced)
2 cups Ham Leftover (diced) or Pre-Diced Ham
8 Eggs (beaten)
4 tablespoons Extra Virgin Olive Oil (divided)
Salt and Pepper to taste

Preheat 2 tablespoons

Extra Virgin Olive Oil

at medium high heat in a big skillet
Add onion and cook for 2 minutes until softened
Add green bell pepper and cooks another 2 minutes

Add ham and cook about a minute
Turn up the heat to high and add the other 2 tablespoons

Extra Virgin Olive Oil

Quick stir and add eggs
When the side of the eggs starts to set a little bit, use the spatula to pull it to the center
Repeat this step regularly until eggs are set and solid (about 3-5 minutes)
Serve with toasts on the side

You May Also Be Interested In:

Return from Sauteed Ham Cabbage Recipe page to Breakfast Recipes page

Return to Easy Dinner Ideas Homepage