Lettuce Chicken Pasta Salad
A Very Versatile Recipe
Leftover, Pasta, Veggie, Dressing?
You Make The Call
Lettuce Chicken Pasta Salad is a very versatile salad and great for dinner, especially during summer time.

You can make this recipe with pasta, that you make ahead of time, and shredded rotisserie chicken meat.  Then, combine everything together just before serving.

If you have leftover of both pasta and chicken or either one, this is another great way to use it up.

Besides, you can pair it with different salad dressing.  Here are some that I highly recommend, such as Cesar, Ranch and Italian.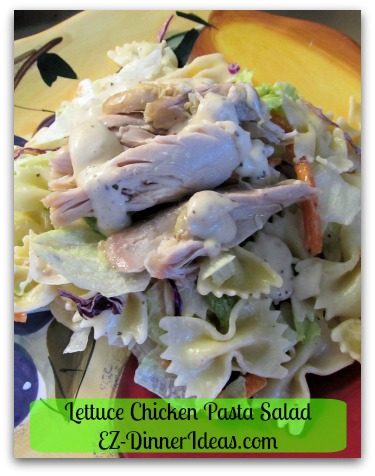 Prep Time: 5 Minutes   Cook Time: 20 Minutes   Serving: 4-6

Recipe Tips

I personally want to take the advantage of some pre-washed vegetables.  That's why I used whatever available in the market that day.

You could use romaine lettuce and/or grape tomatoes.  You can even add some nuts or croutons to add some crunch to the salad.

To load this pasta salad with more vegetables and fibers, use vegetable based or whole grain pasta.

See, there are tons of ways to add your special touch to this salad and make it your own.  Enjoy!
Lettuce Chicken Pasta Salad Recipe

1lb Bow Tie Pasta (or any short Pasta)
1 bag Iceberg Lettuce Mix
3-4 cup Cooked Shredded Chicken Meat (from leftover, store-bought or DIY rotisserie chicken)
1 cup Store-Bought Cesar Salad Dressing (divided; use any other salad dressing per your preference)
1 tsp Salt
1 tbsp Canola Oil
1 pot of Water

Bring a pot of water to a boil
Add 1 tsp salt, 1 tbsp Canola Oil and pasta
Stir well and cook until al dente
Drain pasta and let pasta cool in room temperature before chilling in the fridge
On the night of dinner, combine lettuce mix, pasta and 1/2 cup salad dressing together
Top salad with chicken and drizzle the rest of the salad dressing on top and serve
My Amazon Picks

Return from Lettuce Chicken Pasta Salad Recipe page to Pasta Recipes page

Return to Easy Dinner Ideas Homepage