One Pan Roasted Zucchini Asparagus Sausage
Great Recipe For Celebrating Fall Harvest
Or Any Time During The Year
One Pan Roasted Zucchini Asparagus Sausage was the first recipe for me to combine zucchini and asparagus together in one dish.  With the warm weather started so early this year and super high temperature, we may have vegetables out of the garden early.  It is never hurt to start planning early, right?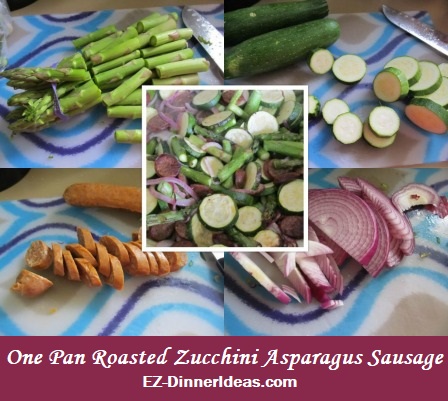 Prep Time: 20 Minutes  Inactive Cook Time: 50 Minutes   Serving: 4-6

Tips
I use spicy sausage in this recipe to give it more flavors.  Feel free to switch to any of your favorite cooked sausage.
This is a great one-pot meal with a lot of healthy ingredients in it.  Enjoy!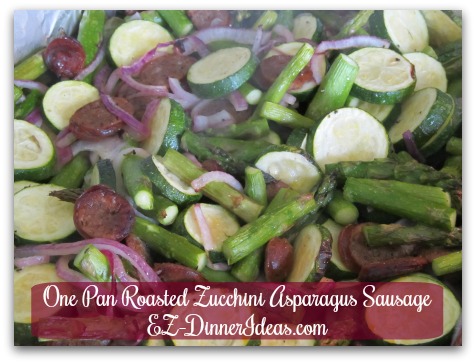 One Pan Roasted Zucchini Asparagus Sausage Recipe

Ingredients
6 Small Zucchini (sliced)
3 bunches Asparagus (trimmed and cut into 1/3)
1 medium Red Onion (sliced)
1 lb Cooked Spicy Sausage
1 tsp Salt
1/2 tsp Black Pepper
2-3 tbsp Extra Virgin Olive Oil
1/2 Lime (optional; juiced)

Preheat oven at 425F
Use both hands to hold a spear of asparagus on either end and slightly bend it.  It will snap from the tough part.  Use that spear as your measurement unit and line up with the rest of the spears and cut out the tough section and discard.  Cut the spears into thirds
Chop and drop vegetables and cooked sausage into the foil lined pan
Add extra virgin olive oil, salt and pepper and toss to coat (if you plan to add lime juice later, add lime zest in this step)
Roast in oven for 30 minutes
Toss and turn; continue to roast another 20 minutes until vegetables are crisp tender
Juice 1/2 lime (optional), salt and pepper to taste and serve immediately

You May Also Be Interested In:

Return from One Pan Roasted Zucchini Asparagus Sausage Recipe page to 
One Pot Dinner Recipes page

Return to Easy Dinner Ideas Homepage