One-Pot Garlic Parmesan Pasta
Super Tasty And Easy
For Carb and Pasta Lovers
One-pot garlic Parmesan pasta is a great side dish or late evening "snack".  You may wonder what I am talking about.

This is one of my garlic Parmesan craved recipes.  Some of you may get hungry in the late evening even you had a very satisfying dinner.  You may crave for snack or carbs.  It happens to me all the time.  And I love my carb fix.  Apparently, it is in my DNA because my uncle has the same "problem".  Anyway, if it happens to you very often, welcome to the club.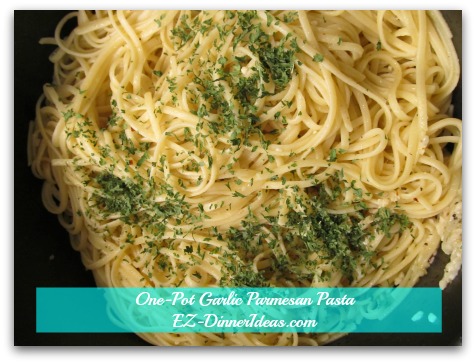 Prep Time: ZERO   Cook Time: 20-30 Minutes   Serving: 4
Like, Share & Comment
If you like any recipes on this website, please like, share and comment.  This will help other people like you to find them here.  Thank you very much for your support!

This tasty pasta recipe can use vegetable pasta, like those mix into the flour mixture already.  Then, you will have more fiber and less guilty of the carb in-take.  But, hey, why can't you indulge into something once in a while that you crave all the time, right?

Any kinds of long pasta will work well with this recipe, too.  Here are some I would highly recommend other than regular pasta:

Spinach Spaghetti (one of my favorites)
Whole Grain Spaghetti (among tons of competitors out there, I truly believe that Barilla has the best taste when it comes to any whole grain pasta)
Garden Delight Spaghetti (another one of my favorites which is always a staple in my pantry)
Black Bean Spaghetti
Quinoa Spaghetti (both of them are relatively new in the market and much more expensive than any pasta I mentioned above.  But the nutritious value is very high.)
One-Pot Garlic Parmesan Pasta Recipe

Ingredients
1 lb Linguine
3 tbsp Butter
2 tbsp Extra Virgin Olive Oil
2 tsp Minced Garlic
1 pinch Crushed Red Pepper Flakes
1/2 tsp Italian Seasoning
1/4 cup Grated Parmesan Cheese (and more for adding on top of pasta later)
2 tsp Dried Parsley Flakes
1 tsp Salt
1/2 tsp Black Pepper
1 pot of Water
1 tsp Salt
1 tbsp Canola Oil

Bring a pot of water to a boil
Add 1 tsp salt, 1 tbsp canola oil and Linguine
Stir for 2 minutes and let it cook until al dente and drain
Use the same pot and add the rest of the ingredients in, but save parsley the last
Toss Linguini to coat and add parsley on top and serve immediately
Serve extra Parmesan cheese on the side to add if needed

You May Also Be Interested In:

Return from One-Pot Garlic Parmesan Pasta Recipe page to Pasta Recipes page

Return to Easy Dinner Ideas Homepage