Oven Roasted Pork Butt with
Strawberry Pepper Sauce
Great Alternative and Affordable
Dinner Party Recipe
This oven roasted pork butt with strawberry pepper sauce recipe is definitely one of my cooking adventures. I always love to try something new. But when I first saw this piece of meat, I was thinking how great the price was and I could feed a crowd in our weekly family dinner.

Pork butt is a very affordable piece of meat. In my opinion, it is a great alternative of prime rib and turkey. It is great for family holiday dinner.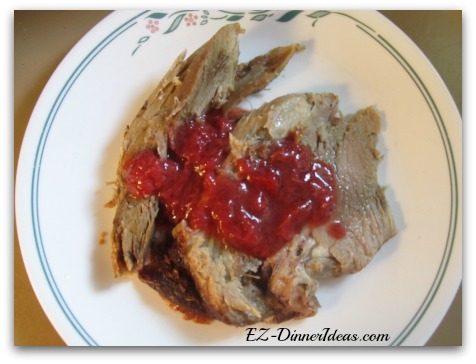 Prep Time: 20 Minutes   Active Cook Time: 20 Minutes   Inactive Cook Time: 8-9 Hours   Serving: 6-8

Ingredient
8-9 pounds Pork butt (take off the skin and leave about 1/4" of fat on top of the meat)
6-8 cloves of Garlic
1 pound Baby Carrots
6 stalks of Celery (cut into about 4-5" long)
2 pounds Potatoes (peeled and cut into bite size or about 1" all around)
1/4 cup Extra Virgin Olive Oil
2 teaspoons Salt
1/2 teaspoon Black Pepper
1 teaspoon Dried Rosemary
1/2 teaspoon Dried Thyme

For sauce only
15 ounces Frozen Sliced Strawberries (thawed)
2 heaping tablespoons Jelly Pepper
A splash of Lemon Juice or Apple Cider Vinegar (optional)
1 pinch of each Salt and Black Pepper

Line a roasting pan with aluminum foil for easy clean up later
Transfer the meat into the pan
Use a paring knife to cut 6-8 slits on top of the meat
Stuff the garlic into the slits
Mixed dried rosemary and thyme, Extra Virgin Olive Oil, salt and pepper into a mixing bowl
Rub the marinade all around the meat and cover it tightly with aluminum foil
Chill in the fridge overnight
Before cooking, take the meat out and sit in room temperature for 45-60 minutes
Preheat oven at 425F
Uncover the meat from the aluminum foil
Roast in the oven for an hour
Turn the heat down to 350F and roast for 4 hours
Scoop out the grease and discard; roast another 3 hours
Put all the veggies into the roasting pan and toss to cover with the grease from the meat and roast another hour or until temperature reaches 160F
About 30 minutes before the meat coming out of the oven, combine strawberries with juice, pepper jelly, a pinch of each of salt and pepper in a medium sauce pan
Bring it to a boil
Turn down the heat to medium low to low simmer for 15 minutes
Taste to adjust flavor, add lemon juice or vinegar if the sauce is too sweet to you
Let meat rest for 10 minutes before carving
Serve with the strawberries pepper sauce and vegetables on the side
Make Ahead - Oven Roasted Pork Butt with Strawberry Pepper Sauce
You can definitely cook ahead of time. What I did was to cook for 4 hours (follow the instructions from above for the first 4 hours of cooking; refer to Step 1-13 above)

Just before turning off the oven for the night, I cover it with aluminum foil and put it back into the oven. Then, turn off the oven and leave the meat in it.
As long as you don't open the oven door before tomorrow, the meat is ok for staying overnight no matter what the outside temperature is. Once again, leave it alone and don't touch the oven until the next day.

3 hours before dinner, turn the oven to 250F to slowly warm up the meat for 90 minutes.
Turn up the heat to 425F and uncover the foil from the meat and continuing roasting the meat for another 30 minutes. Then, toss in the veggies and continue to cook for an hour. Make sure to prepare the strawberry pepper sauce 30 minutes before serving. (Refer to Step 14-20 above)

Leftover of Oven Roasted Pork Butt with
Strawberry Pepper Sauce
How to turn the leftover of this delicious meal 180 degree to an oriental tasty, healthy, quick and easy dinner idea? 

Check out this Asian Pepper Onion Noodles recipe.

You May Also Be Interested In:

Home > Pork Recipes > Oven Roasted Pork Butt