Slow Cooker Kielbasa Cabbage Confetti
Beautiful, Easy, Low-Carb
This Dish Has It All
Call It Irresistible
This slow cooker Kielbasa cabbage confetti is so beautiful and filled with vibrant colors.  Bet you can't resist it.  Wait till you try it....it is even more than irresistible.

Cooked Kielbasa is the staple in my household.  Everybody in our family loves it.  Because of its flavor, I always like to pair it with vegetables, such as One-Pan Baked California Blend Vegetables with Kielbasa or Fruity Kielbasa Kebab.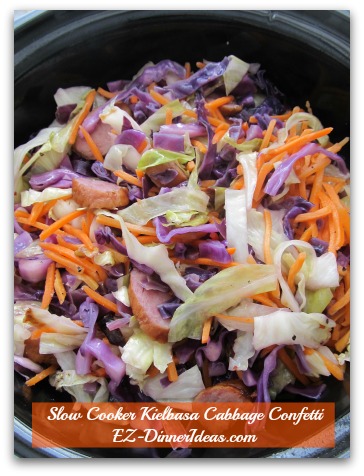 Prep Time: 20 Minutes   Cooking Time: 2-2.5 Hours   Serving: 4-6

The first time when I made this dish, I only used regular cabbage and Kielbasa.  Man, oh man....I was addicted already.  But it seemed like there was not enough.  The volume of cabbage shrank significantly.  Plus, it would be nice to have some beautiful colors.

So, I decided to use red cabbage and carrots the next time which, as a result, the Slow Cooker Kielbasa Cabbage Confetti recipe was born. 
Be Warned - Red Cabbage Discoloring
Like other red vegetables, such as red onion, radishes, red chard and so forth, red cabbage, starts to discolor after staying in the crock pot more than 3 hours.  Besides, the color will get on other vegetables and Kielbasa.  So, if there is any leftover from this recipe, you will see regular cabbage and kielbasa turn to purplish red.

If you want to stay away from this situation, feel free to skip the red cabbage entirely.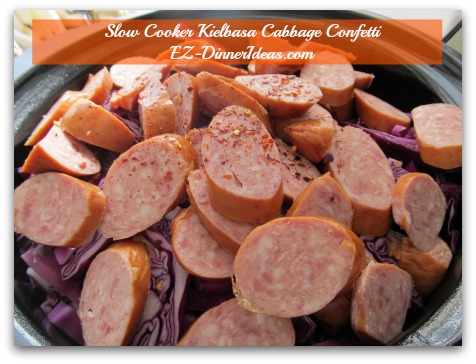 Transfer Kielbasa to slow cooker (on top of all cabbage confetti). It does look like it is overflowing. But wait....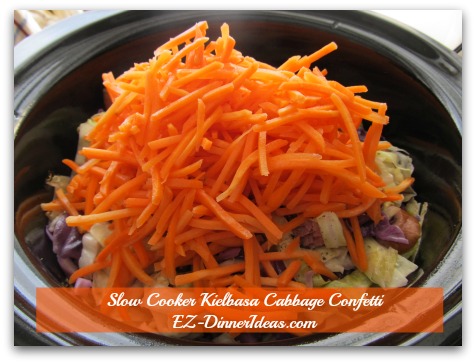 Slow Cooker Kielbasa Cabbage Confetti - Add carrot matchsticks the last and cook another 20-30 minutes
Slow Cooker Kielbasa Cabbage Confetti Recipe

Ingredients
1 head Cabbage (about 1-1.25 lbs; cored and sliced to 1/4" wide "noodles")
1 head Red Cabbage (about 1-1.25 lbs; cored and sliced to 1/4" wide "noodles")
1 lb Kielbasa (sliced about 1/3-1/2" thick)
1 bag (10 oz) Carrot Matchsticks
2 cups Chicken Broth
1 pinch Crushed Red Pepper Flakes
Salt and pepper to taste

Cut cabbage into halves and cut the halves into quarters
Slightly tilt your knife to cut the core out
Turn cabbage 90 degrees to cut across the leaves; repeat this step for the rest of the cabbage
Coat slow cooker insert with no-stick cooking spray (I use a 6-quart crock pot)
Transfer cabbage confetti into the slow cooker, then top with Kielbasa slices, crushed red pepper and add chicken broth (After putting everything in, it does look like it overflows.  But trust me, the cabbage will shrink significantly.  The liquid will not boil over.)
Cook on high heat for 1.5-2 hours or until desired doneness
Add carrot matchsticks into the slow cooker and cook for another 20-30 minutes
Stir twice in between to prevent vegetables close to the inner wall of the insert get burned
Salt and pepper to taste and serve immediately
You May Also Be Interested In:

Return from Slow Cooker Kielbasa Cabbage Confetti Soup Recipe page to Slow Cooker Recipes page

Return to Easy Dinner Ideas Homepage