Make Your Custom Cuts of Meat out of Whole Pork Loin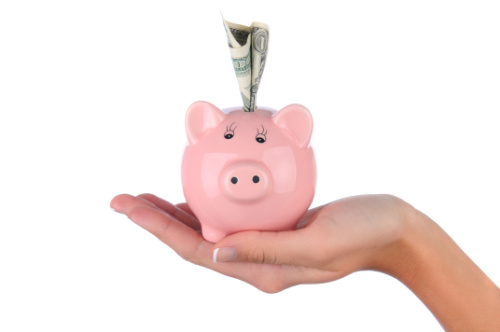 Hi! Friends,

Hope you enjoy our month newsletter with some BIG saving tips. We are going to continue this month for another one. You will be amazed how everything works out and it's super easy to make it happen.

Enjoy this experience and share with me your thoughts.




Your Exclusive Page Password
Please note that I have added a password to protect the exclusive page for you.

Password: (You should have received it in your welcome email. If not, please email me with your email address that you used for signing up our newsletter. Thank you!)

REMEMBER: There is a NEW subscriber exclusive session where you can learn more Chinese fun facts. If you love history or do business with China, you will find this info fun and helpful.

Your Exclusive Page Link




Tip/Idea
Cut Pork Loin to Make Different Cuts to Freeze and Save $$$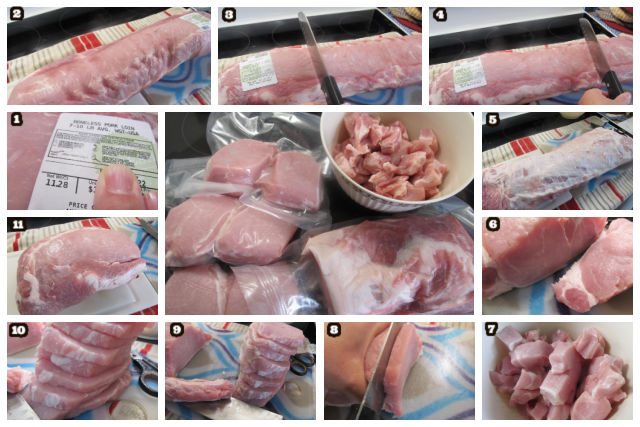 I must admit that I had never bought meat in a big package/size and cut it myself. But the inflation has been really bad that I walked away a lot of food that my family always like to enjoy. As a result, when I saw an almost-12-pounds of boneless pork loin, I decided to give it a try. The results came out way better than I expected and I was able to save average $3-4/pound of meat. How did I do it? Here are the steps:

1. What cut of meat you want - There are 4 different ways for you to cut it: a) Roast, b) Center Cuts, c) Thinly Sliced; and d) Boneless Ribs

2. Plan the cut - Bear in mind that the whole pork loin meat is not all the way the same. If you turn fat side down, you should see that one side of it has some darker meat. And there is more fat in that part. For that side of pork loin, I always love to save it for boneless ribs or roast. It will make the meat more tender and juicier.

With that said, the opposite side of the loin is almost all lean meat. That part is best for making center cut or thinly sliced pork chops.

3. Since the meat is so big, you must use 2 cutting boards to hold it up or 1 cutting board and a plate combined together.

4. To get center cuts or thingly sliced pork chops, the easiest way is to cut away at least 1/3 of the whole pork loin as roast or boneless ribs first. Then, you have a smaller piece of meat to manipulate on your cutting board. Also, there is enough meat for you to hold on to and stabilize it while you are cutting. Kitchen safety is the first priority.

5. End result, I got 2 packs of 8 slices (each) of thinly sliced pork chops that my family loves. 1 pork roast which is about 4-5 lbs and the rest was the boneless ribs (about 1.5-2 lbs).

6. The last part is to transfer each set into a bag, vaccum and seal it with a food sealer. Make sure to put down the date of the seal and the cut of meat on the bag with permanent marker. This helps a lot for you to figure out what you get from the freezer in the future.

Total time took about 30 minutes and total saving is about $30.




Fun Culture
What is Pork to Many Chinese?
Pork is a very common substitute of beef in Chinese cuisine. It is a common practice of many Chinese Taoists.

(Click here for MORE Subscriber Exclusive Fun Culture related to this newsletter)




Featuring Recipe
Portuguese-Style Crispy Pork Chop Sandwich
All those thinly sliced pork chops are great for this recipe. Hong Kong restaurants always serve it with Portuguese roll. My mom L.O.V.E.S the crunch of this sandwich from start to finish. ENJOY!
Product I Recommend
Food Sealer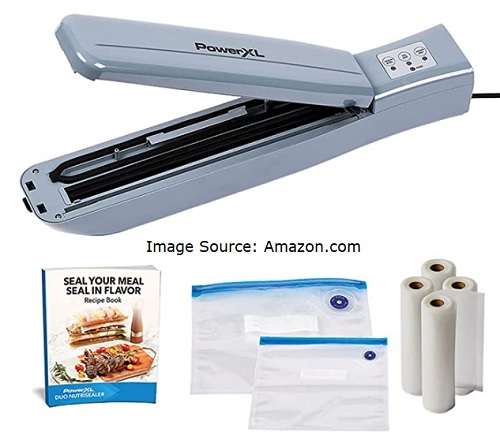 This is the food vacuum sealer I have. There are a lot of varieities out there. The nice thing about food sealer is that it is getting more and more affordable in the past few years. So, you have plenty of options to choose nowadays.
Be Safe and Healthy
Let's wrap up this month with this Bible verse.

"Fear not, for I am with you; be not dismayed, for I am your God; I will strengthen you, I will help you, I will uphold you with my righteous right hand." Isaiah 41:10




Your Support
This website is my labor of love. That's why everything is FREE. But I do have expenses, in addition of my time, to keep it going.

If you make any purchase in Amazon.com, I encourage you to click on any link on this website. Even buying a Harry Potter book, it will give me a small percentage of commission, but does NOT cost you anything.

You can also click on a "PayPal" button on the site or the link here in this newsletter to make a small donation.
Make A Donation

Any little thing you do will help this website tremendously. Thank you very much.




Spread The Words
If you think this website helps you, please spread the words to the people you care, you love and you know.

Thank you very much for your continued support.

Until next month,
Janny

Contact Me
Facebook page
Pinterest
YouTube