Breaded Pork Chops Recipe

Portuguese Crispy Pork Chop Sandwich
A Hong Kong/Macau Inspired Recipe
Now Served At Your Home
This breaded pork chops recipe, a.k.a. Portuguese crispy pork chop sandwich, was inspired by a popular Portuguese dish served in Hong Kong and Macau. It is one of my mom's favorites. 
This sandwich is usually served in mom and pop restaurants which are similar to canteen setting.  Believe it or not, this sandwich takes less than 30 minutes and it will teleport you to Hong Kong.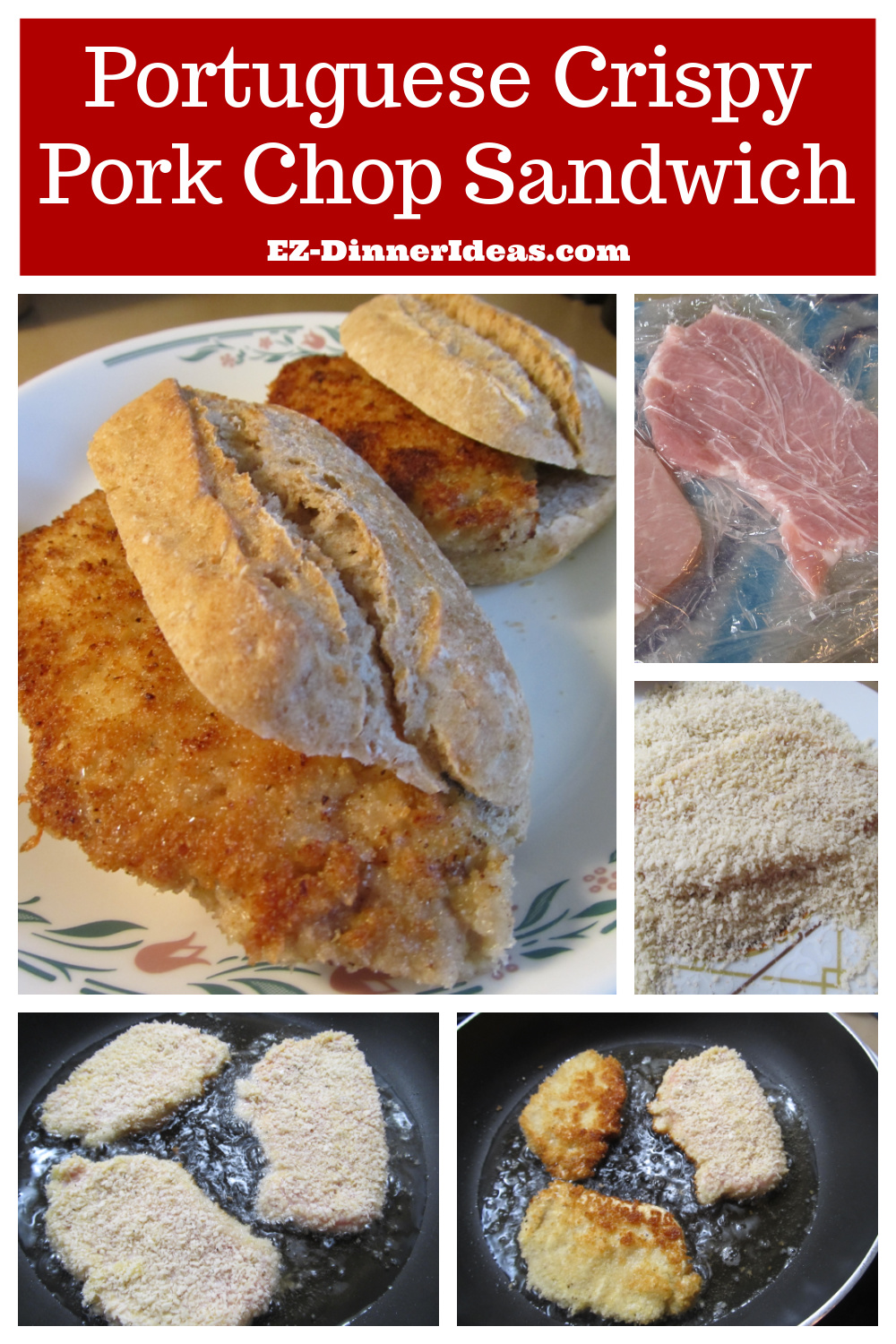 Total Time: 30 Minutes
Prep Time: 10 Minutes  
Active Cook Time: 20 Minutes  
Serving: 4



CHEF NOTES
Traditionally, this dish serves with Portuguese roll which is my mom's another favorite. It's the crunch that she loves.  To make it healthier, I use wheat rolls. Feel free to use any kind of hard roll per your preference.
You can definitely replace the meat with fish filet.  It even cooks faster and, of course, healthier.

Can be doubled.
To enjoy it like the Hong Kongese style, serve this breaded pork chops recipe with cole slaw, a strong cup of tea with milk or coffee.  


Breaded Pork Chops Recipe and Instructions
Ingredients
4 thinly sliced boneless pork chops
4 Portuguese rolls
1 Egg (beaten)
1 Cup (7oz / 202g) Panko bread crumb

Seasonings
½ teaspoon Garlic Salt
1 pinch of salt
1 pinch black pepper
¼ cup (2oz / 59g) flour
¼ cup (2oz / 59g) water (divided)
¼ cup (2oz / 59g) canola oil
If you want to toast the bread and/or keep the pork chops warm, preheat oven at 250F (121C).
Takes about 5-8 minutes to warm up the bread
For warming and toasting the bread and meat, line 2 baking sheets with aluminum foil.

One for the bread and the other for the pork chops for easy clean up later.
Line up 3 plates as below:
1st plate: flour
2nd plate: 1 eggs, 2 tablespoon water, 1 pinch of each salt and pepper(beaten)
3rd plate: bread crumb and garlic salt (mixed well)
Lay a pork chop on the cutting board, add about 1 teaspoon of water on top.
Cover with a piece of plastic wrap.
Use meat tenderizer or the bottom of a heavy skillet to pound the pork chop to 1/8 inch (.3cm) thick.
Repeat the last 3 steps for thinning the rest of the pork chops.
Dredge each pork chops (by following this order) in flour, egg wash and bread crumb mixture.
Make sure covering both sides well.
Preheat a big skillet at medium heat with 2 tablespoons of canola oil
(Side note: if you have 2 big skillets, please feel free to cook 4 pork chops at the same time.  This helps if you need to double the quantity of this crispy pork chop sandwich recipe for a bigger crowd)
Add 2 pork chops into the skillet.
Cook each side about 3-5 minutes or until golden brown.
Transfer pork chops to the baking sheet and keep them warm in the oven.
Repeat the last 4 steps for the rest of the pork chops.
Slice open the rolls lengthwise and put a piece of pork chops in between to make a sandwich and serve.



Breaded Pork Chops Recipe Steps with Photos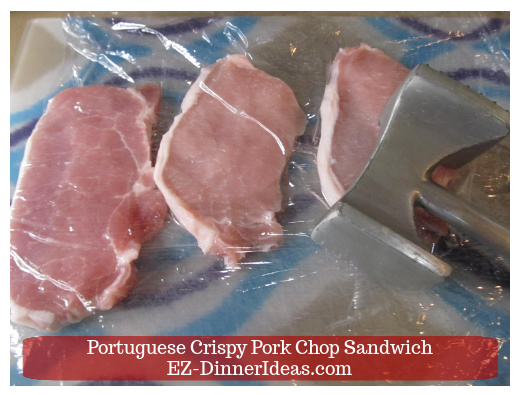 Lay pork chops on cutting board between plastic wrap with a little bit of water on top of meat.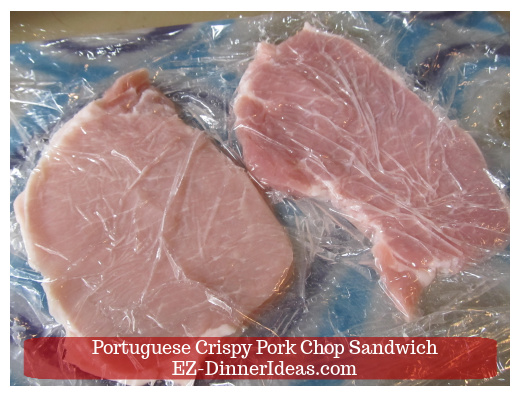 Pound thin pork chops as thin as you can.
Put together an assembly line. First plate with flour, salt and pepper.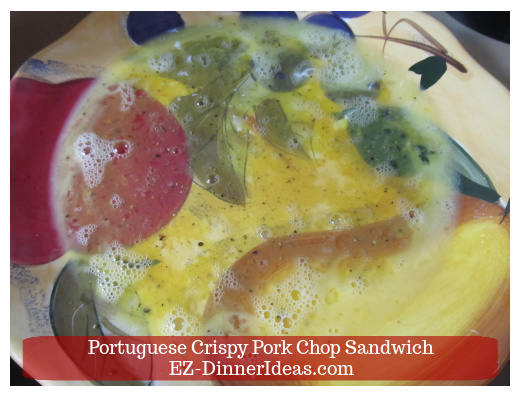 Second plate with egg wash, salt and pepper.
Third plate with panko bread crumb, seasonings, salt and pepper.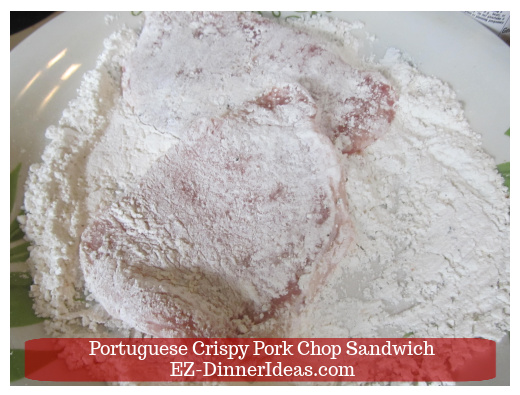 Dredge each piece of pork chop in flour mixture.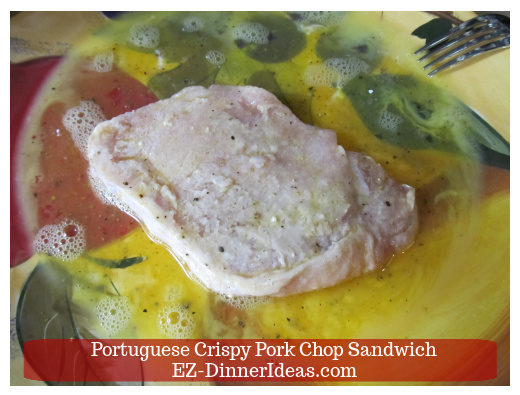 Then, into the egg wash.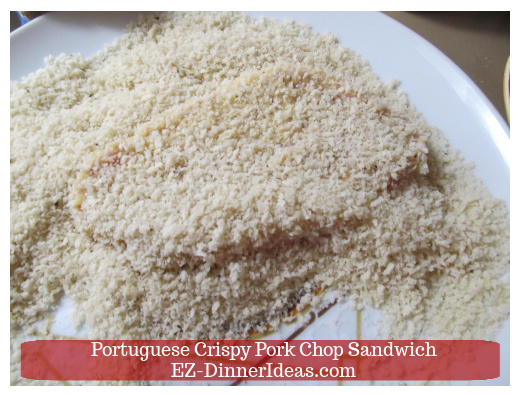 Lastly, cover it with bread crumb thoroughly.
Transfer meat into skillet and cook about 5 minutes.
Turn meat over and cook for another 3-5 minutes until cooked through.
Serve crispy pork chops with Portuguese rolls and ENJOY!
---
Serve This With: 

---

You May Also Be Interested In:

---
Home > Pork Recipes > Breaded Pork Chops Recipe