Seafood Recipes
Many Quick Easy Healthy Dinners
Seafood recipes are BIG time-saver, especially in the western countries.  Ok, I know you are going to ask me what I meant.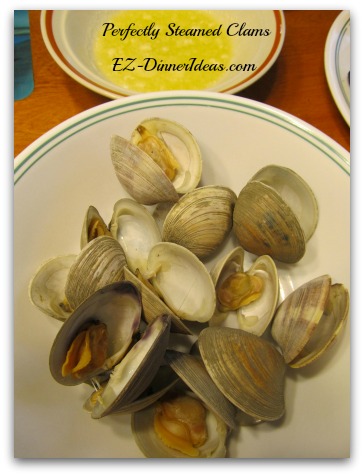 Perfectly Steamed Clams
When I lived in Hong Kong, seafood is cooked in the Chinese and Asian way.  Most of the time, we steam the seafood which preserve a lot of freshness.  However, our culture likes to have the seafood served as a whole.

Like fish and shrimp must save and serve the heads and tails on the table.  This gesture symbolizes good luck.  Fish must have the skin on.  At the end, it takes much longer time to clean and prep before cooking.

But in the western countries, I don't need to worry about it.  Most of the time, it is taken care of even before buying from the fish counter.

However, when it comes to shell fish, such as clams, mussels and some of the similar kinds, cleaning it may take you the most time.

Most of these shellfish are clean on the outside.  But cleaning the inside needs more patience than you think.  Check out my steamed clams recipe to find out the best way to clean the shell fish. (coming soon)

Other than that, seafood definitely offers an option to have a healthy, quick and easy dinner on the table for a very reasonable time.

Understanding that some people prefer one kind of seafood to another.  Therefore, I categorized the seafood recipes by seafood instead of method of cooking or types. Hope you enjoy them as much as I do:
Seafood Recipes Roll Call

Fish Recipes

Shrimp Recipes

Clam Recipes

Crab Recipes

Lobster Recipes


You May Also Be Interested In:

Thank you very much for your visit.  Please check regularly for more update of this page.

---
Home > Seafood Recipes