Outback Steakhouse Buffalo Shrimp
Easy Side Dish Recipe
Great To Pair With Other Ingredients
Make Another Quick And Easy Dinner
You may know about this Outback Steakhouse Buffalo Shrimp recipe if you watched the commercial because this side dish was not on the restaurant menu for a very long time.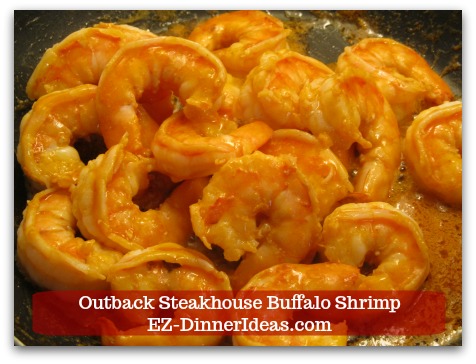 Prep Time: 10 Minutes   Cook Time: 5-6 Minutes  Serving: 2-4
Do you sometimes want to try something new in your favorite restaurant? However, just at the moment you place the order, you decide to order the one that you had in the past because you crave it badly.

At the same time, in the back of your head, you tell yourself, "I will try the new dish next time." Then, when you go back the next time, the restaurant just changed their menu. So, you don't have any opportunity to try that "new" dish.

Does this sound familiar? This was exactly how it happened with this Outback Steakhouse buffalo shrimp side dish. That inspired me to create this recipe.



Outback Steakhouse Buffalo Shrimp Recipe and Instructions

Ingredients
1 pound Shrimp (16/20 counts or whatever size is on sale; shelled and devined. The more count in a pound of shrimp; the smaller the size of the shrimp and longer it takes to shell them)
1 1/4 tablespoons Butter (divided)
1 tablespoon Extra Virgin Olive Oil
1 tablespoon Buffalo wing sauce (I use Frank's Red Hot Wings Buffalo sauce. Add more or less sauce depending on the heat tolerance of your family and/or guests)
1 pinch of salt
Preheat a big skilłet at medium high heat
Add 1 tablespoon each of butter and extra virgin olive oil
Single layer the shrimp on the skillet
Add 1 pinch of salt
Cook about 1-2 minutes on the first side or until the bottom side is pink

Turn it over and add buffalo wing sauce and toss it until all shrimps turn pink
Turn off heat and add 1/4 tablespoon butter
Toss until butter is melted
Serve with Hawaiian sweet rolls or any crusty bread and butter on the side to mop up the sauce
Tips
Can be doubled
If you double the quantity, it may take longer for the shrimp to be cooked because the more shrimp are in the same skillet, the longer it takes to heat it up.

What to Pair with Outback Steakhouse Buffalo Shrimp

You can easily pair this easy side dish recipe with other recipes to make it a quick, healthy and easy dinner.  Follow the order of the following to prepare the dishes. 
Due to the difference of cooking time of each dish, the order will help you to get the whole meal on the table at the same time without worrying some got cool down before dinner time.

My Amazon Picks

---
Serve This With: 

---

You May Also Be Interested In:

Return from Outback Steakhouse Buffalo Shrimp Recipe page to Restaurant Remakes Recipes page

Return to Easy Dinner Ideas Homepage