Butter, Oregano, Paprika
Of Course, Garlic...Makes
BOP Garlic Bread
BOP Garlic Bread…I bet you are going to ask, "What is BOP?"  B is Butter.  O is Oregano.  P is Paprika.  This is my husband's recipe. 
If you are not a garlic person like him, you would love this garlic bread recipe.  There is only a touch of garlic flavor. 
But it doesn't mean that it is not as tasty and delicious as any other garlic bread.  The herb and spice gives this garlic bread a whole new level of flavor.
Prep Time: 5 Minutes   Cook Time: 8-10 Minutes   Serving: 4-6
Like, Share & Comment
If you like any recipes on this website, please like, share and comment.  This will help other people like you to find them here.  Thank you very much for your support!

Ingredients
1 Loaf of Italian Bread (sliced at an angle about 1 inch thick)
1 Clove of Garlic (minced)
¼ teaspoon Paprika
¼ tsp Dried Oregano Leaves
4 tablespoon Softened Butter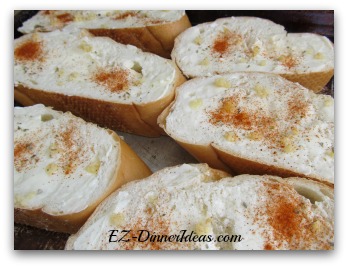 Garlic Bread before going into the oven
Preheat oven at 325F
Evenly spread butter on one side of the bread slices
Evenly divide the following ingredients on the bread in this order: minced garlic, dried oregano leaves and paprika
Line the garlic bread on a baking sheet and bake for 8 minutes
(My husband likes the bread to be very crunchy.  Bake another 3-5 minutes until it reaches desired doneness.)

Tips
If you love garlic like me, feel free to add more garlic on top of the bread
You May Also Be Interested In:

Return from BOP Garlic Bread Recipe page to Easy Side Dish Recipes page

Return to Easy Dinner Ideas Homepage