Best Garlic Toast Recipe
This Copycat The Fresh Market Garlic Toast Recipe is Made to Taste Better than the Real One
Best garlic toast recipe is an improved copycat recipe. By changing one method to make the flavor coats all around every piece. You are going to make it your own instead of buying from the bakery.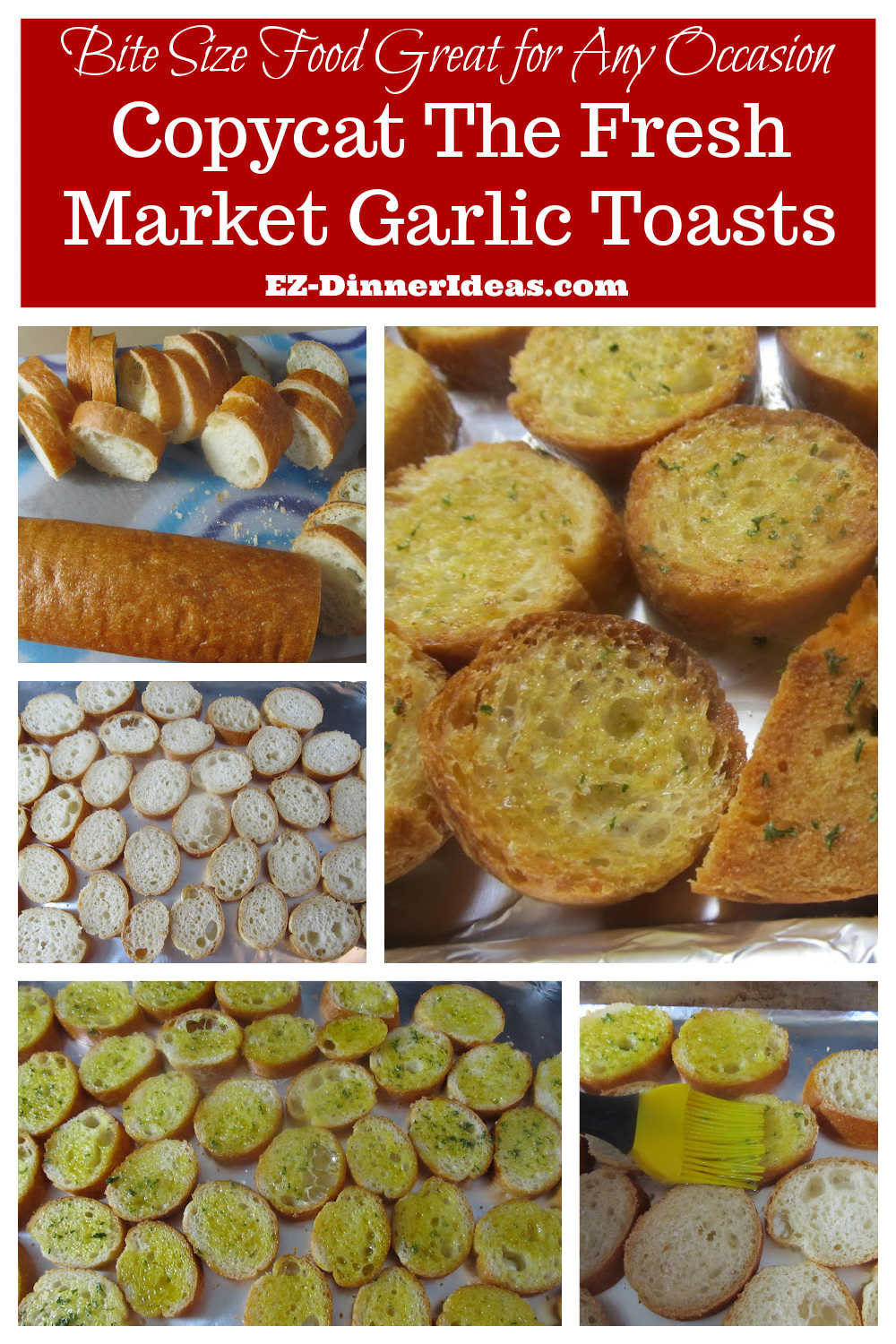 Total Time: 50 Minutes
Prep Time: 20 Minutes  
Inactive Cook Time: 30 Minutes  
Serving: 6-8


We often go to this supermarket, the Fresh Market, to get garlic toasts from their bakery because my husband loves these little bites.
However, at the time of writing, they have been sold out so often that we haven't had them for several weeks. One day, I happened to see a staff stocking the shelf and I went to ask her if there would be any coming out of the oven soon. Next, she shared with me their recipe of how the bakery made them.
She never told me the exact amount for the garlic oil mixture. But as I had guessed a long time ago that they used the exact ingredients. It didn't take me long to figure out the quantity and the ratio of the garlic oil mixture.
Before starting to make these garlic toasts, I did remember one of the complaints I heard from my husband time after time was that the toasts we bought from this bakery are not always coated with the flavored oil. Sometimes, you could have several pieces in a box with no flavor at all. With that in mind, I knew that I can never follow what the baker shared with me by tossing the baguette pieces in a mixing bowl with the garlic oil in it. I have to do something else. So, what did I do? Check out from the Chef Notes section to find out.

CHEF NOTES
First and foremost, this recipe was shared with me by the staff in the bakery section with the convection oven temperature and cook time. I have used convection oven at home for many years. So, it was super easy for me to adopt. If you happen to have a convection oven, follow the same temperature shown on this best garlic toast recipe, but cut ALL oven cook time into halves.
The French baguette from this bakery is very different from many I tried in other bakeries in the area, big or small. At least, the crust is super thin which is nowhere close to be as thick as any other French baguette. And the inside is much drier and more airy. It is totally different from the dryness of stale bread. My recommendations for you is that if you have a Fresh Market around you, you will have a better luck because you can store the toasts in an air tight container if there is any leftover. And the toasts will be good for up to a week. If you can only locate the regular French baguette, you may love the garlic toasts being crunchy on the outside and chewy on the inside. The setback is that you must finish them all within 2 days. Otherwise, they will go stale and super hard.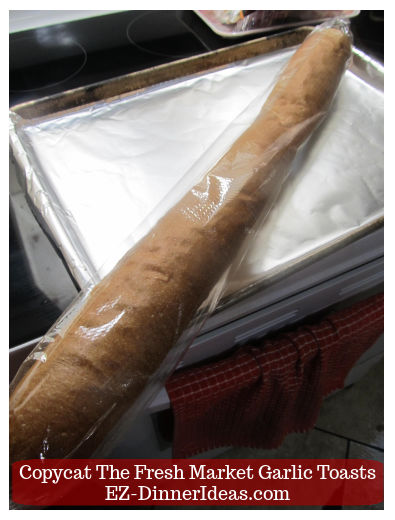 The Fresh Market French baguette looks very different from many other baguettes. It has a much thinner crush and super smooth on the outside.
The bakery we used to buy these garlic toasts admitted that they toss the toasts into the garlic and parsley infused oil in a mixing bowl. But the mixture doesn't cover every piece evenly. So, brushing the oil mixture on each toast and each side is the best and only way to make it work.

You may ask why I don't use fresh garlic.  Even though it is baked in a relatively low oven temperature, it is long enough to cause the garlic burns. Using the garlic powder will prevent that to happen.
My husband is not a big fan of too much garlic. So, a teaspoon of garlic powder may be too little for you. Feel free to double the quantity of it.
When you first take the tray of garlic toasts out of the oven, it doesn't feel like it is going to be crunchy. But wait till the toasts cool down a bit, you can feel the huge difference as soon as you take the first bite.
More butter on the garlic toasts is the way my hubby loves to do. What about you?
This recipe is great for pairing it with soup. But it is also perfect to serve as appetizer for any dinner party. You can serve it with tomato sauce spiced up with some Italian seasonings.
I seriously doubt that you will have any leftover. But if you do and the toasts go stale, crush them up and mix with the rest of the stuffing mix and make stuffing.
I love dipping these garlic toasts into soup.

Money-Saving Alternative
With the inflation since the year of 2020, a loaf of baguette is over $4. As of writing this recipe, the Fresh Market sells a loaf of French baguette for $1.99. If you are a member, you only pay for $0.99. But if we don't pass by that place every Sunday, we would have to buy a loaf from somewhere. As a result, it makes me to look for ways to save money. Here is a good news for you. Bagel is a great alternative for this best garlic toast recipe.
Bagels is a great alternative of this garlic toast recipe.
Here are the steps if you use bagels:
Cut bagels crosswise into halves. Then, cut vertically and divide them into quarters. You will get 8 pieces. Cut side up and toast in 350F (177C) for 10 minutes and let bagel pieces cool in room temperature for about 10 minutes before brushing garlic oil on top and bake for the same amount of time as you bake the garlic toasts with the recipe below. Apply this same method to other baguettes which feel a bit too wet.
Look at the inside of the bagel. It's crunchy on the outside and chewy on the inside.
---

Recipe Ingredients and Tools

---
Best Garlic Toast Recipe and Directions
Ingredients
1 Loaf of Thin Crust French Baguette (about 7-8oz or 198-227g) ; sliced about 1/2" / 1cm thick)
1 tsp Garlic Powder (My hubby only likes a touch of garlic flavor. So, I only put in 1 teaspoon. In my opinion, there is not enough. Funny that if you compare these garlic toasts with the one from the Fresh Market bakery, you will find out the flavor is exactly the same because they tossed the bread into the garlic oil mixture instead of brushing it. If you want to be more garlicy, add 2 teaspoons the max.)
1/3 tsp Dry Parsley Flakes
A pinch of Salt
1/2 cup (4oz / 119g) Extra Virgin Olive Oil
Directions

Line a baking sheet with aluminum foil for easy cleanup later.
Preheat oven at 350F (177C).
Single layer sliced French baguette on foil-lined baking sheet.
In a mixing bowl, combine garlic powder, parsley, salt and extra virgin olive oil together.
Use a kitchen brush to brush the oil mixture on the baguette slices.
Turn the slices over the other side and brush the top with oil mixture again.
Make sure both sides are brushed and slightly covered with the oil mixture.
Transfer to 350F (177C) for 30 minutes (it will be 15 minutes for convection oven).
Let it sit in room temperature for about 5 minutes and enjoy immediately.
Transfer garlic toast leftover to a glass air tight container which will be good up to a week.
---
Best Garlic Toast Recipe Steps with Photos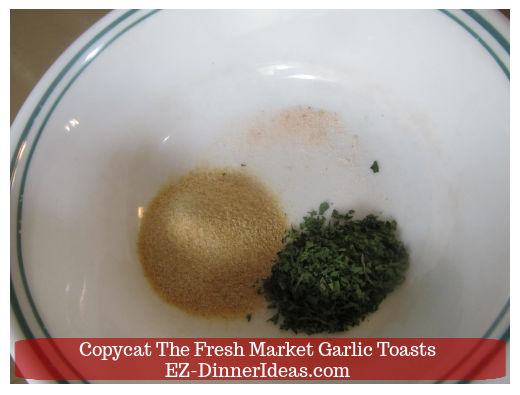 Combine garlic powder, dry parsley and salt in a mixing bowl
Add extra virgin olive oil into the same bowl with spices and seasonings
Stir to combine and put infused oil aside
Cut baguette into 1/2" (1cm) slices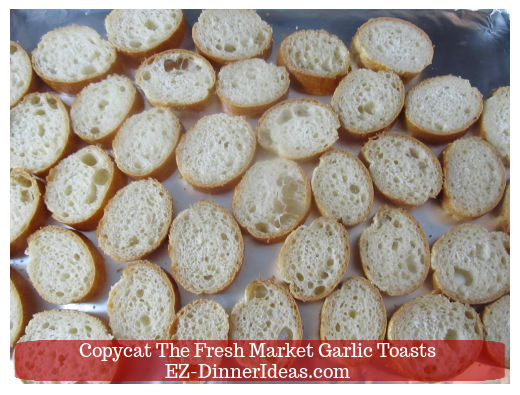 Single layer baguette slices on a baking sheet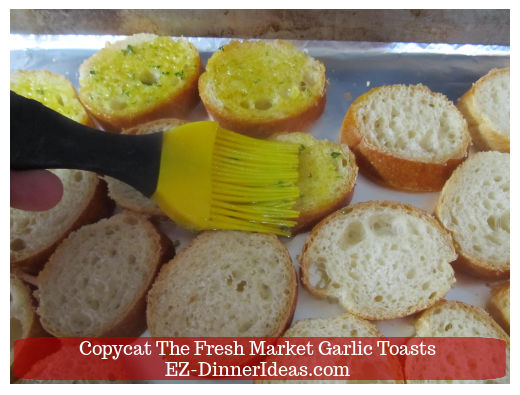 Brush garlic and parsley infused oil onto the bread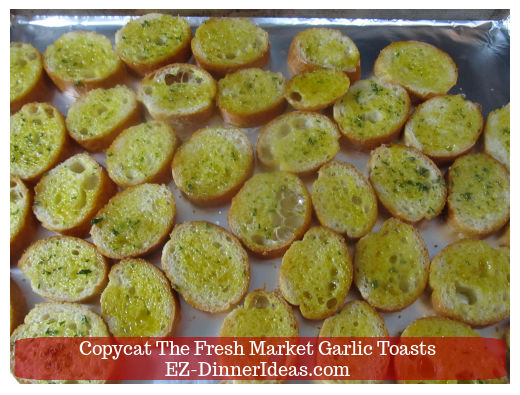 When one side of all bread slices is done
Turn slices over the other side and brush with infused oil again
Bake garlic toasts in 350F (177C) oven for 30 minutes until golden in color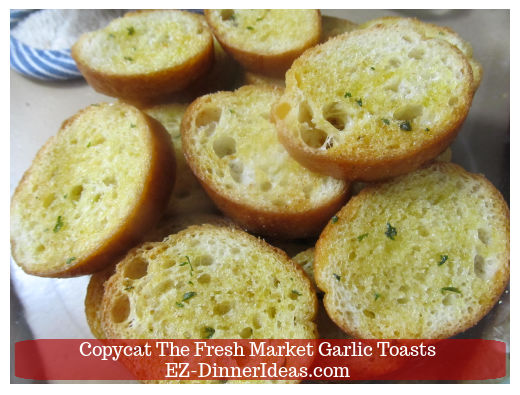 Rest them in room temperature for 5 minutes and ENJOY!
---
Serve This With: 

---

You May Also Be Interested In:

---
Home > Easy Side Dish Recipes > Best Garlic Toast Recipe | The Fresh Market Copy Cat Garlic Toasts