Garlic Cheese Monkey Bread
Great Savory Party Food
This Garlic Cheese Monkey Bread was one of the savory dishes that I brought to a coffee time at church.  Man...was it popular.  People loved it.  This is another great dish for a breakfast meeting.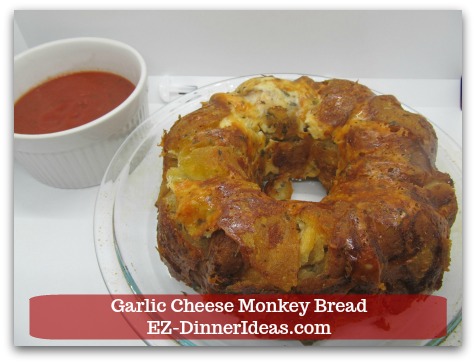 Prep Time: 15 Minutes  Inactive Cook Time: 20-30 Minutes
Serving: 10-12

Tips
I baked it first and covered with aluminum foil.
Before serving, I used the church kitchen oven to warm it up at 200F for about 10-15 minutes.  Yes, the bread was still in the bake ware and covered with foil.  This prevents it from burning or drying it out.
Garlic Cheese Monkey Bread Recipe
1 (16oz) Store Bought Biscuit Dough (cut into 4-6 small pieces for each biscuit.  I rolled each piece into a ball.  This allows the coating and cheese cover every piece evenly.)
2 tsp Garlic Powder
1 cup Shredded Cheddar Cheese
1/2 tsp Italian Seasonings
3 heaping tbsp Dry Parsley Flakes
1/2 tsp Salt
1/2 tsp Black Pepper
1/4 cup Extra Virgin Olive Oil
No-stick Cooking Spray
Preheat oven at 350F

Coat bundt pan

liberally 

with cooking spray

In a big mixing bowl, combine garlic powder, parsley, Italian seasonings, salt and pepper together

Whisk in extra virgin olive oil to form a thick paste

Add biscuit dough balls into the seasoning paste and toss to coat with hands

Add cheese and toss again

Transfer seasoned dough into the bundt pan and bake for 20-30 minutes until the top is brown and crispy

Let sit in room temperature for 1-2 minutes

Cover with a big plate on top of bundt pan and carefully flip it over 

 to remove pan

and serve immediately (Optional: serve with marinara sauce)
Transfer seasoned dough into the bundt pan and bake for 20-30 minutes until the top is brown and crispy

Recipe Ingredients and Tools


You May Also Be Interested In:

Home > Vegetarian Recipes > Garlic Cheese Monkey Bread