Totally Foolproof Pulled Pork Barbecue Recipe
Super Busy?  No Time for Cooking?
Dinner Can't Get Any Easier Than This
What made this pulled pork barbecue recipe so special?  It is so easy even someone has never been to a kitchen can do it.  Seriously?  Yes!  Still don't believe it?  Well, let's dive in.

Total Time: 4 Hours 5 Minutes to 8 Hours 5 Minutes
Prep Time: 5 Minutes  
Inactive Cook Time: 4-8 Hours  (depending on heat setting)
Serving: 6-8


Pork shoulder is the perfect kind of cut for making pulled pork because it is tender and very juicy.  And the price is very cheap.  You can't get any more budget friendly recipe than this one.
There are tons of recipes on the internet that they call for different spices and seasonings to make pulled pork.  There is nothing wrong about that.  But when you have a packed schedule, like I do, limited the spices into one jar surely makes cooking much easier.  You can pick whatever brand and combination of the spices and the sauce for this recipe.

CHEF NOTES
Regular burger buns work fine with this recipe at the time of serving.  But Ciabatta, focaccia or baguette would stay intact for much longer after adding all the juicy meat into the sandwich.  If you prefer to replace sandwiches with pasta, spaghetti is another great choice, too.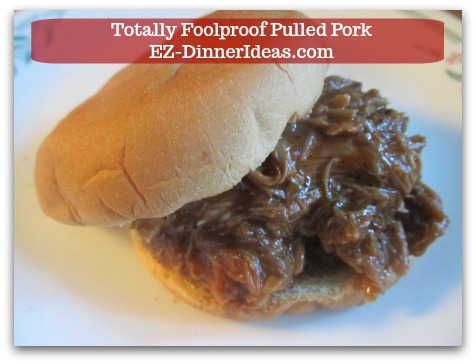 Pulled Pork Barbecue Recipe and Instructions

Ingredients

3 lbs Pork Shoulder
1 tbsp BBQ Seasoning (any brand of your preference.  I love using the coffee rub blend.)
1 1/2 cup BBQ Sauce (any brand of your preference.  I use Baby Ray's brown sugar blend.)
1 tsp Honey or Brown Sugar
1 tbsp Water
No-stick Cooking Spray
Salt and Pepper to taste
Liberally cover all sides of the meat with bbq seasoning and press it down.

Cover slow cooker insert with no-stock cooking spray.
Add 1 tbsp water and seasoned pork shoulder.
Cook on high heat for 4 hours or low heat for 8 hours.
Carefully transfer meat to a plate, discard fat and bone.
Use 2 forks to shred meat and transfer shredded meat back into the slow cooker with cooking liquid.
Stir in bbq sauce, honey or brown sugar, salt and pepper to taste.
Serve pulled pork with burger buns and some greens or cole slaw on the side and enjoy.
Pulled Pork Barbecue Recipe Steps with Photos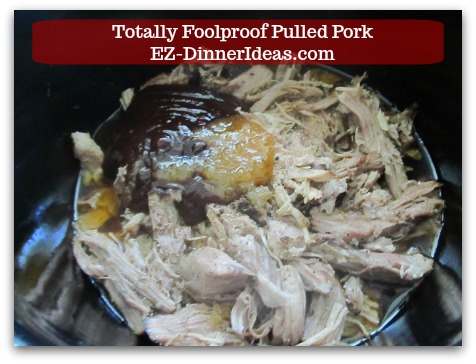 Combine shredded meat, cooking liquid, barbecue sauce, honey or brown sugar, salt and pepper to taste.
---

Recipe Ingredients and Tools

---
Serve This With: 

---

You May Also Be Interested In:

---
Home > Pork Recipes > Totally Foolproof Pulled Pork Barbecue Recipe