BBQ Pork Lo Mein Recipe
Hoisin Pork Soba Lo Mein is An Easy Fusion Meal.  Dinner will be Ready in 30 Minutes.

This BBQ pork lo mein recipe is a Chinese and Japanese fusion noodle bowl.  The soba noodles have plenty of fiber and nutrition that it is a great alternative of any noodles.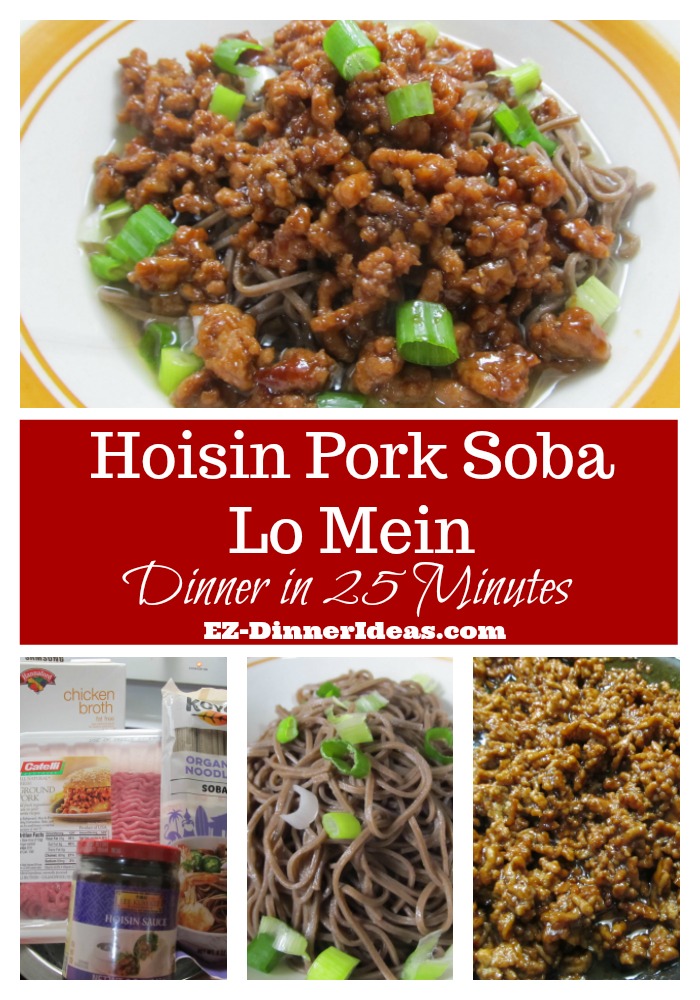 Total Time: 20-25 Minutes
Prep Time: ZERO  
Active Cook Time: 20-25 Minutes  
Serving: 2-3



What is Lo Mein?

I found that the American Chinese restaurants have been giving the wrong impression to everyone that Chow Mein and Lo Mein are basically the same.  In translation of both words "Chow" and "Lo", it may be.  They both means "stir".  But if we dive into it further, you will know that there is a big difference.  And that explains the reason how this noodle bowl is served later.

"Chow", means "stir".  This action refers to the action of stir or stir-fry with a spatula in a wok.  But "Lo" refers to the action of stir only taken place in a bowl or a plate after the food left the heat source. 
Traditionally, Chinese "Lo Mein" is a plate of noodles which were boiled and drained.  The topping always has very, very thick sauce.  A small bowl of broth is served on the side from which you can spoon desired amount on your topping and enjoy.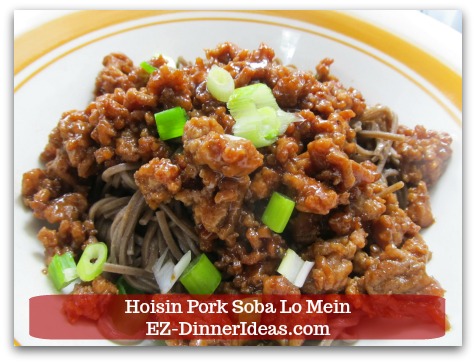 "Lo Mein" means plain noodles with thick sauce of meat and/or vegetables as topping. Stir and mix in a bowl or on a plate.

CHEF NOTES
Yes, you can double or triple this BBQ pork lo mein recipe.  However, keep broth the same amount if you double the quantity of the recipe.  At most, make it to 4 cups (946g) if you triple the recipe.  You will have plenty.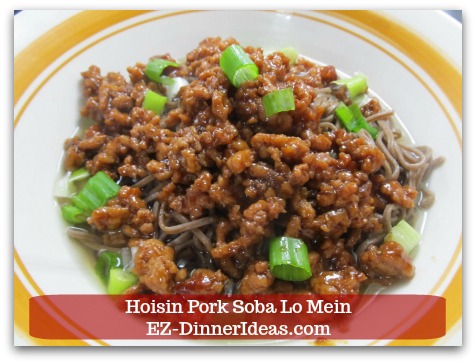 Traditional "Lo Mein" is always served with broth on the side. You can add the desired amount into your bowl or plate of noodles to thin out the sauce.

BBQ Pork Lo Mein Recipe and Instructions

Ingredients
1.5 lb (680g) Ground Pork
1 bag (8oz / 227g) Dry Soba Noodles
1/3 cup (79g) Hoisin Sauce
2 tbsp Honey
2 cups (473g) Chicken Broth
2 Scallions (chopped; for garnish only)
3 quarts (2.8L) of Water
1 tbsp Salt
1 tsp Canola Oil
Salt and pepper to taste

Bring 3 quart (2.8L) of water to boil and add 1 tbsp salt, cook soba noodles per package instructions and drain.
While waiting, bring 2 cups (473g) of broth to boil.
In a big skillet, at high heat, add 1 tsp canola oil and ground pork; use spatula to break meat into pieces.  Stir and break regularly until meat is thoroughly cooked (about 8 minutes).  Stir in Hoisin sauce and honey.  Salt and pepper to taste.
To serve, put soba noodles in a serving bowl.  Add Hoisin pork and sauce on top and garnish with scallion.  Serve broth in several small bowls along each serving .  This allows everyone to spoon in their desired amount of broth into the noodle bowl and enjoy!

BBQ Pork Lo Mein Recipe Steps with Photos
---

Recipe Ingredients and Tools

---
Serve This With: 

---

You May Also Be Interested In:

---
Home > Asian Recipes > BBQ Pork Lo Mein Recipe | Hoisin Pork Soba Lo Mein