Baby Back Pork Ribs Recipe
Restaurant Style Easy Baked Fall-Off-The-Bone Ribs is the American Classic Comfort Food Done In Your Oven

This baby back pork ribs recipe is super easy and low maintenance.  Believe it or not, you can get the restaurant quality from your oven at home.  I am sure you will put this on top of your favorite recipe list after the first trial.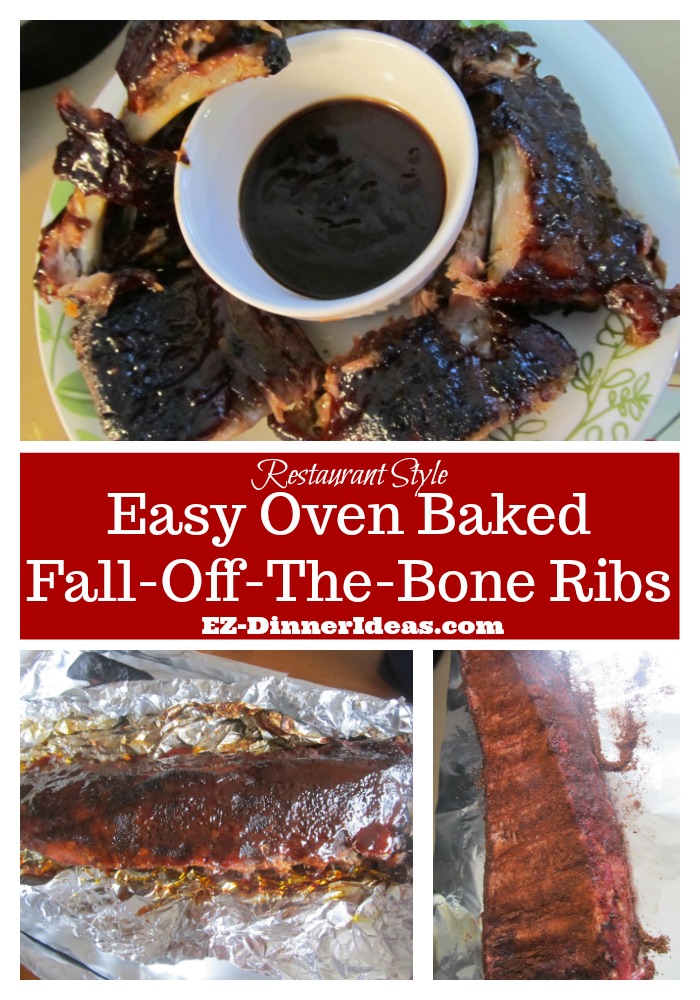 Total Time: 3 Hours - 3 Hours 30 Minutes
Prep Time: 15 Minutes  
Active Cook Time: 15-20 Minutes  
Inactive Cook Time: 2.5 - 3 Hours  
Serving: 3-4


I never thought that I would cook this American classic myself. We always had this dish in a restaurant.

Before making this baby back pork ribs recipe, I seriously believed that it would be too much work and time to make a dinner like this at home.  (Specially, if you have seen enough videos or TV shows of how these ribs cooked in a restaurant setting.)  It was way better to step into a restaurant and enjoy the meal without too much mess, right?  That had been my perception for a long time before making this dish on my own.
But what made me to do it myself? Well, we used to go to this restaurant quite often which claims that their ribs are their specialty, or best in town.  However, we realized that the quality of their ribs fluctuated.  Sometimes, they were really good.  Sometimes, they were not even up to standard.  

Hearing that same complaint from my husband over and over for so many times, I decided to give it a try to do it myself. Little did I expect that it is out of this world.  It is way better than going into a restaurant to enjoy it.

What I like about this recipe is that if it is on a day when you stay at home, your oven does multi-tasking for you. Really?  Really, no kidding.  It makes the whole house smells good and feels cozy, especially on a cold, rainy day. 
Throughout all these years, I learn that different people have different preference of BBQ sauce flavors.  You sure can decide however you want it with this baby back pork ribs recipe.  You can use any store bought brands, like I do here, or personalize your BBQ seasonings and sauce.  What not to love, right?

Throughout the time when the ribs cooking in the oven, you can either relax or do other chores in your house.  The "hardest" work you need to do with this dish is wrapping the ribs really tight with foil and then unwrap it before putting the ribs under the broiler.  Your active cook time is to warm up the sauce for glazing and dipping later.

Believe me, when you see these easy BBQ baby back ribs serving on the table falling off the bones, you will be super proud of yourself.  Once you take that first bite, you are going to plan for making it again soon.


CHEF NOTES
Start cooking this easy BBQ baby back pork ribs recipe around 2pm on a weekend, it will be ready for dinner by 5:30-6pm. 
If you plan on serving any side dish or a salad along, you have plenty of time to do so.
The membrane at the back of the bone is edible.  The reason why you want to remove it is for couple reasons, i.e. 1) presentation and 2) texture.  For most westerners, the texture of that membrane is not very appetizing.  It sometimes can take a while to find a spot where you can start peeling it off from the meat.  Be patient.  Once you found that spot, keep peeling.

You can pair any store bought BBQ seasoning and BBQ sauce together.  I personally paired many of them together at different times.  This baby back pork ribs recipe always come out delicious.  However, different people have different preference.  For instance, my hubby and my son like the coffee BBQ rub with brown sugar flavored BBQ sauce.  You can always put your personal touch on the flavor.  If your are the beginner, start with the most basic flavor first.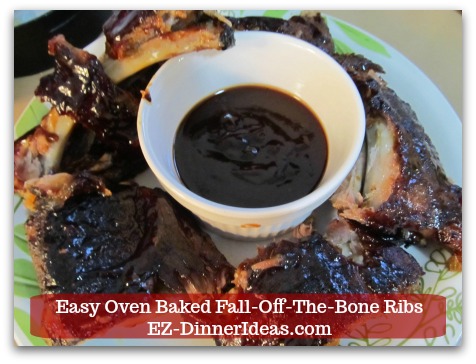 ---

Recipe Ingredients and Tools

---

Baby Back Pork Ribs Recipe
Ingredients and Instructions

Ingredients
3.5 lbs (1.59kg) Bone-In Baby Back Ribs (membrane removed and discard)
2 heaping tbsp BBQ Seasoning (of your preference; I use the coffee BBQ rub)
2 cups (15oz / 404g) BBQ sauce (any kind you want; I use Baby Ray brand Hickory and Brown Sugar)
¼ cup Water
2 heaping tbsp brown sugar (you can also use honey instead)
Salt and Pepper to taste

Preheat oven at 325F (163C).
Line a rimmed baking sheet with aluminum foil for easy clean up later. (I personally line 2 layers of foil in case it breaks and leak during the cooking process)
Turn ribs over with bones facing up, remove membrane and discard.
Lay the rack of rib on another piece of foil and sprinkle BBQ Seasoning generously over the entire baby back rib from top to bottom.
Use aluminum foil wrap the entire rack of ribs tightly.  Make sure every part of the rib is covered with foil.  Then, transfer the foil covered rib  on foil lined baking sheet bone side down.
Bake ribs in the oven for 3-3.5 hours.
About 20-30 minutes before the cooking hour is up, mix BBQ sauce, brown sugar and water together; salt and pepper to taste in a medium sauce pan and simmer. (The sauce may look watery.  But it will condense later without burning the meat.)
Once the cook hour is up, preheat the broiler.

Uncover ribs from the foil.  (You don't need to remove the foil completely.  This step only needs to expose the ribs to finish under the broiler for the last step.)

Assume that you have already had the meat side up before putting the ribs into the oven.  Otherwise, it will be a challenge to turn the rack over now. Glaze the rack of baby back ribs with BBQ sauce liberally and put it under the broiler for 1-1.5 minutes.  (The ribs should not be under the broiler for more than 2 minutes.  Or, the meat will be burned.)

Take the ribs out of the oven and serve along with more BBQ sauce for dipping.  (This baby back pork ribs recipe is also great with cinnamon apple, salad or fries on the side.)
Baby Back Pork Ribs Recipe
Steps with Photos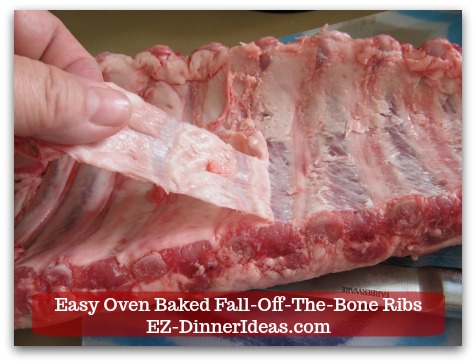 Use a short knife to find the membrane. Then, pull and discard
Here is a rack of ribs membrane free.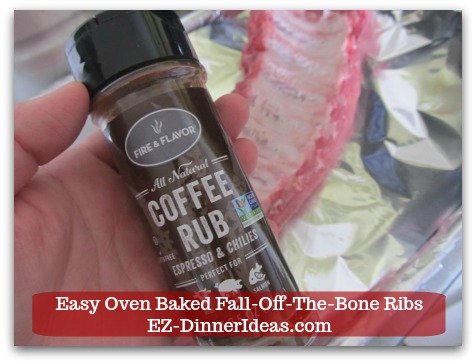 I use this BBQ coffee rub for seasoning. You can use any store bought brand or make your own.
2 tbsp of BBQ rub on the back of the ribs.
Rub and cover every spot of the ribs.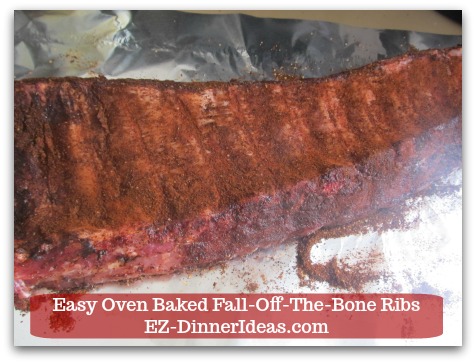 Make sure to cover both sides where the bones exposed.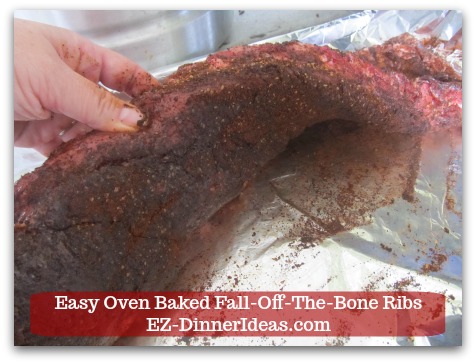 Turn it over and add another 2tbsp of BBQ rub and cover the rest of the meat.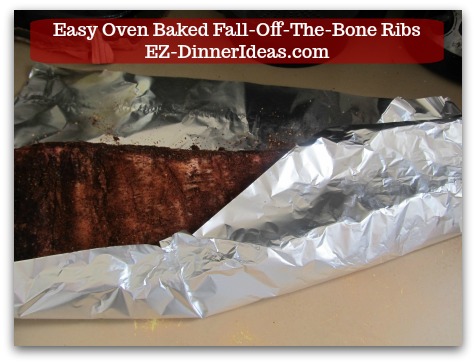 Bone side up and cover the entire rack with aluminum foil tightly.
See that little gap where it is not covered with aluminum foil?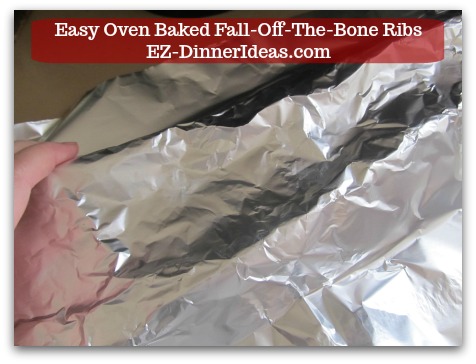 Use another piece of foil and cover on top to seal the ribs tightly.
Transfer the foil covered baby back ribs to the baking sheet and meat side up.
After 3-3.5 hours later, meat is falling off the bone. Uncover the meat.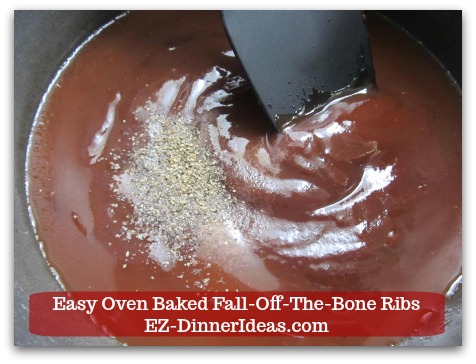 Mix store-bought BBQ sauce, water, sugar, salt and pepper to taste.
Sauce should be thick enough to coat the back of a spoon. But it is not super thick.
Add BBQ sauce on top of the ribs and broil it for 1-2 minutes.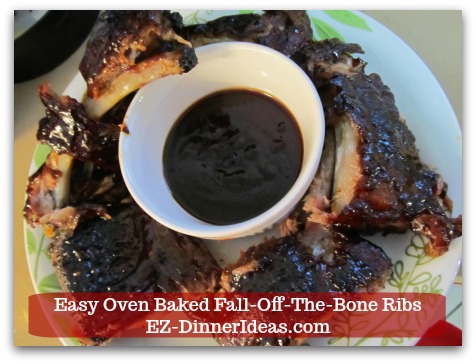 Serve baby back ribs with more BBQ sauce for dipping.
---
Serve This With: 

---

You May Also Be Interested In:

---
Home > Pork Recipes > Baby Back Pork Ribs Recipe