Side Dish?! Comfort Food?!
All In One Dish
Warm Cinnamon Apples
This warm cinnamon apples recipe is the most favorite side dish in my household. My family always loves to have it together with any pork dinner recipes, such as BBQ pork tenderloin, slow cooked BBQ baby back ribs and maple mustard pork loin (coming soon).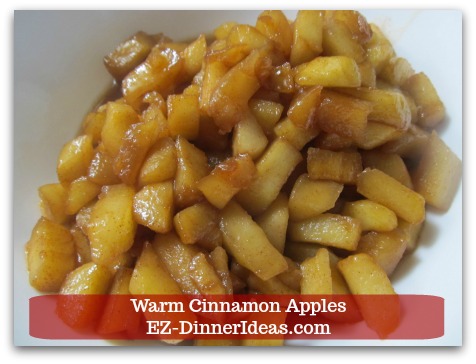 Prep Time: 15 Minutes   Cook Time: 8-10 Minutes   Serving: 2-4
Talking about heavenly, wait till the ground cinnamon hits the warm apples. OMG...nothing smells better than that.

In fact, if you go to any restaurant serving ribs, you will find a side dish called by about the same name. So, this is another restaurant remakes recipe for you.

The difference is that you can have a bigger or smaller serving per your reference. You can also control the crisp tenderness.

The inspiration of this side dish recipe was our annual apple picking trip. In upstate New York, there are many apple orchards. Throughout all the years, we developed this family tradition of visiting that same orchard every year.

Of course, we have the apple cider donuts and apple cider during our visit. Last but not least, we pick our apples. While we are there, how can you resist of not getting tons of freshly picked apples? At the end of each trip, we get at least 50+ apples home.

Even though the old saying says, "an apple a day, keeps the doctor away." You will get tired of the same thing over and over every day. That was how I came up the idea of this recipe.

My family and I love crispy apples. Even though we cook them, we like the crisp tender texture. Cortland is our all-time favorite. Please feel free to choose your favorite kind of apple for this warm cinnamon apples side dish.

If You Want To Double or Triple This
Warm Cinnamon Apples

Once you try it, I am sure that you want to double, triple or quadruple this warm cinnamon apples recipe.  So, what should you do?
The ratio is for every 2 apples, add 1 tablespoons butter and 1 heaping tablespoon of brown sugar. Dark brown sugar does give a nice color. But light or dark brown sugar is fine.

How To Cut The Apples?

Peel the apples
Cut it in half in the middle and cut the halves into quarters
Cut out the cores of each quarter
Slice it lengthwise about 1/4 - 1/3" thick
Now you know all the basics.  I hope you are excited to try out this recipe.
Ingredients
4 regular size apples (peeled; cored and sliced per instruction above)
2 tablespoons Butter
2 tablespoons Brown Sugar
A splash of lemon concentrate
Dashes of ground cinnamon
Transfer all apples into a big skillet
Add butter and turn on the heat to high
Add lemon concentrate and brown sugar
Toss to combine and stir regularly
Cook for 8-10 minutes until crisp tender
Transfer to serving plate
Add a few small dashes of ground cinnamon on top and serve
---
Serve This With: 

---

You May Also Be Interested In:

Home > Easy Side Dish Recipes > Warm Cinnamon Apples