Slow Cooker BBQ Chuck Roast
A Slow Cooker Recipe
Served 4 Different Ways
Calling this slow cooker BBQ chuck roast a bombshell is an understatement.  Are you ready for the flavor explosion?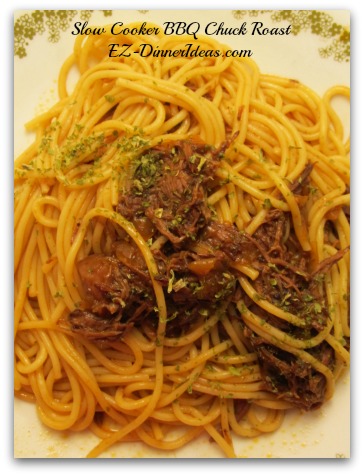 Prep Time: 15 Minutes   Inactive Cook Time: 8 Hours  Serving: 6-8
I always love to put chuck roast into the crock pot because it is the perfect cut of meat to cook it slow and low and still have great flavors with juicy meat.

You can serve this dish in 4 different ways.  In my opinion, taco is the best.  But make any adjustment as you need.  This recipe is not only a great dinner idea, but also fantastic serving in parties, lunch and dinner to-go.
Ingredients

2.5 lbs Boneless Chuck Roast
2 medium onions (sliced)
1 can Coke
2 Dried Bay Leaves
2 tbsp BBQ Seasonings (I use either Bone Suckin' Sauce Seasoning & Rub or Coffee Rub)
2 cups BBQ sauce (I use the Sweet and Spicy Sweet Baby Ray's BBQ Sauce; divided)
2 tbsp Worcestershire Sauce
2-3 tbsp Dark Brown Sugar
Salt and pepper to taste
No-stick Cooking Spray



Bone Suckin' Sauce All Purpose Rub
Coat no-stick cooking spray on a slow cooker insert
Lay onion at the bottom
Add coke, bay leaves and Worcestershire sauce in
Rub BBQ seasoning on all sides of meat; then cover it with 1 cup BBQ sauce and transfer to crock pot which should be on top of the onions
Cook at low heat for 8 hours (I tried to cook it at high heat for 4 hours.  But the meat was nowhere close to ready.  So, unfortunately, cooking on high heat for a shorter period of time doesn't work in this recipe)
Take out the meat and shred it with 2 forks and transfer back to slow cooker
Discard bay leaves (Some of my family do not like cooked onion.  So, I take out the onion at this time, as well, to put it aside for serving.)
Add the other cup of BBQ sauce, brown sugar, salt and pepper to taste and serve immediately
Slow Cooker BBQ Chuck Roast Taco
Ingredients
1-2 Avocados (pit removed and discarded; cut flesh into slices)
Soft Taco and Crunchy Taco Shells
Shredded Mexican Cheese Mix
Sour Cream
1 Jar Salsa (optional; I personally think that the BBQ chuck roast is flavorful enough for the taco.  But your family and/or guests may think differently.)
1/4 Head Lettuce (optional; shredded)
2 Roma Tomatoes (optional; diced)
(By including all the optional ingredients, it will add about 10-15 minutes more prep time on top of the original prep time.)

Transfer soft taco to microwave safe plate and cover with wet paper towel and cook for 1-2 minutes until warm to touch
Serve immediately along with the above additional ingredients and condiments
Slow Cooker BBQ Chuck Roast Spaghetti
Ingredients
1 LB Spaghetti
Dried Parsley (optional; for garnish only)
1 tsp Salt
1 tbsp Canola Oil
1 Pot of Water

Prepare the spaghetti about 30 minutes before dinner
Bring a pot of water to boil, add salt, oil and spaghetti
Quick stir and slightly under cook 1 lb spaghetti and drain
Transfer all spaghetti into slow cooker and toss to coat
Add parsley to garnish and serve immediately
Slow Cooker BBQ Chuck Roast Sandwich
This most probably is one of the easiest way to get dinner ready and serve.  The slow cooker BBQ chuck roast is warm enough that you can skip warming up the sandwich rolls.

Serve a super quick and easy side dish on the side, Rosemary Sweet Potato Oven Fries.

You can also save the meat leftover and make a sandwich for lunch or dinner to-go.

Ingredients
8-16 Sandwich Rolls (depending how many people you want to feed.  I highly recommend to pick the rolls similar to the texture of Chibata bread which soak up all the juices and sauce, but not soggy)
Slow Cooker BBQ Chuck Roast Sliders
Making sliders and serve in party would be a big crowd pleaser with this recipe. 

Ingredients
18-20 Slider Buns

Slice across the buns and having both sandwich sides facing up and toast in the oven at 350F for about 5 minutes (This toasting process is to help to dry up the moisture of the sliders which allow the buns to absorb more BBQ sauce from the meat.)
Put BBQ chuck roast on top of one side and cover it with the other half of the buns
Cut up the sliders and serve with chips, hot and spicy pickles or pickled peppers on the side in party

Recipe Ingredients and Tools


You May Also Be Interested In:

Return from Slow Cooker BBQ Chuck Roast Recipe page to Slow Cooker Recipes page

Return to Easy Dinner Ideas Homepage