Quick Beef Chuck Steak Recipe Ready in 30 Minutes

An Easy, Affordable Way To Feed A Family or A Big Crowd

This quick beef chuck steak recipe is easy and cheap.  If you have a big family or need to feed a big crowd, this is the way to go.  I will show you how to make a 30-minute chuck steak dinner for 2.  Also, I will show you how to prepare it for feeding 4 assuming that these 4 people are big eaters.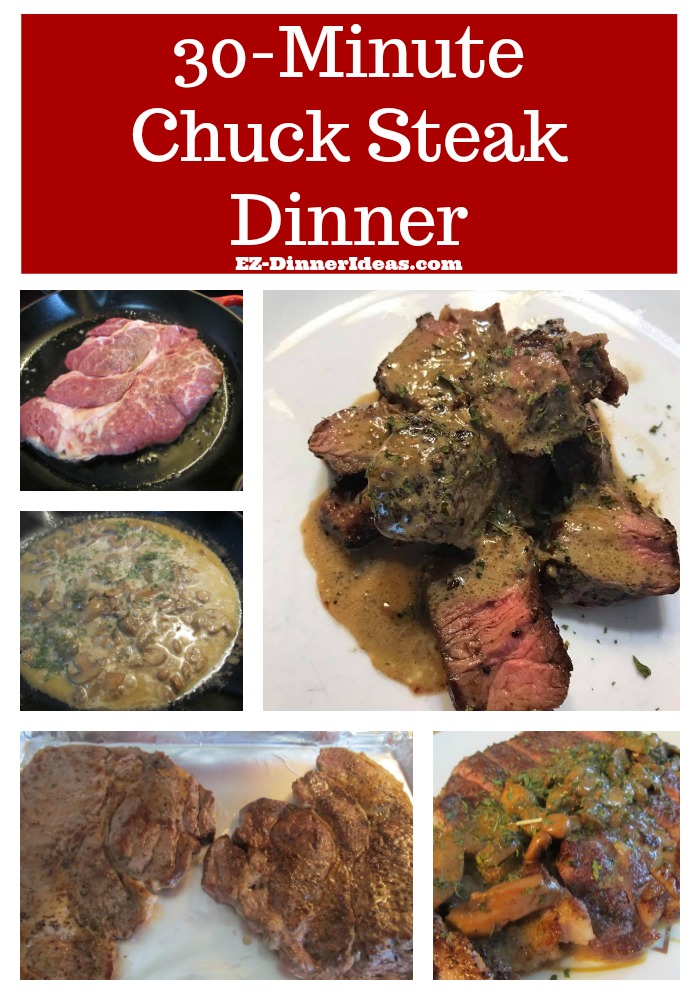 Total Time: 35 Minutes
Prep Time: 5 Minutes  
Active Cook Time: 12 Minutes  
Inactive Cook Time: 18 Minutes  
Serving: 2-4


We always have porter house, T-bone, filet mignon or strip steak for dinner.  We never purchased and served any cut other than those because those are my husband's favorites.  To him, if not any one of those cuts, we are wasting money.
Well, my little one is a growing boy.  Just like his old man, he loves steak.  But he is more open-minded.  When he asked me to make a steak dinner again after so many time, I asked him if he would try a cheaper cut of meat.  (Because at the back of my mind, I am tired of making the same steak dinner over and over again.)
Right away, he agreed.  (Yeah, that made this mama super happy.)  So, that was how this chuck steak recipe was born.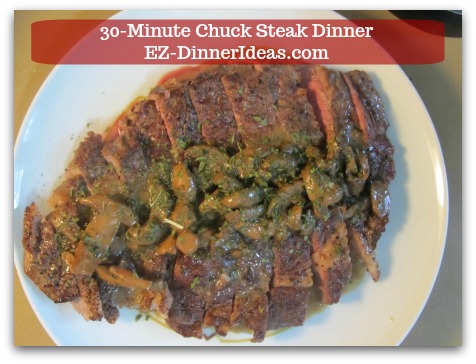 CHEF NOTES
My preference of my steak is cooked to medium rare or medium well.  A little bit of pink in the middle is the best to me.  
However, I found that when it comes to chuck steak, you are better off to have the steak fully cooked so that it is tender all the way.  
Thinking about it, chuck roast is a similar kind of cut.  It needs long cooking time.  Apply the same rule to chuck steak makes sense.

Just like cooking other steaks, I let the steaks stay at room temperature.  I usually take them out around 7am before heading to work.  I will cook them around 6pm.  So, they are out almost 12 hours.

Also, I hold the salt until the meat is served.  I know it is against what all the pros say.  Believe me, the meat is much tender.

The sauce I make in this chuck steak recipe is low carb.  Another way to serve it is to skip the sauce and serve on romaine lettuce with your favorite salad dressing.  Ranch would be a great choice.
You can also make some twists to the sauce here.  Once, I added a small can of mushroom pieces like the pics showing here.  So, add your special touch and be creative.

The purpose of this chuck steak recipe is to be affordable for feeding big crowd or family.  Therefore, all ingredients of the sauce listed here to go with the steak are all economical ones.  Do feel free to substitue them with beef stock and/or wine.
---

Recipe Ingredients and Tools

---
Quick Beef Chuck Steak Recipe and Instructions
Ingredients
1.5lbs (680g) Chuck Steak (at room temperature)
1 Bouillon Cube
1 cup (8oz / 237g) Water
2 tbsp Heavy Cream
2 tsp Extra Virgin Olive Oil
2 tbsp Butter (divided)
Salt and Pepper to taste 
Preheat oven at 450F (232C).
Transfer chuck steak into a zipper bag.
Squeeze out as much air as you could and zip the bag.
Use the bottom of a pan or meat tenderizer to pound the meat for about 1-2 minutes.
Preheat a cast iron skillet at high heat with extra virgin olive oil and butter to coat the bottom of the pan.
Add ground black pepper on the steak.
Seasoned side down onto the pan, cook for 3 minutes.
Add black pepper on the side facing up, turn over and sear another 3 minutes.
Transfer steak to a plate so that it is easier and quicker to get rid of the extra grease on the pan.  Discard grease.
Transfer steak back to the pan again and put it into the oven for 5-8 minutes. 
Take it out of the oven and transfer steak to a plate and rest for 10 minutes.
Save the dripping on the pan and heat it with medium low heat.
Add these ingredients into the pan: bouillon, butter, water, heavy cream, salt and pepper to taste.  Let it simmer until steak is ready to be served.  Add dried parsley flakes for garnish. (Try the sauce first before adding salt because the bouillon is pretty salty.)
Slice steak against its grain and serve sauce on the side and enjoy.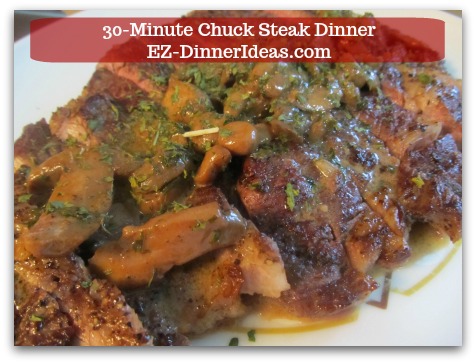 Cook 2-4 Chuck Steaks In One Dinner

Use the oven to help making this chuck steak recipe dinner in a much bigger size.

Make sure all ingredients multiply by the number of steaks you are serving.
If that's the case, follow the instructions below:
Line a baking sheet with foil that will fit steaks together.  (You may need 2 baking sheets and put 2 steaks in each sheets, if you are serving 4 steaks in a dinner.)
Preheat this baking sheet together with oven (you don't want to put your hot and seared steaks on a cold baking sheet.)
Brown each steak 3 minutes per side
If you only use one skillet for browning, you may need to brown each steak individually to avoid crowding your pan (yes, your cook time on the stove top will be longer at this point, but not your cook time in the oven.)
Transfer seared steaks to preheated baking sheet(s) and bake for 10 minutes
Transfer steaks to plates and rest at room temperature for 10 minutes
While steaks are resting, make sauce with the dripping on the pan.  Don't forget to pour the juice from the baking sheet into the pan to make sauce.  Make sure to multiply the amount of the sauce if you make that size of chuck steak dinner.

Quick Beef Chuck Steak Recipe Steps with Photos
Preheat a cast iron skillet at high heat with extra virgin olive oil and butter.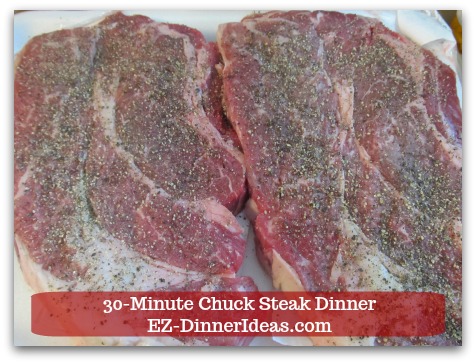 Add ground black pepper on one side of the steak. NO salt.
Black peppered side down on the skillet.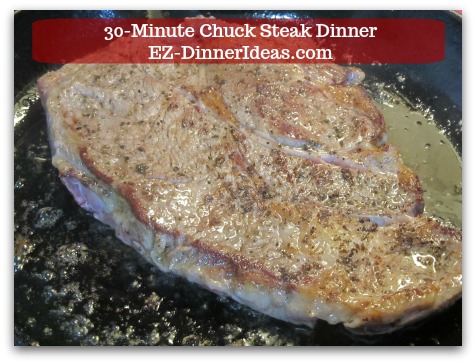 Brown 3 minutes on each side.
For one steak, the meat goes into the oven with the skillet and rest before slicing.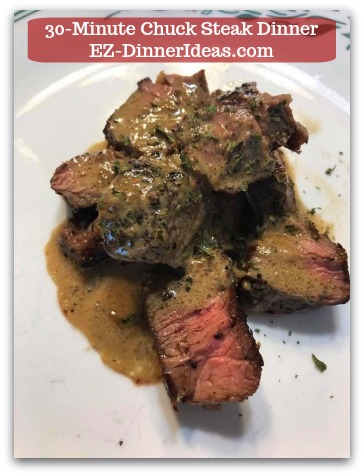 Add sauce and serve. This makes 2 serving.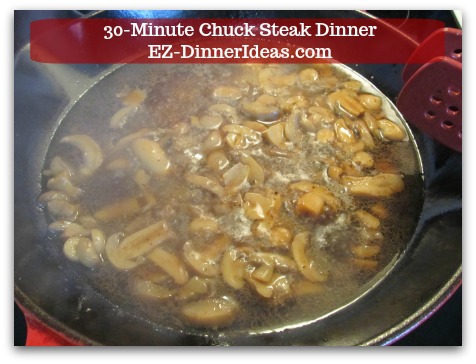 Use pan dripping and juice from the baking sheet to make sauce.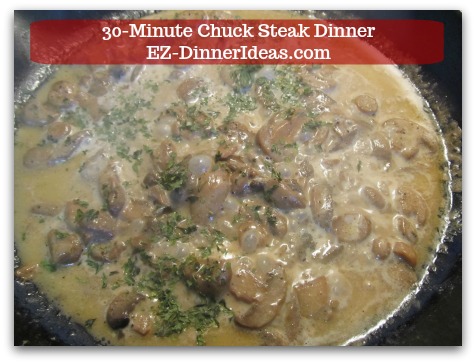 Add bouillon, butter, water, heavy cream, salt and pepper to taste.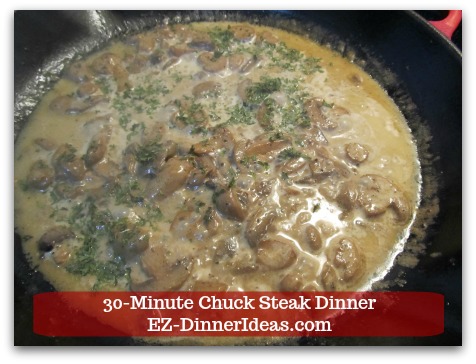 Let it simmer while the meat is resting.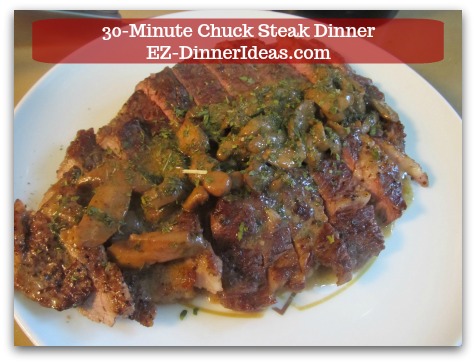 Add sauce on top of meat or serve it on the side. ENJOY!
---
Serve This With: 

---

You May Also Be Interested In:

---
Home > Beef Recipes > Chuck Steak Recipe | 30-Minute Chuck Steak Dinner