Best Beef Chuck Steak Recipe
One Pan Chuck Steak Bites - A Dish to Feed An Army with A Very Low Budget. You'll Be Planning the Next Family Gathering Soon

Best beef chuck steak recipe is a super easy, one-pan dinner. It is very versatile that you can pair with different vegetables. You can easily feed an army with a very affordable budget.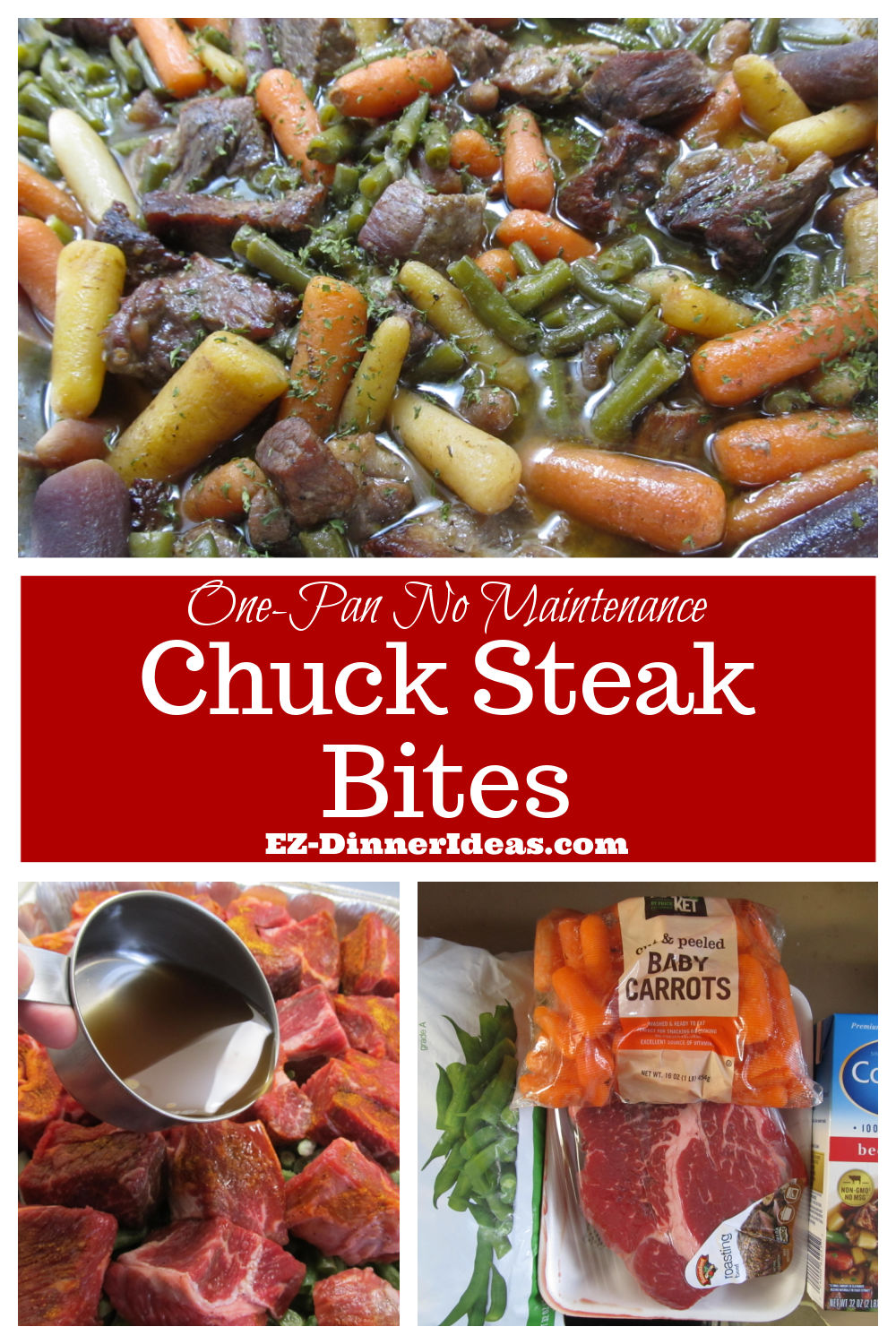 Total Time: 5 Hours 40 Minutes - 6 Hours 10 Minutes
Prep Time: 10 Minutes  
Inactive Cook Time: 5.5 - 6 Hours  
Serving: 4-6


Since publishing "30-Minute Chuck Steak Dinner", I have been trying to develop another recipe with the star ingredient, chuck steak, but able to feed a bigger crowd. Man, had I done so many trials and errors. There were a couple times that I failed miserably. But when it comes to developing dishes, I never give up until I find a solution. I love challenges like this. Thankfully, I finally figured it out and got it right.
This recipe is kind of like put it into the oven and forget it until dinner time.  Who doesn't like easy recipe like that, huh?
CHEF NOTES
I stick to low carb food. Therefore, I chose to have carrots and green beans. You can replace any of them with Yukon Gold, Fingerling or any kind of bite size potatoes. If you choose to have potatoes in this dish, make sure put them at the bottom where they will soak up all the juices.
The chunks may be a bit big. Once they are cooked, they shrank to the perfect size.
Due to the volume and easy cleanup, I highly recommend you to use a disposable roasting pan.
---

Recipe Ingredients and Tools

---
Best Beef Chuck Steak Recipe and Directions

Ingredients
4.5 Chuck Roast (cut into 2" chunks)
2 lbs Fresh Baby Carrots
2 lbs Frozen Green Beans (or replace it with some bite size potatoes)
2 tbsp Steak Seasoning (your preference)
2 cups Beef Stock
1 tsp Dry Parsley Flakes (optional; for garnish only)
Directions

Preheat oven at 300F.
Combine steak seasoning with chuck roast chunks and toss to coat.
In a big roasting pan, add ingredients in this order: carrots, frozen green beans, chuck roast chunks and beef stock.
Cover it tightly with aluminum foil and transfer to oven and cook for 5-6 hours. Garnish with parsley and enjoy.
---
Best Beef Chuck Steak Recipe Steps with Photos
4 easy ingredients to make this one-pot meal
Transfer carrots to the bottom of the pan. Feel free to change the vegetable combination
Frozen green beans on top of carrots
Cut chuck roast into 2" chunks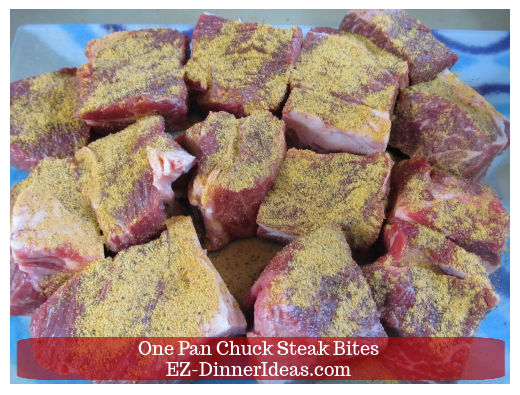 Add steak seasonings (any of your favorite blend) on top of meat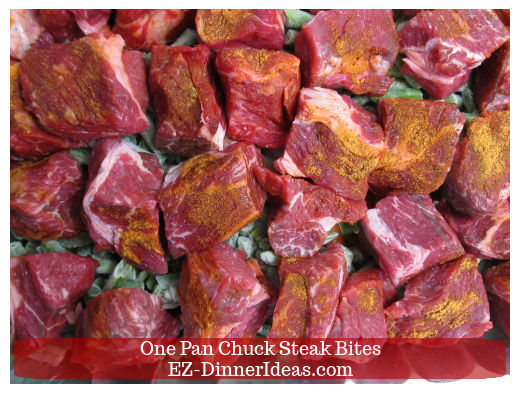 Transfer seasoned meat into roasting pan with vegetables
Add beef stock into the pan
Cover up the roasting pan with foil before transferring into the pre-heated oven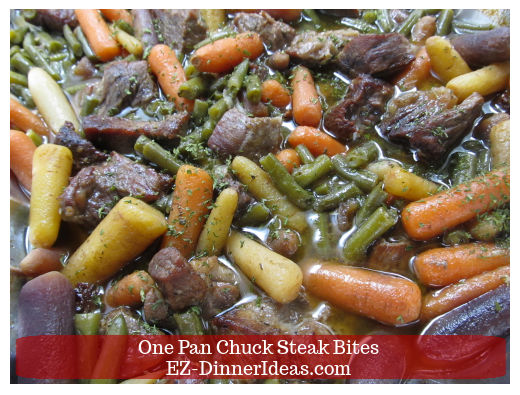 After 5.5-6 hours later, ENJOY!
---
Serve This With: 

---

You May Also Be Interested In:

---
Home > One Pot Dinner Recipes > Best Beef Chuck Steak Recipe | One Pan Chuck Steak Bites