Easy Crock Pot Meal

Slow Cooker Tomato Chuck Roast
Comfort Food Dinner
This easy crock pot meal is one of the easiest meal you may have ever come across.  Even if you have a hectic life, dinner can still be homemade and delicious.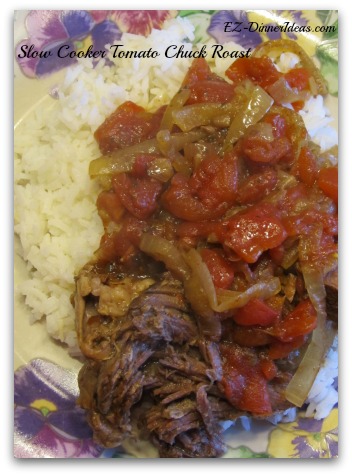 Total Time: 4-8 Hours  Prep Time: 15 Minutes
Cook Time: 4-8 Hours   Serving: 6
I still remember the week that I put this slow cooker recipe together. It was one of those weeks which was way more hectic than usual, both in my personal and professional life. 

Even I am always good at separating work from my personal life, I was exceptionally overwhelmed that week. All I knew was that I wanted to be back home and lounge on the couch and did nothing.
Does this sound familiar to you? If you are a stay-at-home mom or dad, it is even worse because you need to take care of everybody 24/7.

I was grateful that this easy crock pot meal saved the day.  I got to go back home and enjoy a nice and homemade dinner.
CHEF NOTES

If your family is receptive to onion, I would recommend to add at least one more on top of what the recipe calls for. Believe me, after everything cooked down, you feel like there are just not enough vegetables in the crock pot.
The day I had this, I served it with steamed white rice. You can serve it with egg noodles, pasta, grit, polenta, rice or creamy mashed potatoes depending on your available time and preference.

Easy Crock Pot Meal Recipe and Instructions

Ingredients
3-3.5 Boneless Chuck Roast
2-3 Big Vidalia Onion (sliced)
2-28 ounces can Diced Tomatoes with juice (I happened to have the kind with garlic, basil and oregano flavor canned tomatoes. You can buy other diced canned tomatoes. You can always compensate this flavor by adding 1/2 teaspoon dried basil, 1/4 teaspoon dried oregano and 1 teaspoon garlic powder)
2 Dried Bay Leaves
2 tablespoons Tomato Paste (I use the one from the tube that I don't need to throw so much away, such as Amore All Natural Tomato Paste)
2 tablespoons Worcestershire Sauce
1 teaspoon Italian Seasonings (optional)
Salt and pepper to taste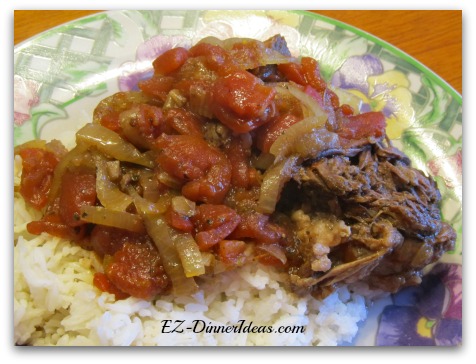 Trim fat if necessary

Add the ingredients and seasonings into the crock pot by following this order: boneless chuck roast, sliced onion, bay leaves, Worcestershire sauce, tomato paste and tomatoes with juice

Cover and turn on the slow cooker on high heat and cook for 4-6 hours until meat falling apart 

Adjust seasoning by adding Italian Seasonings, salt and pepper

30 minutes before serving, prepare rice, egg noodles, grit or polenta. If you decide to serve with creamy mashed potatoes, start preparing it at least 45 minutes before serving
---

You May Also Be Interested In:

---
Home > Beef Recipes > Easy Crock Pot Meal