Cheesy Chicken Dip
Ranch Chicken and Bacon Cheese Dip is A Super Crowd Pleaser. Be Ready Being the Star of the Event!
This cheesy chicken dip is so great that you are not going to stop until you lick up the last bite from the plate.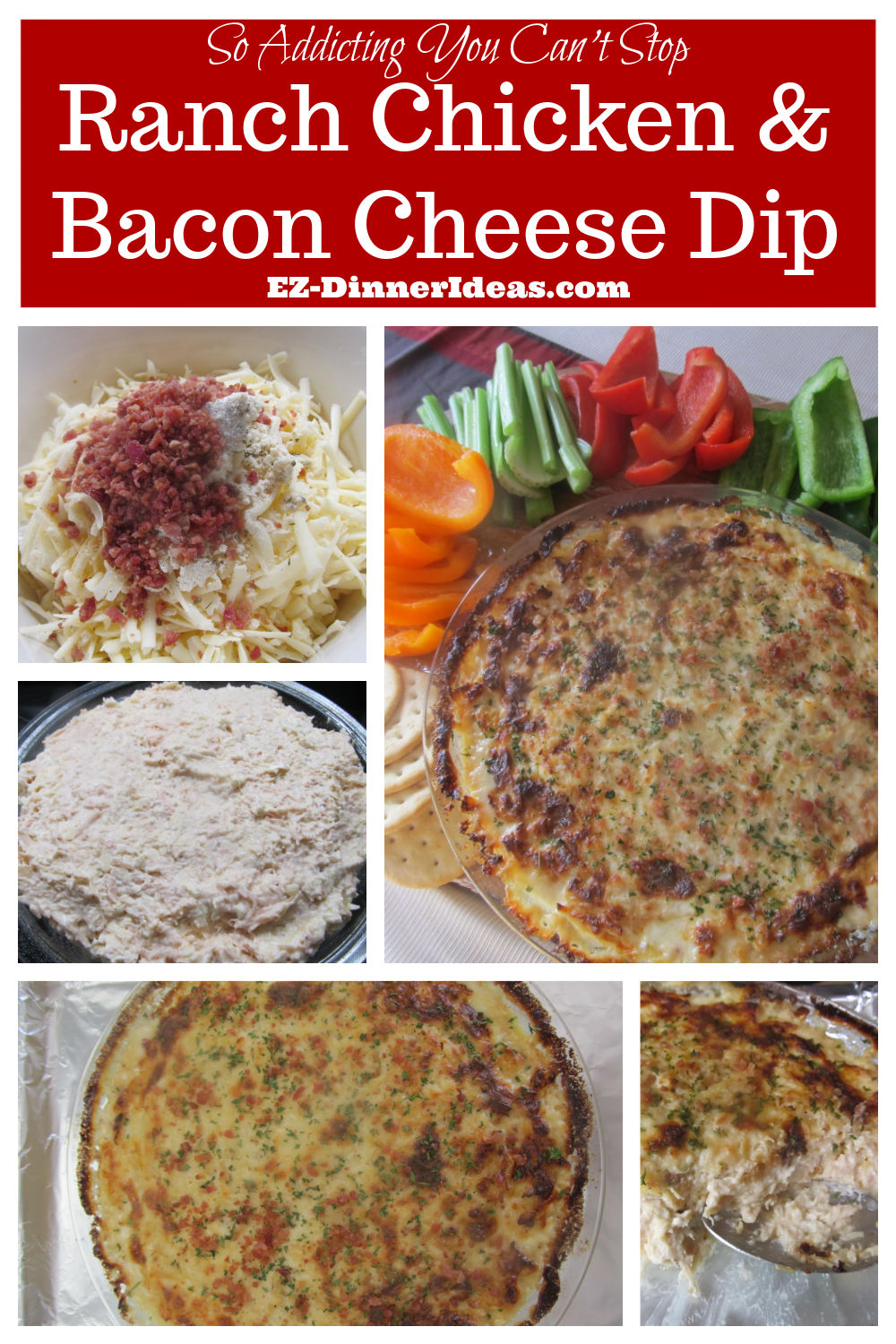 Total Time: 33-38 Minutes
Prep Time: 8 Minutes  
Inactive Cook Time: 25-30 Minutes  
Serving: 8-10


WARNING: I made this chicken dip for 2022 Christmas dinner. It was more like an appetizer before the dinner was ready. Little did I expect that my guests and I could not stop eating it that I had to remind them repetitively, "Dinner will be ready soon. Don't fill yourself up." Be ready to face this "challenge" like I did.
This recipe was purposefully made for people who can't eat spicy food. But there is plenty of flavors in it. It is perfect for small children to the elderly.

CHEF NOTES
This cheese chicken dip must be in room temperature before popping it into the oven. The night before Christmas, I mixed everything up and chill it in the fridge. So, the day when I served it, I let it sit on the counter for an hour before putting it into the oven. You can for sure mix it and bake it immediately.
Since I only have one oven, temperature plays a significant role here, especially when I had several dishes going into the oven on Christmas day. The recipe below shows you when you only need to bake this dish. If you were in my situation during Christmas, I put it into a 425F (218C) oven. As soon as the oven door was closed, I turned down the temperature to 350F (177C) and cook for an hour. That worked, too.
I use store bought bacon bits. If you like to make your own, please feel free to do so. Check out this oven baked bacon recipe.

How to Serve This?
As you may have already known that I have been on low-carb diet since 2018. As a result, I tried my best to stick with it even during the holiday seasons. So, I served this cheesy chicken dip with plenty of vegetables. However, your guests may prefer crackers, garlic toasts, breadsticks, corn chips and bagel chips to vegetables. So, serve different varieties on the side and let them to choose. You can also consider to serve it along with some low-carb or Keto crackers.

Plating
Everybody is crazy for Charcuterie board nowadays and I was inspired to present this chicken dip in a similar way. However, do you need to spend money on buying a charcuterie board that you may use it once in a great while? Well, as always, I like to be creative in order to save money. I happen to have a pizza wooden peel (aka paddle) at home. It was one of the Christmas gifts from a family member many years ago. So, look around in your kitchen, can you find something similar like that? A good size cheese board may work, too.
Since we were serving a dinner party, I wanted to make it one less thing to wash up. So, I had this pizza wooden peel covered with plastic wrap. Instead of putting the screaming hot cheesy chicken dip directly on top of this wooden board with plastic wrap, I put a pot holder under the pie dish of dip. This will prevent any melting plastic to ruin the wooden board. Then, place the vegetables and crackers around it for serving.
Of course, if you don't have any wooden kitchen utensil like this, you can simply serve the cheese dip as your center piece. Put vegetables and crackers into several small serving bowls. Surround the cheese dip with these bowls. That's another option to go. Get creative!
---

Recipe Ingredients and Tools

---
Cheesy Chicken Dip and Directions
Ingredients
2 cans (12.5oz / 354g can) Chicken (drained)
2 cups (14oz / 403g) Shredded Cheddar Cheese (I like Vermont Seriously Sharp blend)
1 (8oz / 227g in room temperature) Cream Cheese
1 envelope Ranch Dressing
1/2 cup (4oz / 101g) Milk
3 tbsp Real Bacon Bits (divided)
Dry Parsley Flakes or 1 Fresh Scallion (chopped; optional)
No-Stick Cooking Spray
Directions

Mix everything in a mixing bowl until it is well combined.
Coat a 9" (23cm) pie dish with no-stick cooking spray liberally and transfer cheese dip mixture into the dish and even the layer out.
Put the dish of dip on a baking sheet and transfer everything into the oven. (The baking sheet has 2 purposes here. One is to make transferring the dip in and out of oven easier. The other is to catch any dip bubbling over so that it is easier for cleanup.)
Bake in 400F (204C) oven, uncovered, for 25-30 minutes until it's bubbly.
Garnish with more bacon bit and parsley flakes or chopped scallions (optional).
Enjoy cheese chicken dip with cut up vegetables, chips and/or crackers.
Want More Keto/Low-Carb Recipes?!
This ebook will teach you to cook authentic Chinese food in a healthy way. It will also show you how to get the beautiful colors, texture and taste you get from your favorite Chinese restaurants.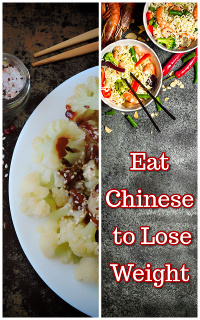 ---
Cheesy Chicken Dip Steps with Photos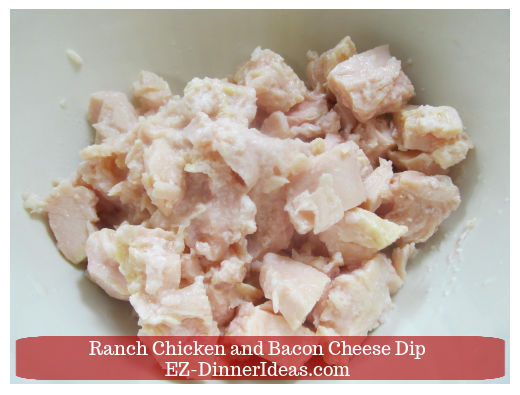 Drain canned chicken and transfer to a mixing bowl
Add cream cheese on top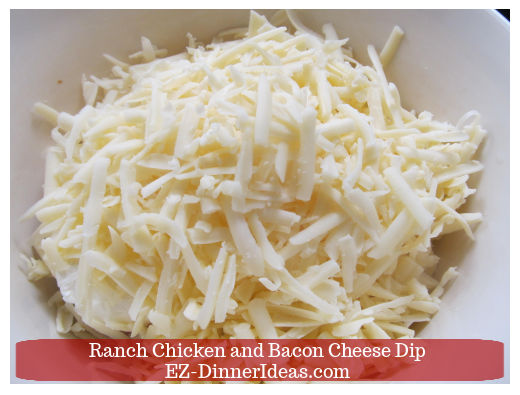 Add shredded cheddar cheese
Add milk, ranch dressing and bacon bits
Mix to combine everything together
Transfer everything into a pie dish and even it out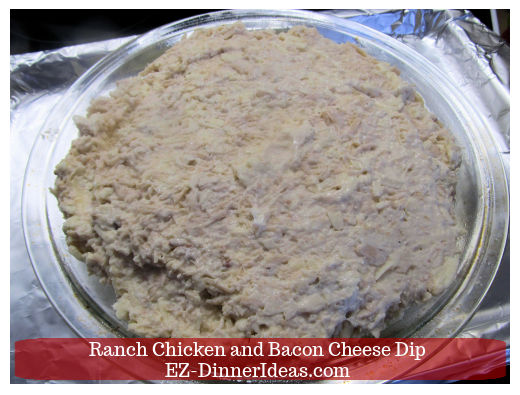 Put pie dish of chicken dip on a baking sheet and bake in the oven
Garnish with more bacon bits and dry parsley flakes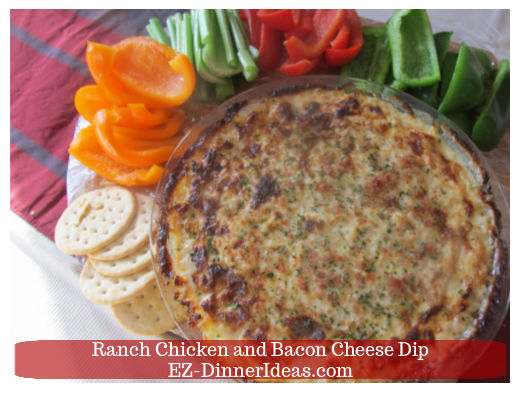 ENJOY chicken dip with vegetables and crackers
---
Serve This With: 

---

You May Also Be Interested In:

---
Home > Dinner Party Ideas > Cheesy Chicken Dip | Ranch Chicken and Bacon Cheese Dip