Easy Crock Pot Breakfast Casserole
Easy Crock Pot Breakfast Casserole
Pumpkin English Muffin Breakfast Casserole
What A Way To Start A Day!
This easy crock pot breakfast casserole is a comfort food for any occasion.  You can even invite any family members making this recipe together, including kids.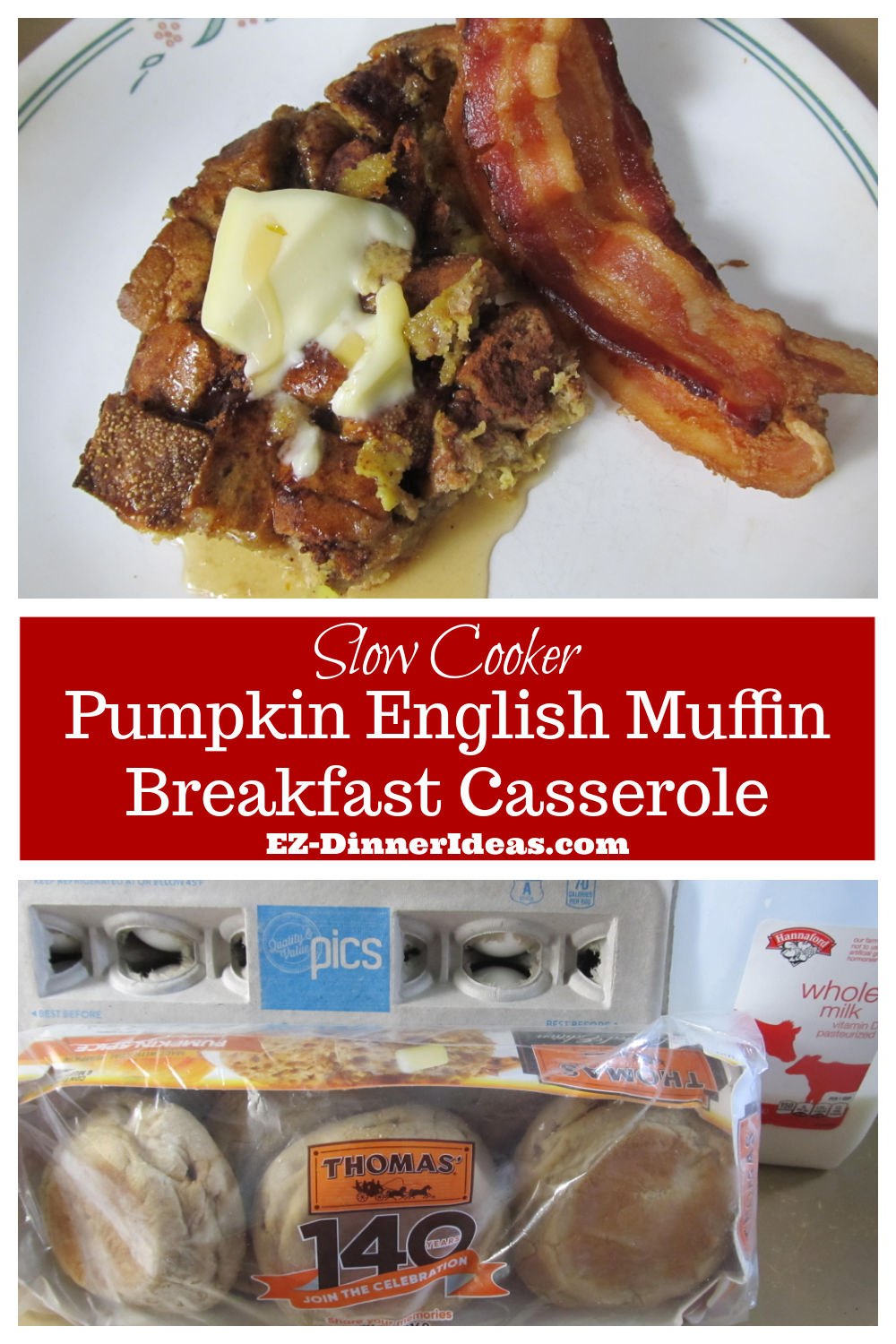 Total Time: 2 Hours 10 Minutes
Prep Time: 10 Minutes  
Inactive Cook Time: 2 Hours  
Serving: 4-6


I love all different fall flavored English muffins.  Sometimes, I stock them up in the freezer when they are on sale.  This allows me to enjoy them later throughout the year.

If you have a programmable slow cooker, you can set this up easily.  Breakfast will be waiting for you when you are up and running.

CHEF NOTES
As mentioned earlier, you can store English muffins in the freezer.  Whenever you are ready, put them into the fridge overnight and let them thaw before enjoying them.

If you don't have pumpkin flavored English muffins, use regular English muffins with the same ingredients and directions to prepare this casserole.  But add 2 tsp pumpkin pie spice in the egg mixture.  This will give the same flavor to this delicious casserole dish.  There are also other fall flavored English muffins out there, such as cinnamon and raisins.  Replace it with the pumpkin flavored ones and follow the rest of the recipe which will give you another great breakfast dish.
---

Recipe Ingredients and Tools

---
Easy Crock Pot Breakfast Casserole Recipe and Instructions

1 pack (13oz) Pumpkin Flavored English Muffins (cut into 1/2" cubes)
4 Eggs (beaten)
1/2 cup Whole Milk/Half and Half
1tsp Vanilla Extract
1 pinch of salt
No-Stick Cooking Spray
Pumpkin Pie Spice

Toast English muffins in toaster to get more moisture out to make the muffins drier.
Coat slow cooker insert liberally with no-stick cooking spray.
Add cubed English muffins into the crock pot.
In a separate bowl, beat eggs, salt, vanilla extract and milk together.
Slowly drizzle egg mixture on top of English muffins.
Press muffin down to make sure every cube will soak up the egg mixture.
Sprinkle pumpkin pie spice on top and cover with lid and cook on low heat for 2 hours until a butter knife inserted and come out clean.
Serve with butter, maple syrup and/or whipped cream.

Easy Crock Pot Breakfast Casserole Steps with Photos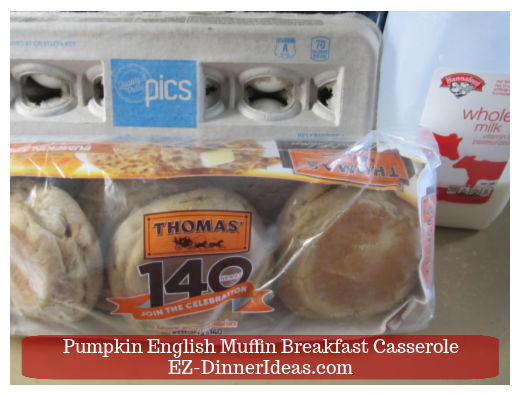 3 main easy ingredients to make this casserole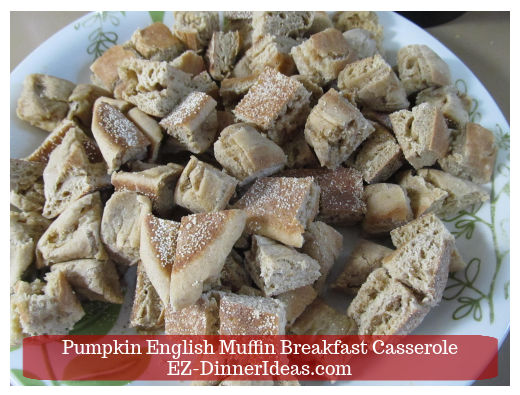 Cut English muffins into 1/2" cubes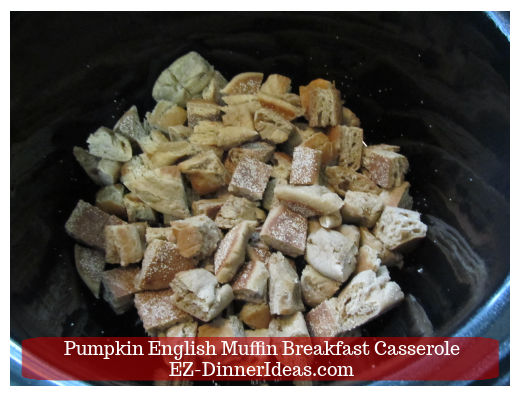 Transfer muffins into a slow cooker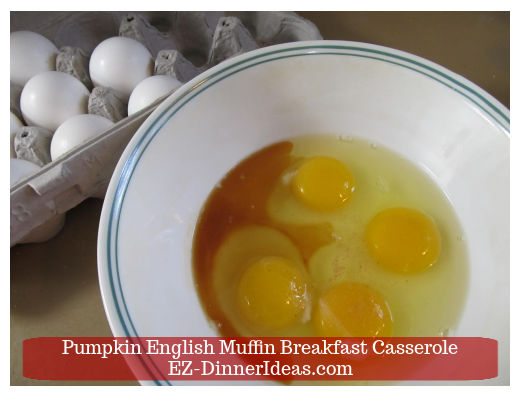 Beat eggs with vanilla extract together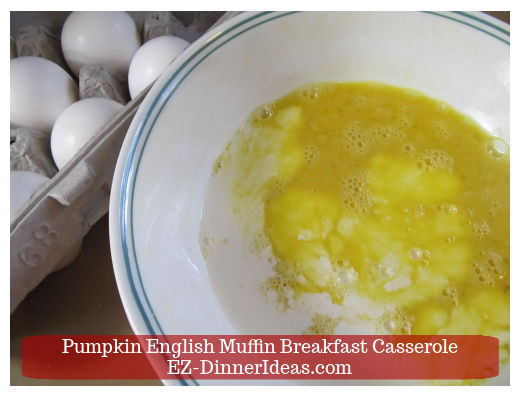 Add milk/half and half into egg mixture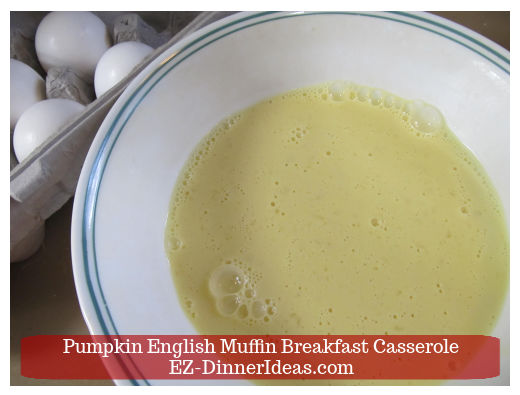 Egg mixture (a.k.a. custard) is ready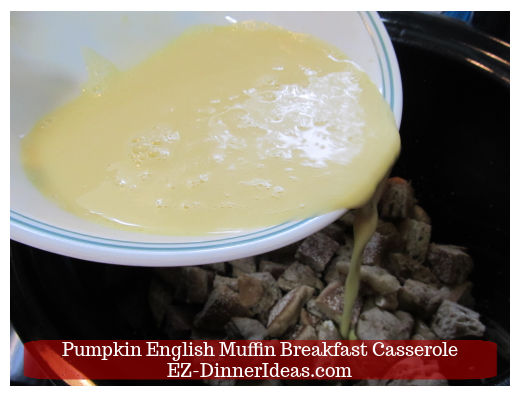 Slowly drizzle egg mixture on top of English muffins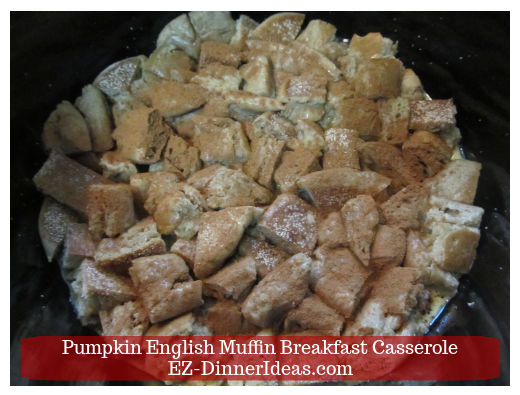 Add more pumpkin pie spice on top of muffins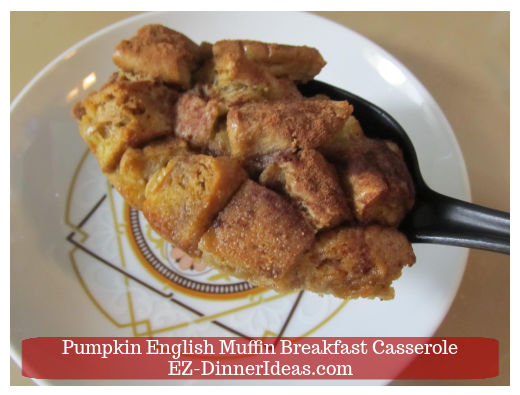 Pumpkin English muffin breakfast casserole is ready in 2 hours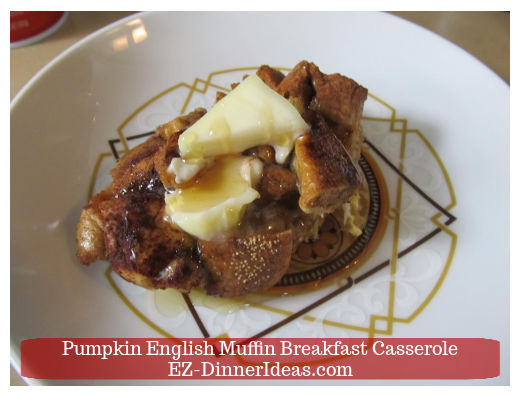 Add butter and maple syrup on top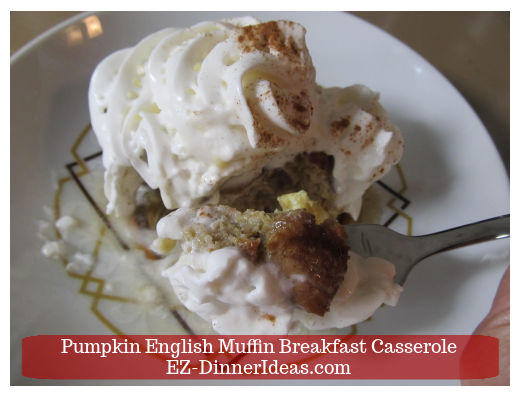 Add whipped cream and sprinkle spices on top (optional)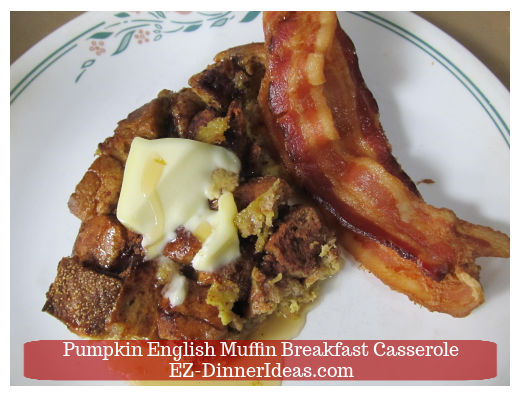 Serve pumpkin English muffin casserole with bacon and ENJOY!
---
Serve This With: 

---

You May Also Be Interested In:

---
Home > Slow Cooker Recipes > Easy Crock Pot Breakfast Casserole | Pumpkin English Muffin Breakfast Casserole