Ground Turkey Recipe

One-Pot Pumpkin Turkey Pasta
Celebrating Thanksgiving and Fall
At Any Given Time During The Year
Ground turkey recipe with pumpkin can't get any better.  Best of all, it can be served any time during the year.  You don't have to wait until Thanksgiving.  Pasta adds one more layer of awesomeness of this recipe.  But wait, there is more.  This one-pot dinner will be ready in 30 minutes.  Isn't it wonderful?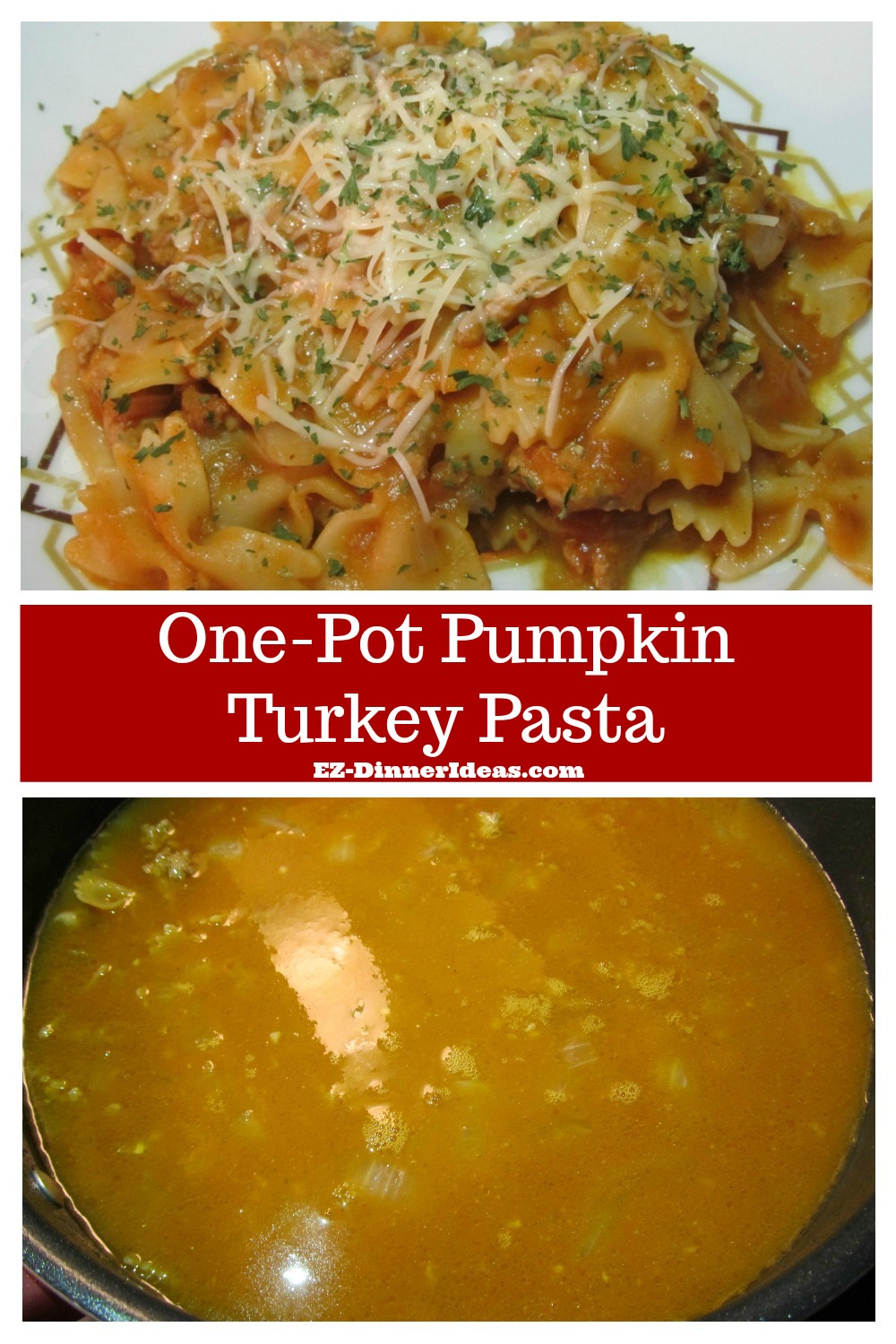 Total Time: 35-43 Minutes
Prep Time: 5-8 Minutes  
Active Cook Time: 30-35 Minutes  
Serving: 4-6


One-Pot Pumpkin Turkey Pasta....When fall is coming, it always makes me think of pumpkin patch, turkey and apple picking.  I am sure you would do the same if you live up north in the States.

Honestly, I always want to cook something not only limit to certain period of time of the year, but also throughout the year.

At the same time, I would love to have a versatile recipe that I can make a dish that would perfectly feed my small family instead of a crowd of 8+ people. 

Listening to some stories of my co-workers, it hit home to think of families as small as mine.  If there is no extended family around, celebration of special holiday could be very limited.

But everybody loves to enjoy holiday atmosphere flowing in the air, right?  So, that was how this recipe, eventually, came to mind.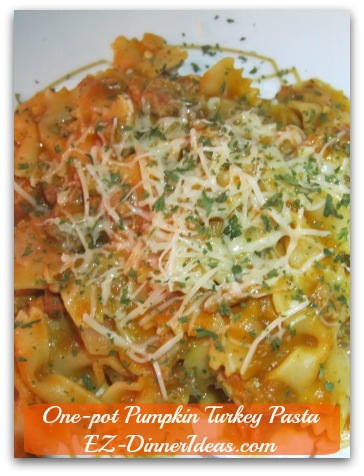 CHEF NOTES

Given ground turkey and canned pumpkin are available in supermarkets throughout the year, you can make this dish at any time.

My extended family hates onion.  If you happen to have family like mine, replace it with 1 tbsp onion powder. 

You can interchange ground turkey with ground chicken.
Ground Turkey Recipe and Instructions

Ingredients
1 lb Ground Turkey
1 can (14 oz) Pumpkin Purée
4 cups Chicken Broth (You may find Turkey Broth during fall)
1 lb Farfalle/Bowtie Pasta (or any kind of short pasta)
1 Medium White Onion (diced)
2 cloves Garlic (Minced)
Seasoning
1 tsp Ground Sage
1 tbsp Salt
1/2 tsp Ground Black Pepper
1 pinch Red Pepper Flakes
Dried Parsley Flakes
Grated Parmesan Cheese
2 tbsp Butter
2 tbsp Extra Virgin Olive Oil

Preheat a big soup pot/deep skillet at high heat and add butter and extra virgin olive oil
When butter is melted, add turkey
Use spatula to cut it into bite size and brown (about 5-8 mins)
Add onion and garlic (drizzle a little bit more extra virgin olive oil if it is too dry)
Add red pepper flakes, sage, salt and pepper
When onion edges start to brown, add pumpkin purée and chicken/turkey broth
Stir until pumpkin is completely combine with broth, add pasta and stir until the mixture starts boiling
Turn heat to medium low and cover the pot to simmer for 14 mins until pasta is al dente
Salt and pepper to taste, top with Parmesan Cheese and garnish with parsley flakes and serve immediately
Ground Turkey Recipe Steps with Photos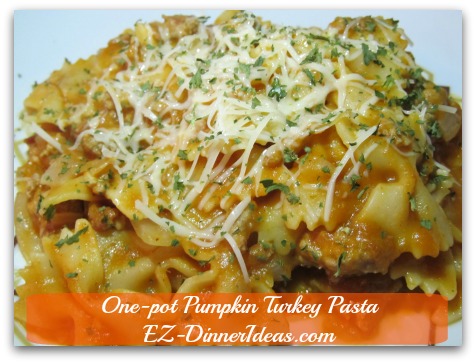 Recipe Ingredients and Tools

---
Serve This With: 

---

You May Also Be Interested In:

---
Home > Pasta Recipes > Ground Turkey Recipe | One-Pot Pumpkin Turkey Pasta