Quick and Easy Dinner Recipes
Quick and Easy Dinner Recipes
In 30 Minutes
Dinner On Table Like A Snap
This quick and easy dinner recipes page only includes family dinner taking 30 minutes top. In other words, a meal with prep and cooking time combined for no more than 30 minutes.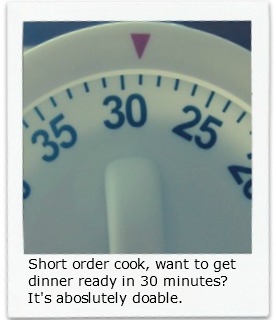 Why Do You Need These Quick and Easy Dinner Recipes?
You may have your weekly dinner menu all planned. But something came up, you need to change your plan. Otherwise, you will dine out with the whole family. Maybe, ordering take-out.

Or, you have a surprised guest showing up at your door. You need to switch up everything because of his/her diet plan (believe me, it happened to me many times in the past).

Maybe, you just don't like to plan. You want to go with the flow.

Whatever your reason is, these quick and easy dinner recipes are for you.

Most of these recipes are very filling. If you just start learning how to cook, this is a wonderful list to begin with.

Also, check out a list of one-pot dinner recipes.  They save you a lot of time in doing dishes.

Updates
Right after the name of each recipe, there are number of minutes.  That indicates the combined time from prep and cooking to make it easier for you to choose from these array of quick and easy dinner recipes.

Asian Recipes

Breakfast Recipes

Chicken Recipes


Pork Recipes

Seafood Recipes

Vegetarian Recipes

Pasta Recipes

Soup Recipes


Miscellaneous
---

You May Also Be Interested In:

Thank you very much for your visit.  Please check regularly for more update of this page.

Home > Quick and Easy Dinner Recipes