Mushroom Fried Eggs

Happy Medium of
Scrambled Eggs, Frittata and Omelette
This mushroom fried eggs recipe has a little bit of twist of Asian cooking.  If you had "Egg Fu Young" in the Chinese restaurant in the past, you know what I am talking about.  It is between scrambled egg and frittata.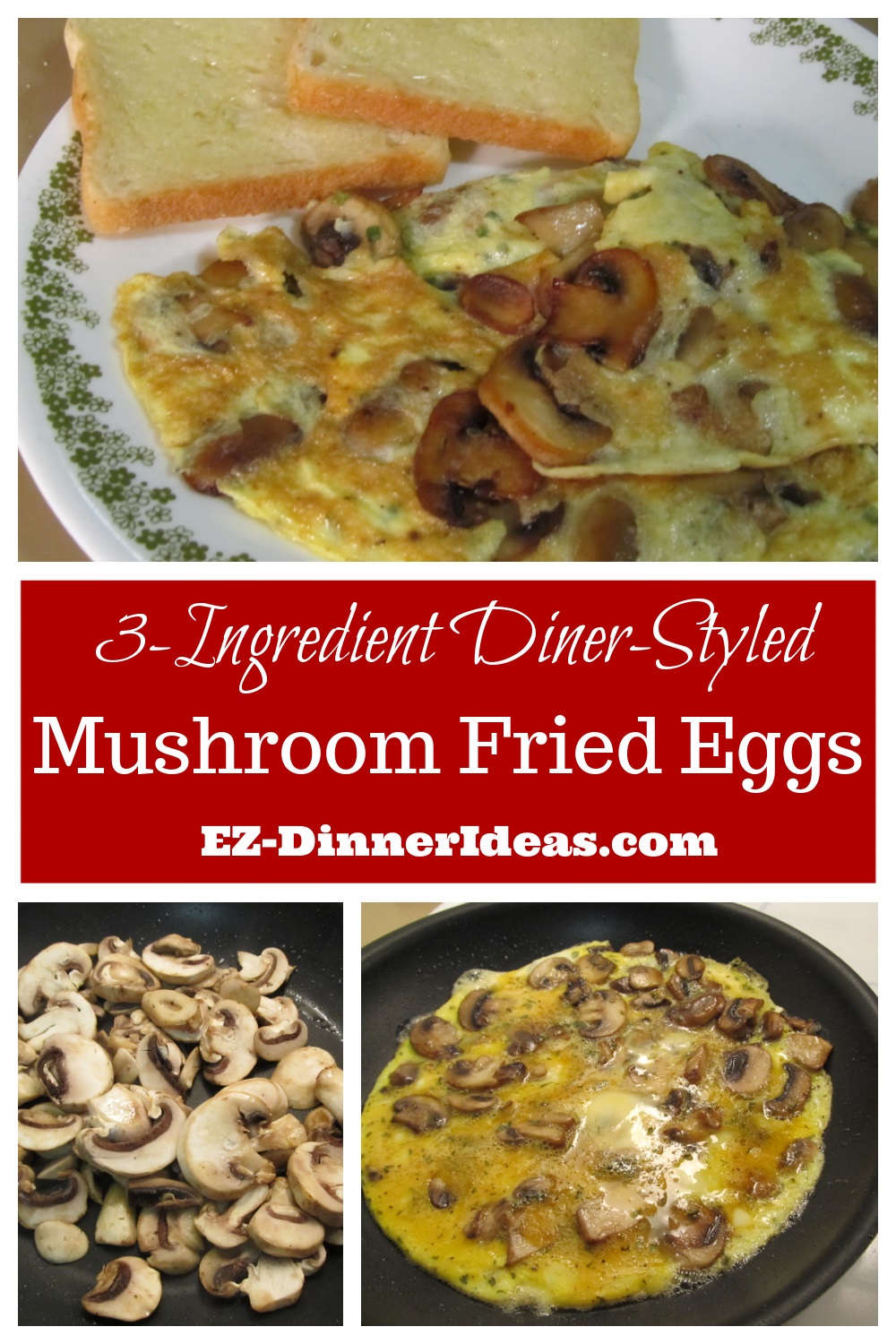 Total Time: 17 Minutes
Prep Time: 5 Minutes  
Active Cook Time: 12 Minutes  
Serving: 2


In the Chinese culture, we serve eggs at any meal pairing with many different kinds of ingredients, such as vegetables, meat and seafood.  Oh, yes.  Seafood, too.  If this dish is served at my hometown, Hong Kong, we will serve with a little bit of soy sauce and steamed white rice.
I learn from my American family and friends that some people do not like scrambled egg because of its texture.  Cooking frittata may take too much time.  Besides, the quantity may be too much for a meal.  Omelet requires a special technique to finish it off.

So, I want to introduce you this new cooking method.  Like I mentioned earlier, not only this kind of recipes, but also this cooking method has been very popular in my culture.  It is the happy medium of scrambled egg, frittata and omelet.  You can control the quantity super, super easily.

CHEF NOTES
If you like my hubby everything needs to be crispy, this mushroom fried eggs gives you a little bit of crisp.  The best of all, it is easier and quicker.  My mom would like to add ¼ teaspoon corn starch and 1 teaspoon of water whisking together with the egg.  This will make it even crispier.  For now, I would suggest you to wait and try it next time.
This mushroom fried eggs recipe can only serve for 2 people.  But feel free to double or triple the quantity of the mushrooms and/or eggs.  I can guarantee you that even if you triple the quantity of all the ingredients, you still can serve for a family of 4 to 6 for only $10.  I sometimes would like to pick different kinds of mushrooms or assorted mushrooms.

If you decide to serve this breakfast recipe in an Asian way, feel free to get a bowl of steamed rice and chop sticks to enjoy it.
Can be doubled or tripled

Once the eggs turned over, the other side is cooked almost instantly.

Mushroom Fried Eggs Recipe and Instructions

Ingredients
1 box (10ounces) pre-sliced and pre-washed white mushrooms or any kinds of mushrooms (or 2-6.5 ounces Canned Mushrooms; drain well)
4 eggs (beaten)
1 teaspoon Dried chives (optional)
1 tablespoon Extra Virgin Olive Oil (may need more before adding the eggs)
½ teaspoon Salt
1 pinch of Black Pepper
Preheat a big skillet at medium high to high heat
Add extra virgin olive oil and mushrooms; quick toss
Let mushrooms to brown, about 8-10 minutes; stir regularly
While waiting for mushrooms to brown
Beat eggs, chives, salt and pepper in a mixing bowl
(If you want the egg crispier, add ¼ teaspoon corn starch and 1 teaspoon of water.  Mix together with the rest of the ingredients in the mixing bowl)
Evenly layer the mushrooms on the skillet
If the pan is too dry, add about a teaspoon of oil
Pour eggs on top of the mushrooms
Turn down the heat to medium
When eggs start to set and not too runny, turn it over and cook another minute
Serve immediately with toasts (or with white rice like I did at home

Mushroom Fried Eggs Steps with Photos
---

You May Also Be Interested In:

---
Home > Breakfast Recipes > Mushroom Fried Eggs