Chicken Spinach Mushroom Recipe
Chicken with Creamy Spinach and Mushrooms is A Juicy Chicken Dinner in One Pan and Low-Carb. WOW!!! What Not to Love?
Chicken spinach mushroom recipe is another winner of chicken dinner. A creamy and juicy one-pot meal is a no-brainer. It is also low-carb and great for date night. There are too many great things about this meal that you can't miss.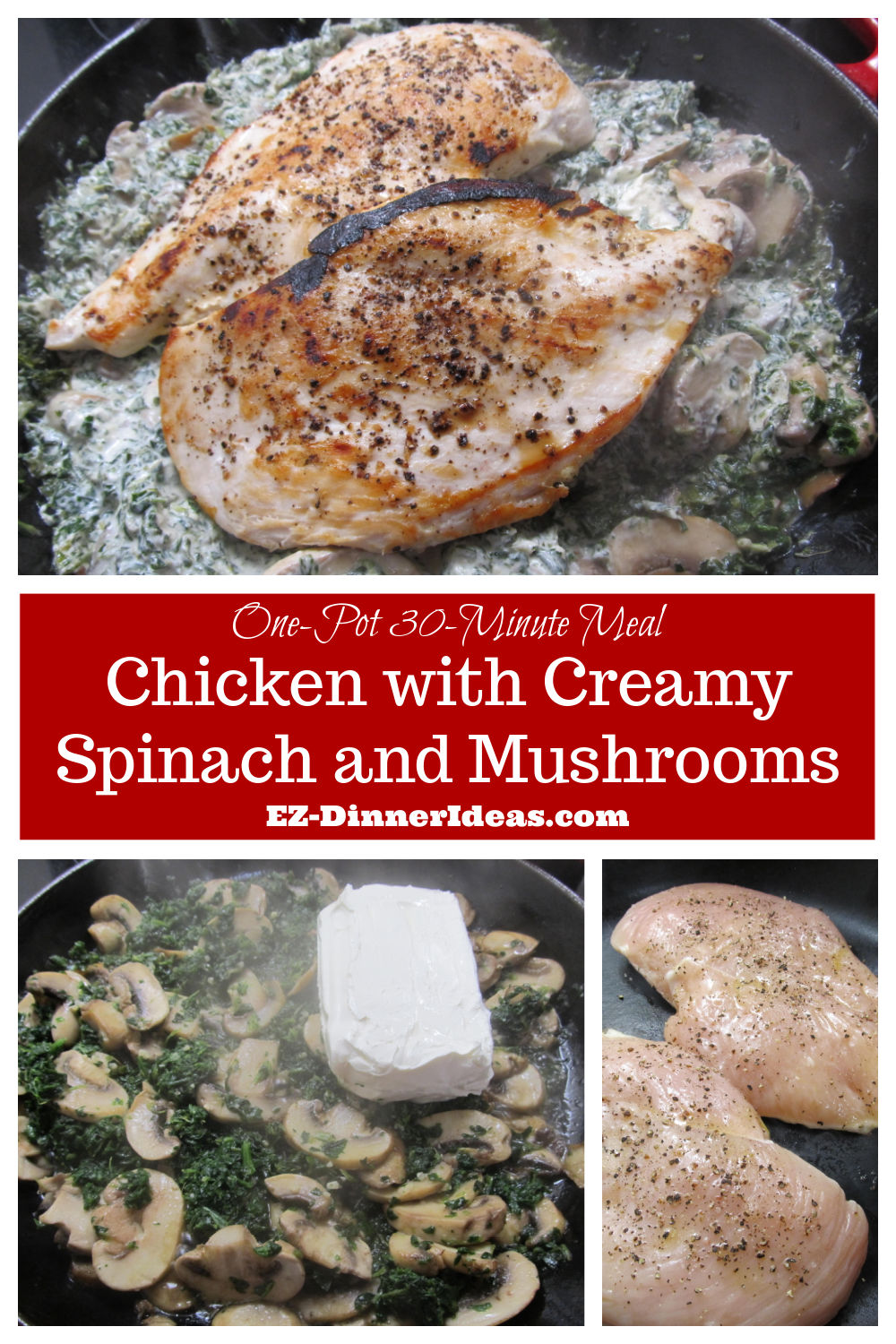 Total Time: 30 Minutes
Prep Time: 10 Minutes  
Active Cook Time: 30 Minutes  
Serving: 2-4


CHEF NOTES
I discovered this trick a few months back. Instead of adding oil into a hot pan and having it splatter all over the place, I add the oil directly to the meat. There is less cleanup to do. Plus, the oil goes to where it belongs. It works so well for me. I highly encourage you to try it. Let me know your thoughts after.
Check out the easiest way to wring out the liquid from the thawed spinach.
---

Recipe Ingredients and Tools

---
Chicken Spinach Mushroom Recipe and Directions

Ingredients
2 Jumbo (butterflied) or 4 regular size Boneless Skinless Chicken Breasts (pound it as thin as you can)
1 box (10oz / 283g) Frozen Spinach (thawed and squeeze out all liquid)
2 boxes (10oz / 283g each) Pre-washed and Pre-sliced White Mushrooms
1 bar (8oz / 227g) Cream Cheese (in room temperature)
1 can (14oz / 397g) Chicken Broth
1 tbsp Minced Garlic
3 tbsp Extra Virgin Olive Oil (divided)
Salt and pepper to taste
Directions

Preheat a big skillet at high heat.
Rub 1 tbsp extra virgin olive oil on meat thoroughly; salt and pepper on one side.
Seasoned side down on the hot skillet; add salt and pepper to the side facing up; brown meat about 3 minutes each side.
Transfer meat to a plate (chicken is not cooked through at this time. It will continue to cook later).
Turn down to medium heat. Add the other 2 tbsp extra virgin olive oil into the hot skillet and stir in mushrooms and brown. Stir regularly and cook about 5 minutes.
Stir in spinach and garlic.
Once it is combined, stir in cream cheese. You will use the spatula to break it up while stirring until it is well mixed with the rest of the ingredients.
Stir in chicken broth (it may look like there is too much liquid. But when everything is combined together, it will make a nice creamy sauce).
Transfer chicken back into the skillet.
Spoon spinach mixture on top of meat to cover the chicken.
Use a splatter screen to cover and simmer at medium low heat for 10-12 minutes until a fork can easily poke through meat.
Salt and pepper to taste and enjoy immediately.
Want More Keto/Low-Carb Recipes?!
This ebook will teach you to cook authentic Chinese food in a healthy way. It will also show you how to get the beautiful colors, texture and taste you get from your favorite Chinese restaurants.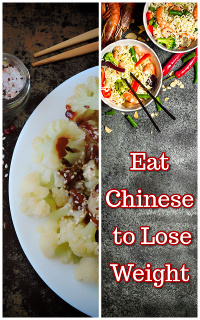 ---
Chicken Spinach Mushroom Recipe Steps with Photos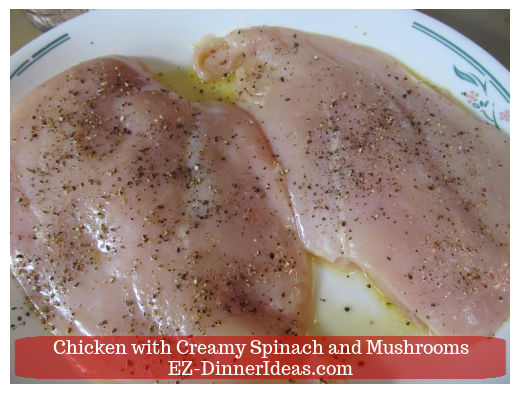 Season chicken with salt and pepper; coat with oil.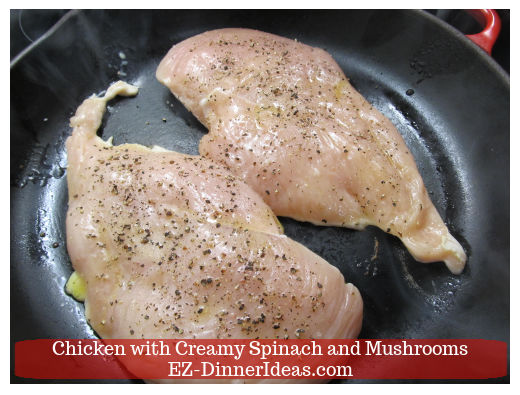 Transfer chicken into the preheated dry skillet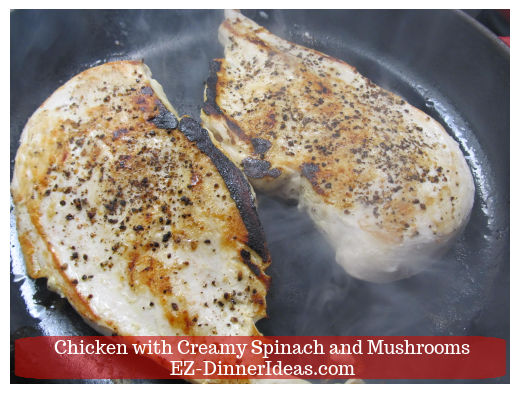 Cook each side about 3 minutes to brown the meat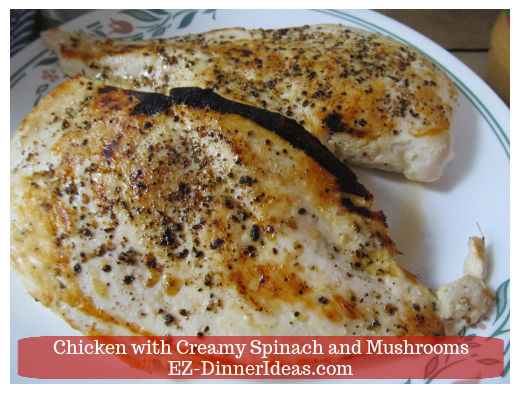 Transfer chicken to a plate and put it aside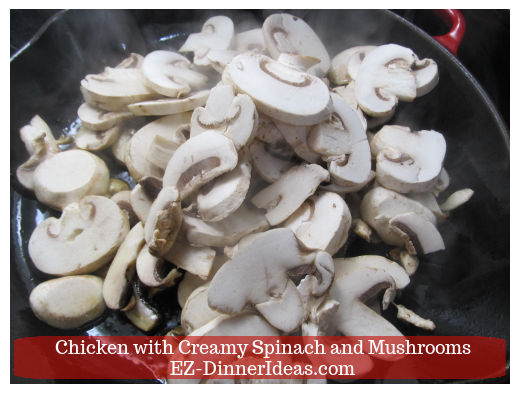 Add mushrooms and oil into the same skillet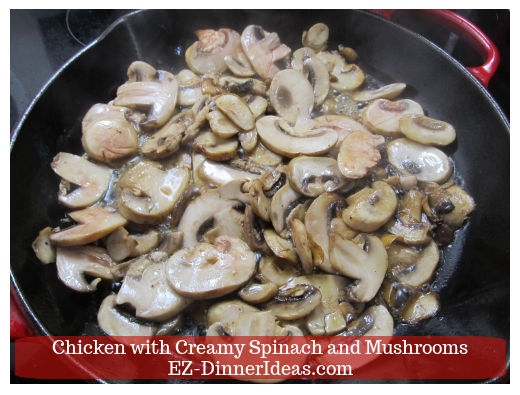 Stir and cook until wilted; about 5 minutes
Add spinach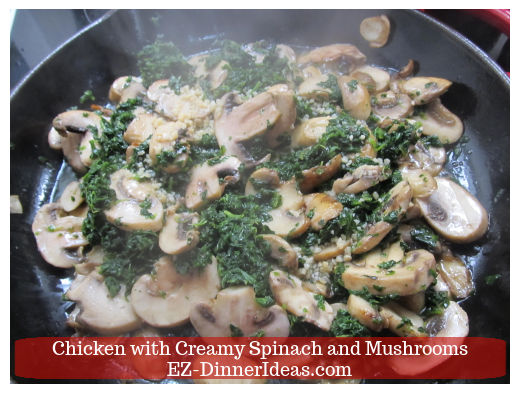 Stir to combine mushrooms and spinach
Add cream cheese
Stir and break up cream cheese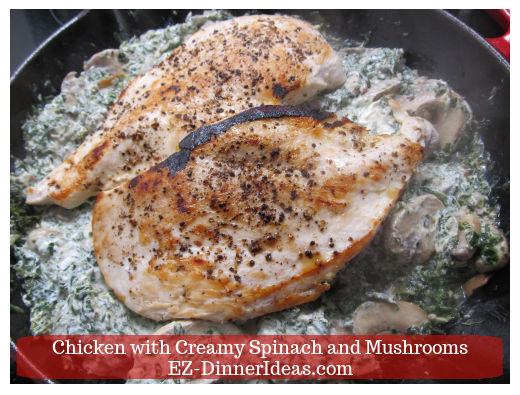 Stir in broth and transfer chicken back into the skillet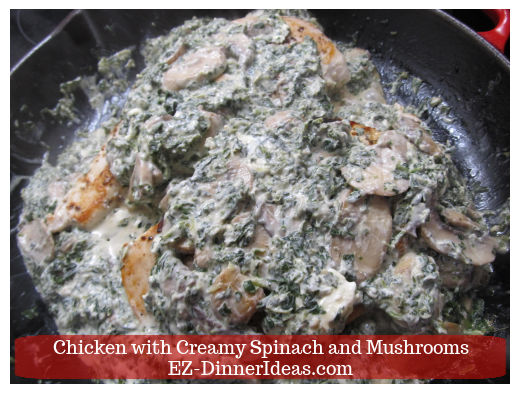 Spoon creamy mushroom and spinach mixture on top of meat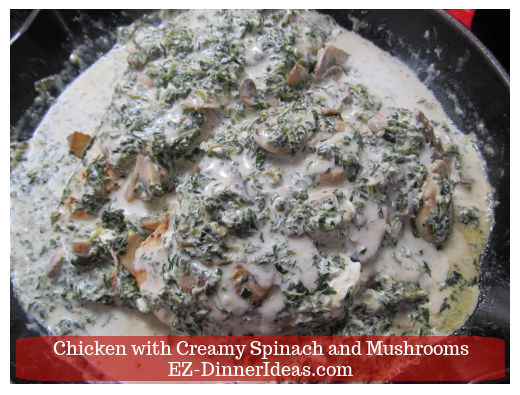 Cover and cook in low heat for about 10-12 minutes until meat is cooked through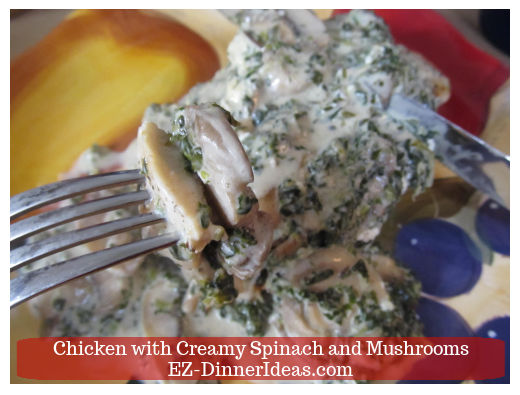 ENJOY!
---

You May Also Be Interested In:

---
Home > One Pot Dinner Recipes > Chicken Spinach Mushroom Recipe | Chicken with Creamy Spinach and Mushrooms