Cabbage Wrap Recipe
Keto Chicken Cordon Bleu Wraps are the Best Eat-with-Your-Hands Meals and Snacks On-the-Go
This cabbage wrap recipe is a great way to blend vegetables into a low-carb diet.  Make it 2-3 days ahead so you can grab and go; and still get the crunch.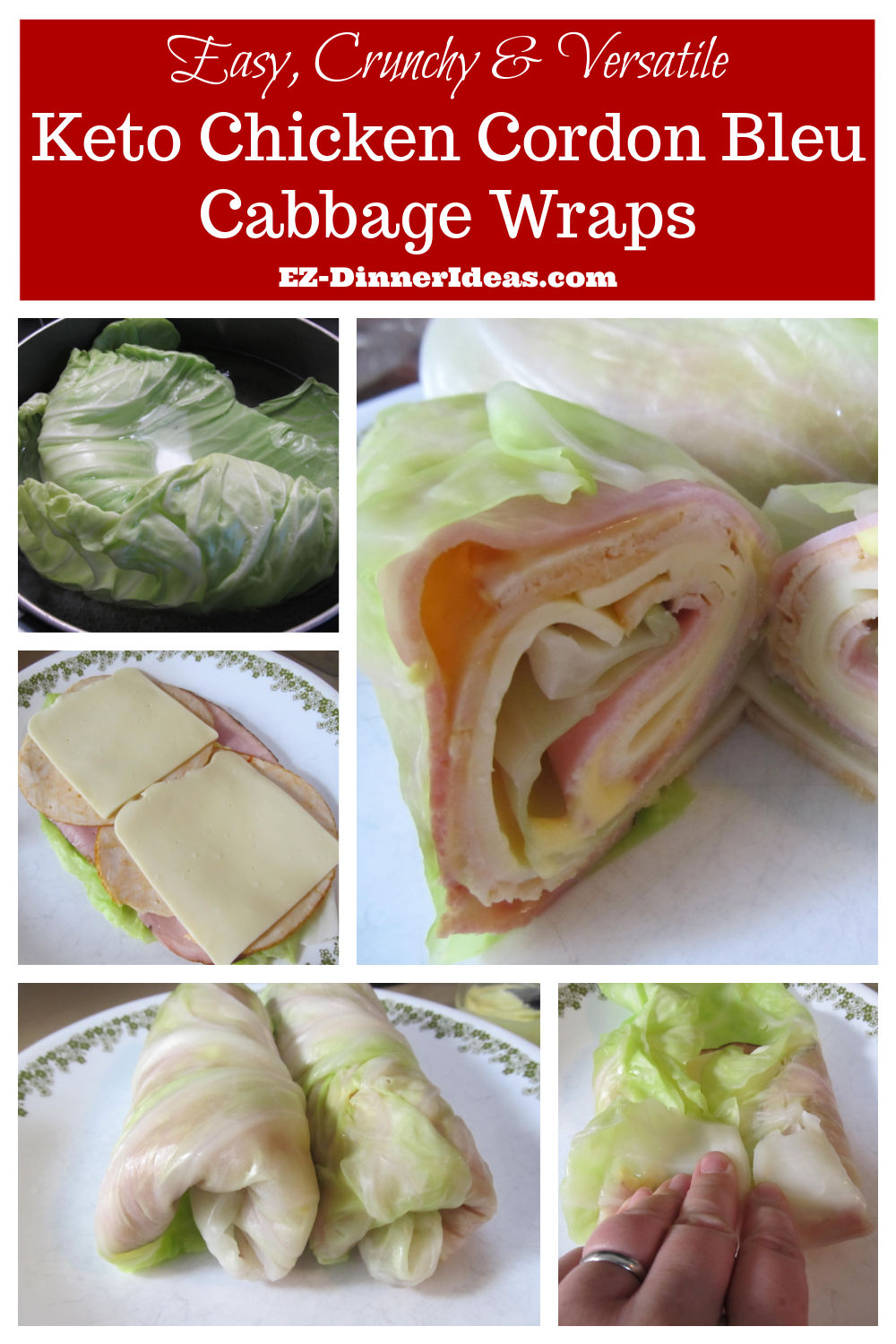 Total Time: 12 Minutes
Prep Time: 10 Minutes  
Active Cook Time: 2 Minutes  
Serving: Makes 4 Rolls


Since getting on low carb diet, I find that the most difficult thing is to have something low carb on the road.  There are plenty of snack ideas.  But I am never a snack person.  When I eat, I always love to eat a full meal.  This cabbage wrap recipe was created exactly for that same reason.



CHEF NOTES
I use Black Forest ham and Buffalo chicken because I love bold flavors. You can choose the cuts with less spices. You can even choose all Italian cold cuts to make a different type of cabbage wraps.

If you choose to add any pickles or peppers in the wrap, it could be a mess and the wrap could be very watery. Being a mess maker, I stay away from it.

You can double, triple or even quadruple this cabbage wrap recipe.

I highly recommend you to stick with cabbage because the vegetables stay crunchy for a long time.  Lettuce will never give you the same result.

Assembled cabbage wraps are good in the fridge up to 3 days.  You still get the crunch from the cabbage.


Make this Another No-Cook Meal
Cabbage does need to boil in order to soften it.  Otherwise, it will crack as soon as you roll it.  
You can skip this cooking part by using any kind of lettuce.  No cooking is needed.  So, there you go.  Another great no-cook meal for you.

2 Ways to Make These Cabbage Wraps

1) Use the whole leaf to wrap it like typical wrap you have seen out there. It's more difficult to pull a whole leaf apart when you bite into it. Plus, the leaf could be too much to chew even though it was cooked.

2) Use half of the leaf and add the same amount of cold cuts and dressing. Just roll to make wrap. It may be a bit messy. It has perfect amount of everything in each bite.  This is my preferred way to go. 
But no worry, I will show you how to do both ways.  Then, you can decide the best way that works for you.



Good Way to Use Up Your Thanksgiving & Christmas Leftover
I know how much you hate to have turkey or ham sandwiches for days after the holidays.  Well, let's switch it up.  Use this cabbage wrap recipe to replace regular bread.  Add your favorite dressing together with turkey or ham leftover.  You will love the crunch and all the fiber you get from the cabbage.  It will make you feel g.o.o.d.....
---

Recipe Ingredients and Tools

---
Cabbage Wrap Recipe and Directions

Ingredients
2 Green Cabbage Leaves (cut into halves by cutting through the stem and its midrib)
4 Ham Slices from the deli counter
8 Chicken Slices from the deli counter
8 American White Cheese Slices from the deli counter
1 Medium Sauce Pan of Water

Dressing
1/4 cup (2oz / 50g) Mayo (I use avocado mayo)
1 tsp Yellow or Dijon Mustard
2 dashes Hot sauce or Sriracha Sauce (optional)

Directions

Bring a pot of water to boil.
Submerge cabbage leaves into the boiling water until vegetables are soft and pliable (about 1 minute).
Transfer leaves to a paper towel-lined plate and dry both sides of the leaves well.
In a small mixing bowl, combine all the dressing ingredients together.
To assemble wraps, line half a cabbage leaf at the bottom, add these ingredients in this order: 1 slice of ham, a thin layer of dressing, 2 slices of chicken and 2 slices of cheese.
Then, start rolling from your side towards the other end and serve immediately and enjoy.
The other way to make this cabbage wrap, instead of rolling from one end to the other.  Line a whole cabbage leaf at the bottom, top it with 1 slice of ham, a thin layer of dressing, 2 slices of chicken and 2 slices of cheese. Fold up cabbage leaf from the bottom and from both left and right ends towards the center and roll.  Everything will be tugged in.
If you are bringing this wrap on the go, wrap each cabbage wrap with plastic wrap.  Store the cabbage wrap(s) in the fridge for up to 3 days.
Want More Keto/Low-Carb Recipes?!
This ebook will teach you to cook authentic Chinese food in a healthy way. It will also show you how to get the beautiful colors, texture and taste you get from your favorite Chinese restaurants.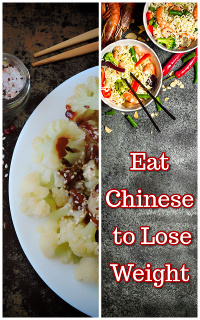 ---
Cabbage Wrap Recipe Steps with Photos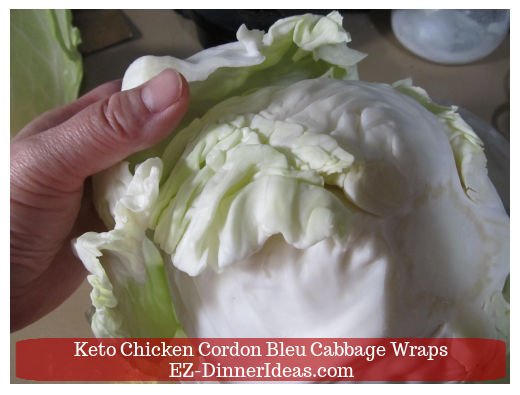 Carefully separate cabbage leaves from the core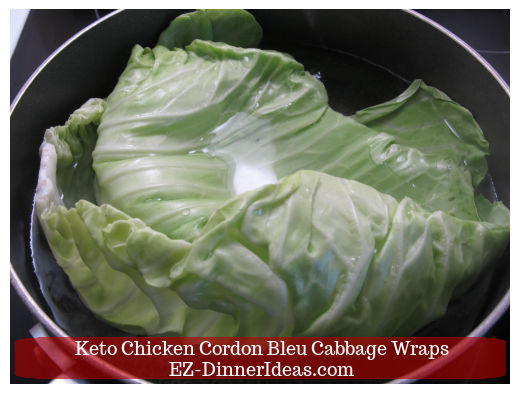 Submerge cabbage leaves into boiling water until the leaves are pliable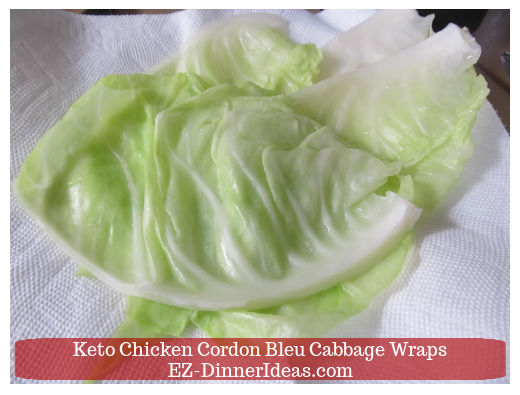 Transfer cooked cabbage leaves to a paper towel-lined plate to dry all the extra moisture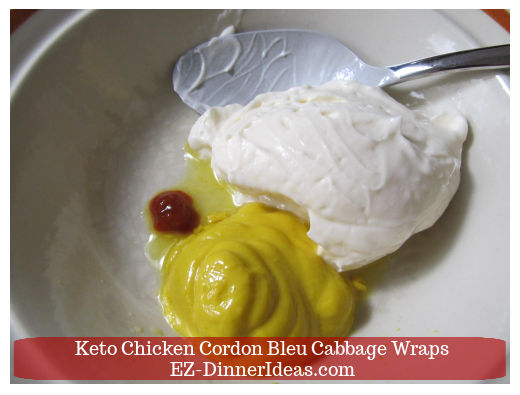 Combine dressing ingredients into a mixing bowl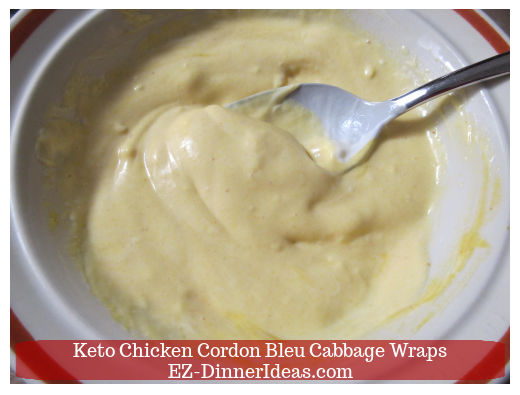 Stir to combine and put it aside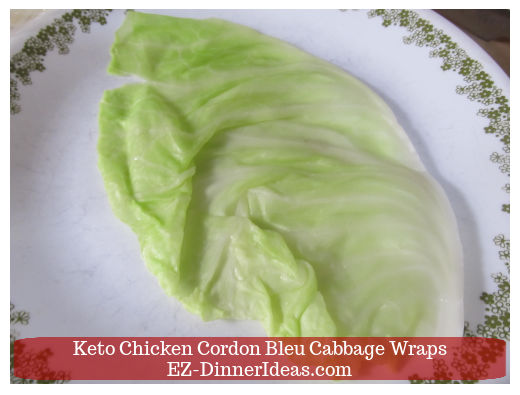 Lay a half cabbage leaf on a plate to assemble a cabbage wrap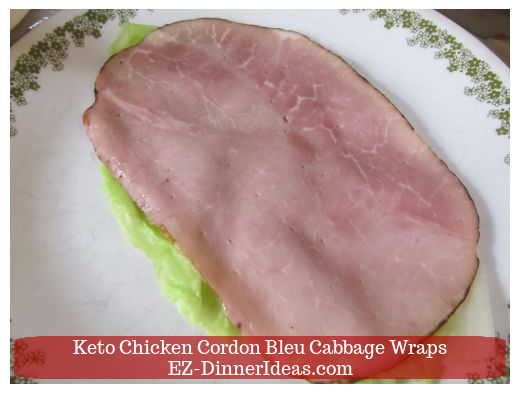 Add deli cut ham on top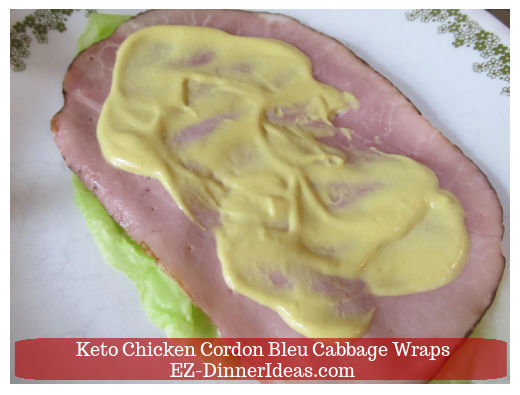 Add a thin layer of dressing on top of ham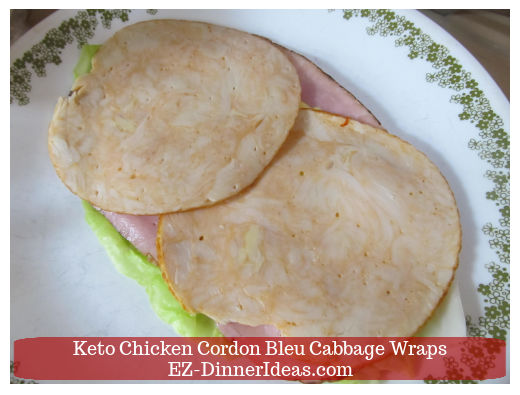 Add deli cut chicken on top of dressing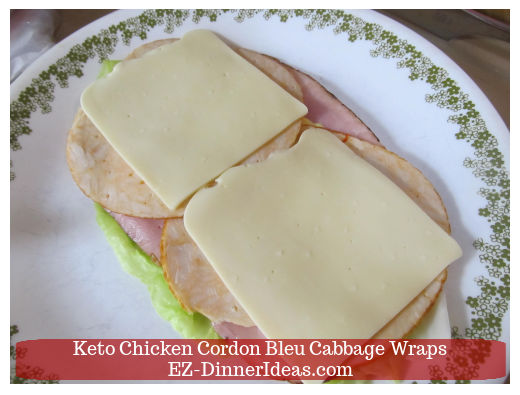 Add cheese on top of chicken as final layer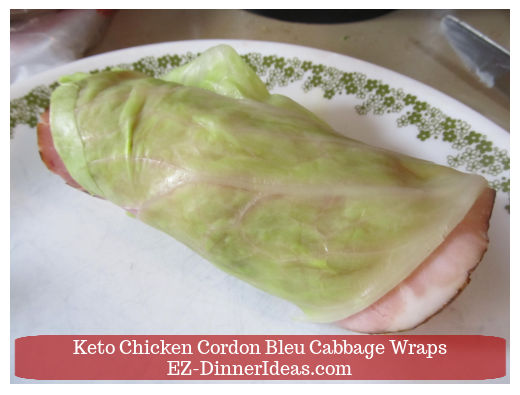 Roll it up to make the easiest cabbage wraps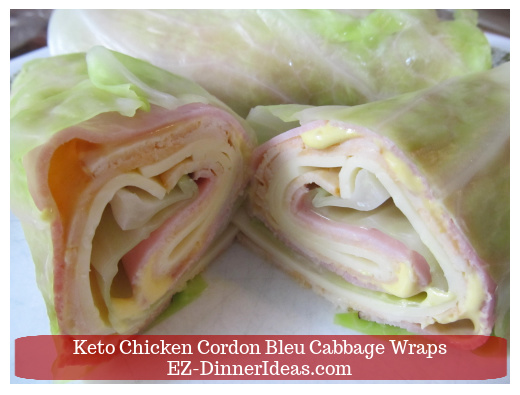 Look at that...Every bite has a perfect amount of everything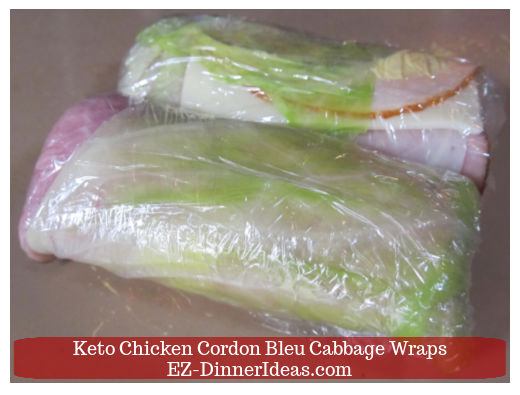 Wrap cabbage wraps with plastic wraps and store in the fridge for up to 3 days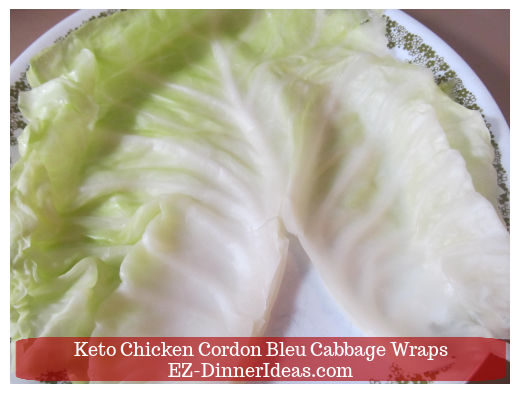 Different way to make a cabbage wrap...lay a whole cabbage leave on a plate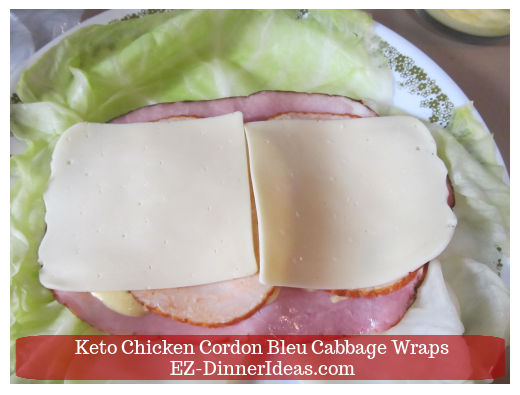 Stack up all the deli meats, dressing and cheese as mentioned above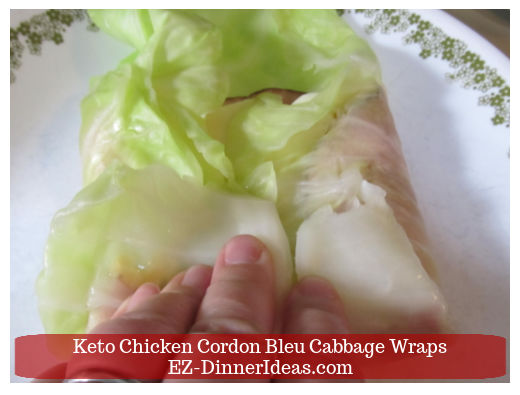 Fold the hanging parts from the bottom, left and right towards the center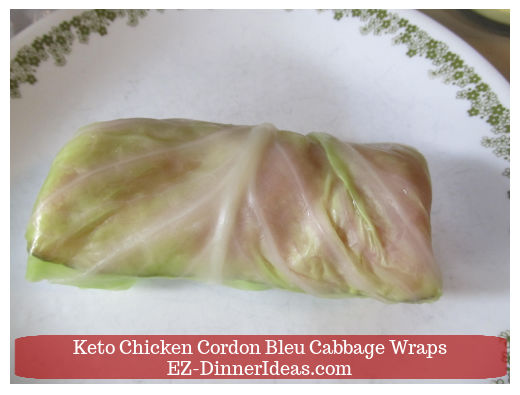 Then, roll towards the other end to make cabbage wrap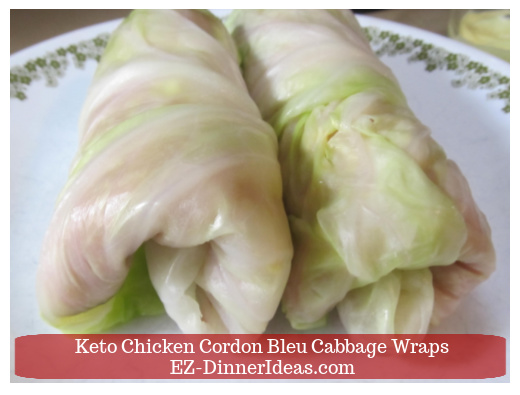 Everything is tugged inside the cabbage wraps. ENJOY!
---

You May Also Be Interested In:

---
Home > 7 Cabbage Recipe Ideas to Start Bumping Up More Fiber in Your Daily Diet > Cabbage Wrap Recipe | Keto Chicken Cordon Bleu Cabbage Wraps