Easy Chicken Cesar Salad Recipe
No-Cook Semi-Homemade Side Dish or Dinner in 10 Minutes

This easy chicken Cesar salad recipe uses 100% store-bought help blending in healthy ingredients which are perfect for picnic or on-the-go meal.  Busy parents, this is a keeper.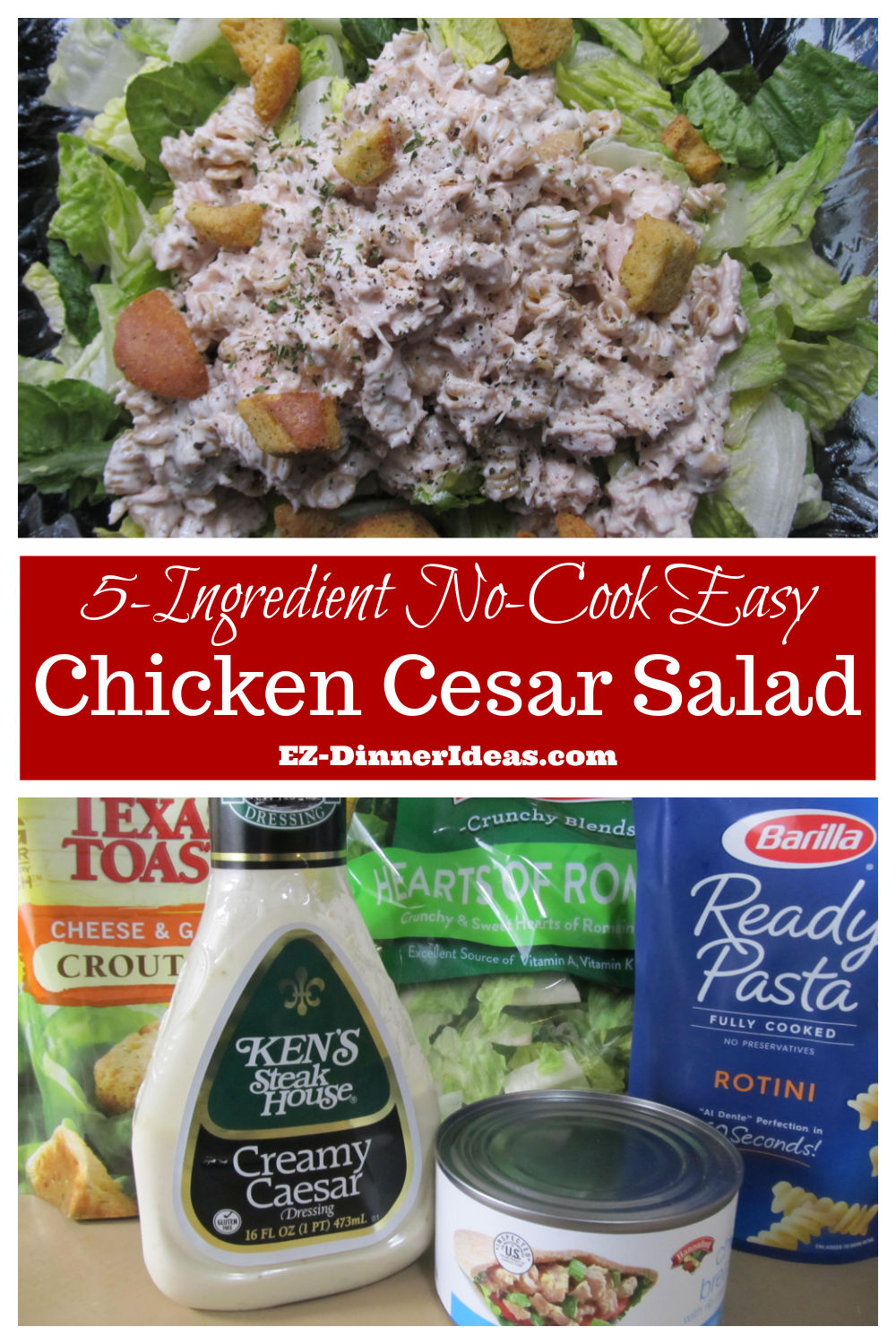 Total Time: 10 Minutes
Prep Time: 10 Minutes  
Active Cook Time: ZERO  
Serving: 3-4


Since baseball season started, we are running like a headless chicken.  But we enjoy every moment of it.  The only challenge is dinner.  We may have a super early small dinner before heading out of the door.  As soon as we got back home, everybody feels like eating again, especially having a growing boy.  A recipe like this is perfect.  You can make the chicken, dressing and pasta ahead of time.  When it is ready for serving, it is only assembling everything together.  

CHEF NOTES
Combine pasta, chicken and dressing ahead of time and store it in an air tight container.  Add pasta mixture on top of the vegetables before serving.  This will keep the lettuce fresh and crisp.

Leftover short pasta works well, too.

Croutons is an optional ingredient in this easy chicken Cesar salad recipe.  Feel free to replace it with any kind of nuts.
---

Recipe Ingredients and Tools

---

No-Cook Easy Chicken Cesar Salad Recipe and Directions

Ingredients
2 bags (9oz each) Pre-Washed and Pre-Cut Romaine Lettuce
1 can (12.5 oz) Chicken (drained well)
1 bag (8.5oz) Ready Pasta (I use the Barilla blend)
1 cup (and more on the side) Store-bought Cesar Salad Dressing
Shaved or Grated Parmesan Cheese (optional)
Croutons (optional)

Directions
Warm pasta in a microwave oven per package instructions.
Transfer lettuce to a salad bowl.
In a separate mixing bowl, mix canned chicken and 1 cup of salad dressing together.
Then, fold pasta into the chicken mixture.
Transfer chicken pasta on top of lettuce.
Add grated Parmesan cheese and a small handful of croutons to give some crunch to the salad (both are optional).
Mix everything together and enjoy immediately and serve more salad dressing on the side.
Want More Keto/Low-Carb Recipes?!
This ebook will teach you to cook authentic Chinese food in a healthy way. It will also show you how to get the beautiful colors, texture and taste you get from your favorite Chinese restaurants.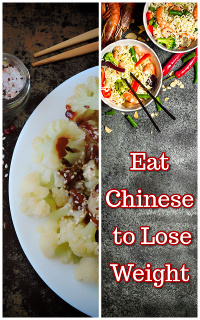 ---

No-Cook Easy Chicken Cesar Salad Recipe Steps with Photos
4 main + 1 optional ingredients to make this salad
Transfer lettuce to a salad bowl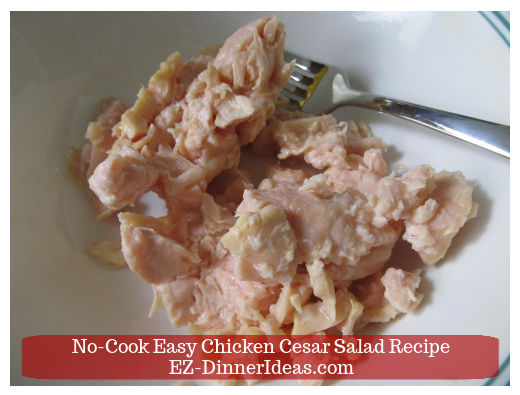 Add drained canned chicken in a separate mixing bowl
Top it with salad dressing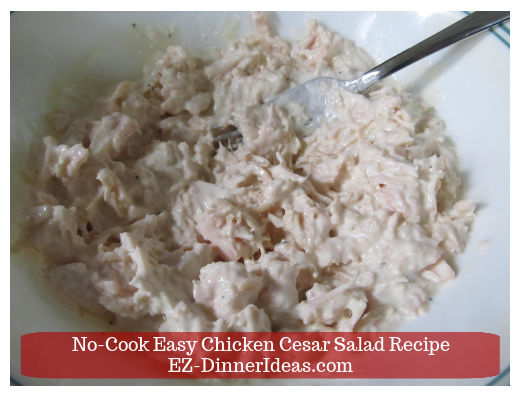 Combine both ingredients together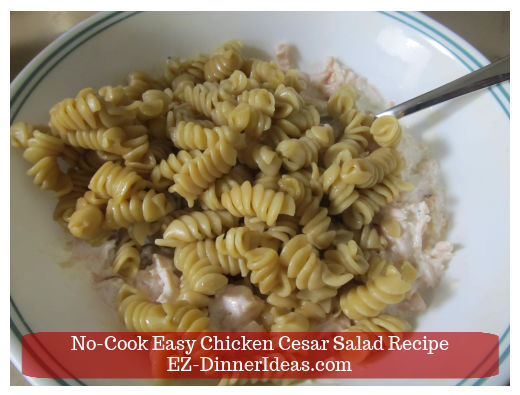 Add cooked pasta into chicken mixture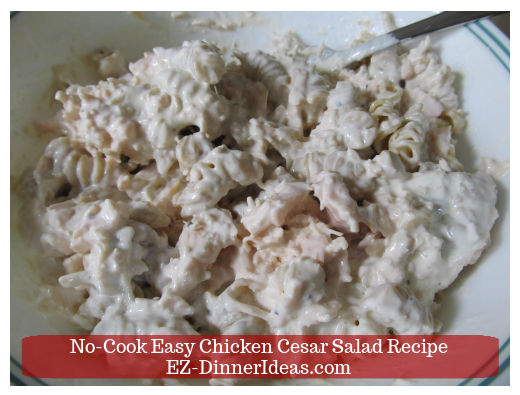 Gently fold in pasta into chicken mixture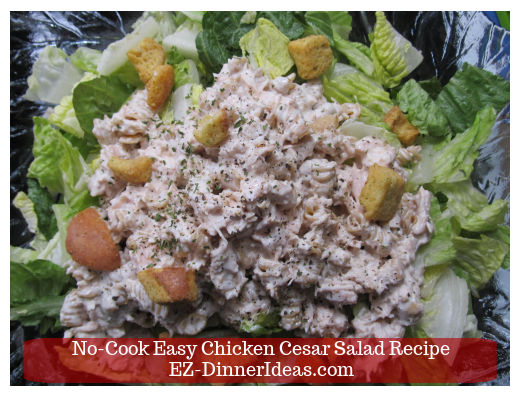 Add pasta salad mixture on top of lettuce with croutons (optional) and ENJOY!
---
Serve This With: 

---

You May Also Be Interested In:

---
Home > Pasta Recipes > No-Cook Easy Chicken Cesar Salad Recipe