BLT Pasta Salad Recipe
5-Minute No-Cook BLT Pasta Salad Comes to Rescue When You Only Want to Take A Break from Cooking Dinner Tonight!
BLT pasta salad recipe can be your to-go salad or just an easy meal to let you to take a breather from cooking.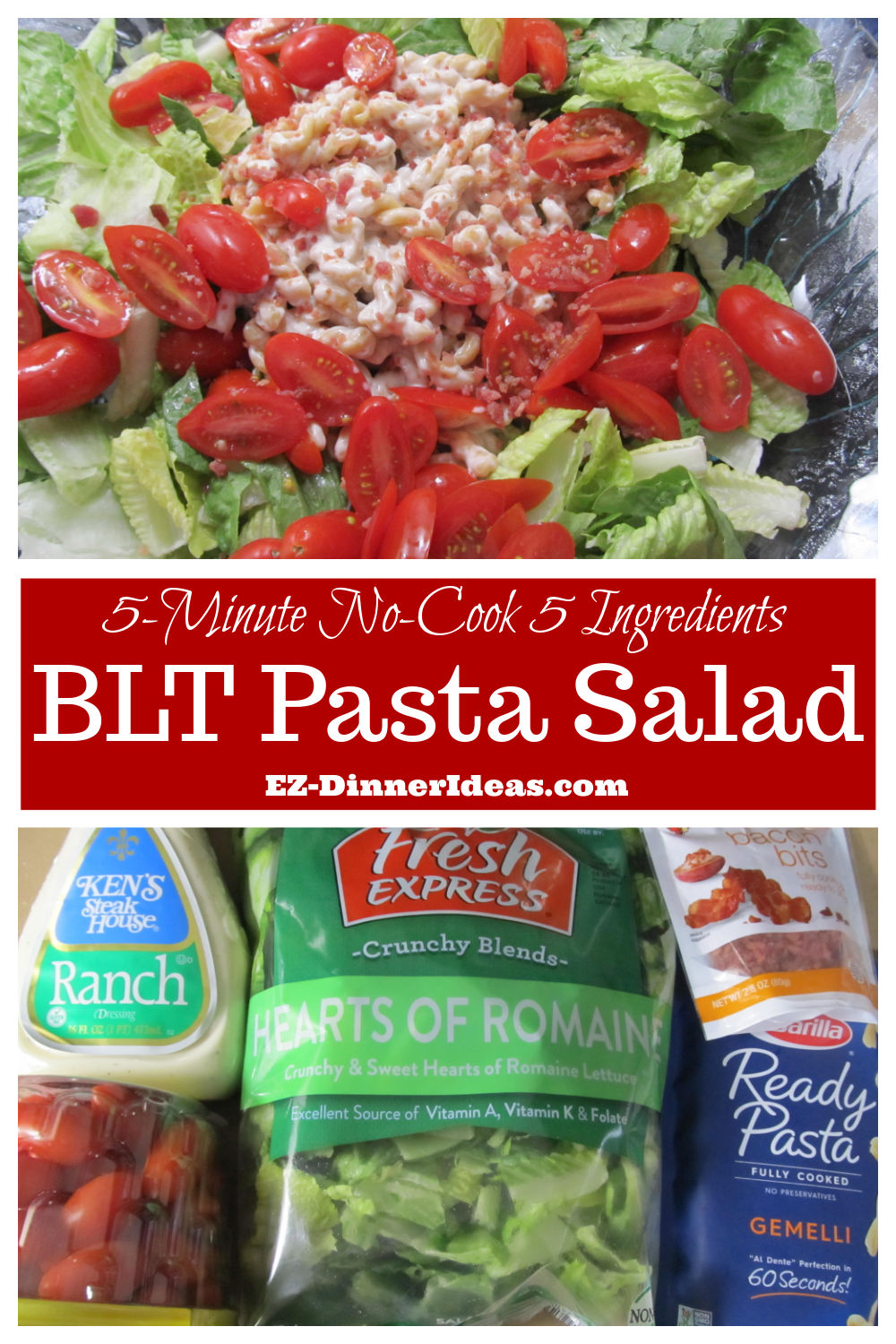 Total Time: 5-8 Minutes
Prep Time: 5-8 Minutes  
Active Cook Time: ZERO  
Serving: 2-3


Who doesn't like BLT? It literally can be anything. Sandwiches are the most popular route to go when it comes to BLT. But cooking the bacon on a hot day or the day you just want to lounge on the couch, this recipe sure is the best way to go.

CHEF NOTES
You can double, triple or quadruple this recipe.
If your mood hit that you want to cook up some bacon, go for it. Here is a no mess bacon recipe.
I love grape and cherry tomatoes which is the reason why I have them in this recipe. If you grow your own tomatoes in the garden, use whatever is on hand. If you do, I highly recommend to squeeze out and discard the seeds. This will prevent the salad from being too wet and watery.
My mom and uncle love to have croutons in their salad because of the crunch. If you happen to love that, too, feel free to add croutons or cheese crisps into this BLT salad pasta recipe. There are plenty of brands and blends of cheese crisps in the market. If you love to make your own, check out this recipe.
When you make a regular BLT sandwiches, there is always mayo for the bread. I tried mayo for the pasta salad dressing the first time and found that it was a bit too heavy for me. Therefore, I chose ranch dressing the next time. If you choose to stick to mayo, I highly recommend to use plant-base mayo, such as avocado or olive oil. Then, you may need to add a pinch of Italian seasonings, a little bit of mustard, salt and pepper to taste. This will spice up your BLT pasta salad recipe. I chose to use store-bought ranch dressing because the flavor is ready to rock and roll. But it is totally based on your preference.
As a mom, I know that every penny count. So, if you want to avoid any pre-cooked pasta, feel free to substitute it with the make-your-own one. The cold chill pasta leftover works best in this recipe. I normally prefer to add salad dressing while pasta is still warm. Not in this recipe though. It will be a bit too much. If you really have to cook up some pasta, best to rinse it under cold water first before mixing it with salad dressing.
Also, you can turn this to a to-go meal, it's super easy. First, mix pasta with the salad dressing and transfer to an air-tight container. Keep the vegetables and bacon bits separate. Only combine all ingredients together before serving. This will keep all vegetables fresh and crisp instead of soggy. If your kid(s) are in travel sport team, how many times that you have to bring along your lunch because of a double-header and a short break time for lunch? This will be a great lunch for everybody.
---
---

Recipe Ingredients and Tools

---

BLT Pasta Salad Recipe and Directions
Ingredients
1 bag (12oz / 340g) Pre-cooked Pasta
1 bag (16oz / 454g) Pre-cut; pre-washed Romaine Lettuce
1 pint (473ml) of Grape Tomatoes (cut into halves)
2 tbsp Bacon Bits
1/2 cup (101g) Ranch Dressing (serve more on the side)
Directions
Follow the instructions on the package to heat up the pasta in the microwave.
Use 2 food container lids. Single layer tomatoes on one lid with the rim facing up and cover the tomatoes with another lid and its lid facing down. The rims of both lids will prevent the tomatoes rolling away. Press down gently to prevent tomatoes moving around and use a sharp pairing knife to cut across the tomatoes.
Transfer pasta into a mixing bowl; stir in ranch dressing.
In a big salad bowl, add in romaine lettuce.
Add pasta in the middle of the salad bowl; top it with grape tomato halves and bacon bits.
Serve more salad dressing on the side and enjoy immediately.
---

BLT Pasta Salad Recipe Steps with Photos
A slight different combination of ingredients to make this salad recipe. This one uses mayo just like you use it on BLT sandwiches.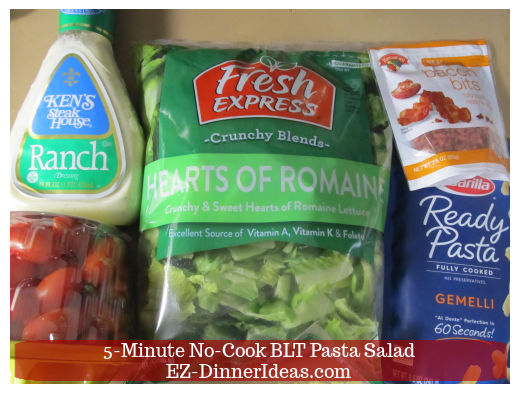 This uses ranch dressing to mix with the pasta. It's up to you to choose either combination.
Single layer grape tomatoes on a food container lid. Using the rim of it to prevent the tomatoes rolling away.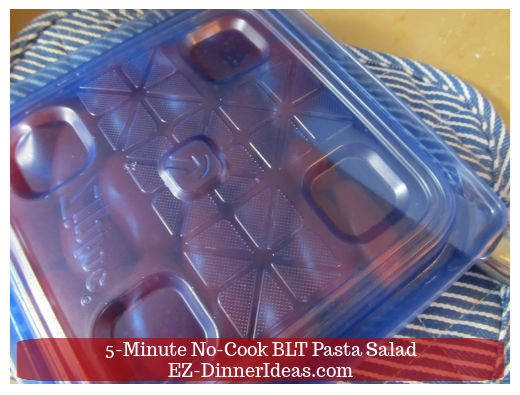 Cover tomatoes with another lid. Gently press it down and slide a pairing knife across to cut them.
There you go. Tomatoes are cut into halves.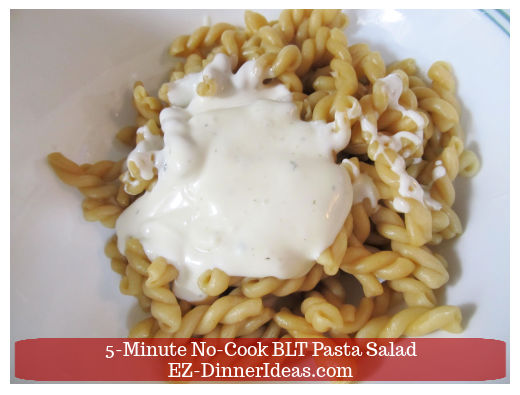 Combine cooked pasta and ranch dressing or mayo in a mixing bow.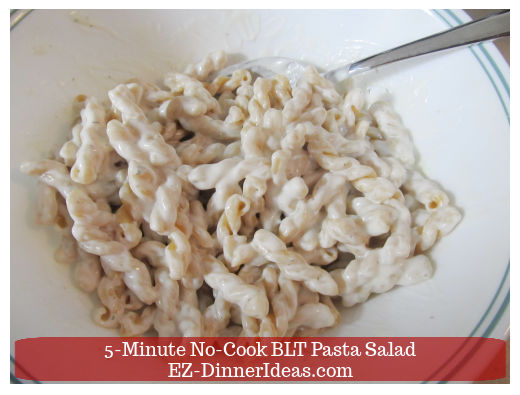 Toss to coat pasta with dressing.
Transfer romaine lettuce into a salad bowl.
Add pasta that you prepared earlier on top of the vegetables.
Add tomatoes
Sprinkle bacon bits on top
Toss to coat everything together and ENJOY!
---

You May Also Be Interested In:

---
Home > Quick and Easy Dinner Recipes > BLT Pasta Salad Recipe | 5-Minute No-Cook Salad