Easy Salad Meal

Pepper Pepperoni Pasta Salad Great for Any Occasions
An easy salad meal is great for any occasions.  You can serve this pepper pepperoni pasta salad in a dinner party or even on the road if you are always on the run from one place to another.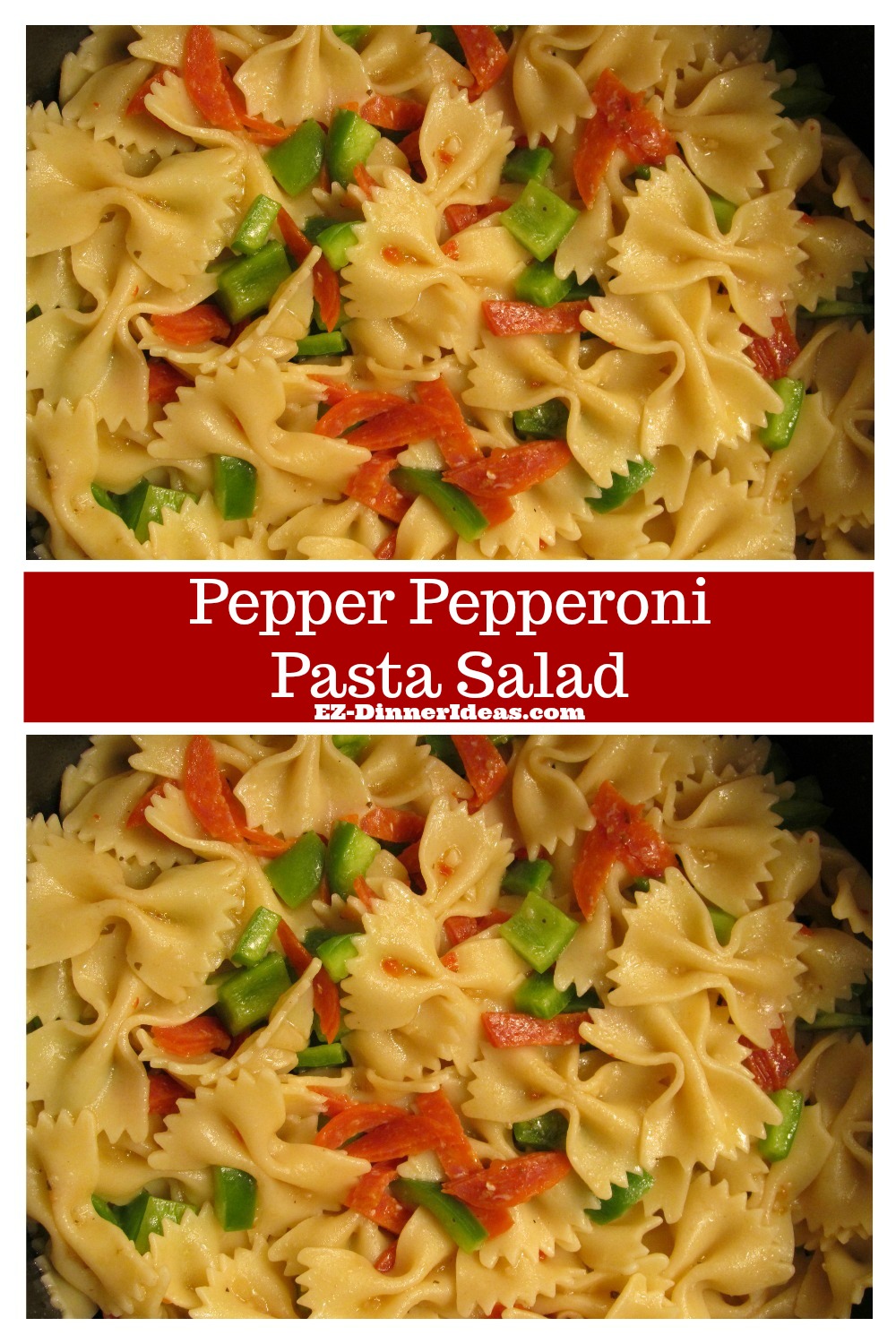 Total Time: 30 Minutes
Prep Time: 10 Minutes  
Active Cook Time: 20 Minutes  
Serving: 4-6


This pasta salad was the inspiration of a vendor in a bridal show several years ago.

That's right.  I remember that I had a booth doing Chinese calligraphy in the art show section that day.  This vendor handed out a sampler for people to try it to promote their catering business. 

Since then, I had never forgot that pasta salad.  It may not taste exactly the same as what the sampler was.  But this pasta salad tastes darn good. 

You can either serve it as a side dish or a TV dinner.  Everybody sitting in front of the TV watching a movie and enjoy a serving of this pasta salad.  Nothing is better than that, huh?
If you are always on the run, this is a perfect meal on the road for you and your family.


CHEF NOTES
I make it the day before serving and let it sit overnight in the fridge.  This allows all the flavors marry together. 

Yes, you can double the quantity.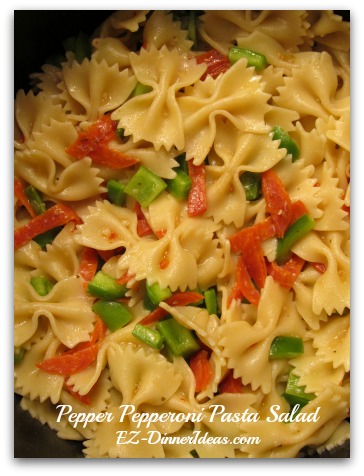 Easy Salad Meal Recipe and Instructions

Ingredients
2 Green Bell Pepper (discard membrane and diced)
30-40 pieces of Thinly Sliced Pepperoni (stack together and cut into thin strips)
1 box (1 pound) short pasta (I used bowl tie pasta)
1/3 cup Store-Bought Italian dressing

1 pot of Water
1 teaspoon Salt
1 tablespoon Canola oil

Bring a pot of water to a boil.
Add salt, oil and pasta.
Quick stir and let it cook until al dente.
While the pasta is cooking, dice the bell pepper and cut the pepperoni into thin strips.
Drain pasta and transfer to a big serving bowl or into the same pot again.
Combine bell pepper, pepperoni and Italian dressing together.
Chill it in the fridge overnight and serve.
---

You May Also Be Interested In:

---
Home > Pasta Recipes > Easy Salad Meal | Pepper Pepperoni Pasta Salad