Baconroni Hot Dogs
Meat Lover's Heaven
Baconroni Hot Dogs was the name given by my husband.  But the entire idea was from my 8-year-old.  

My little one loves pepperoni, bacon and hot dogs.  If you have been following my recipes, (BTW, thank you very much for your support), you may realize that I created several recipes by using pepperoni as main ingredient to keep my guys happy.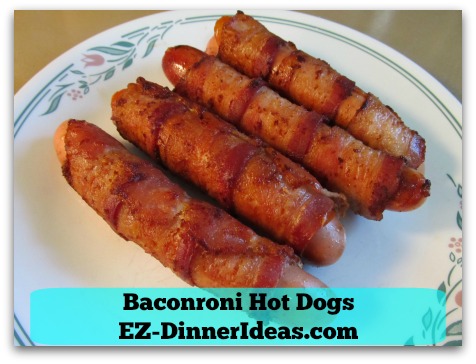 Prep Time: 5-10 Minutes   Cook Time: 10-12 Minutes   Serving: 2-4
One day, I picked up my son from summer camp.  As usual, he couldn't stop talking and told me, "Mommy, I have an idea.  You can make bacon, pepperoni hot dogs." 

Honestly, I am not big on this kind of food.  And I discourage my little one from eating too much of it.  Well, I gave it a shot a week later.  Then, voila, "Baconroni" Hot Dogs were on the table.  I must say they were pretty good.  Hope you enjoy this recipe as much as we do.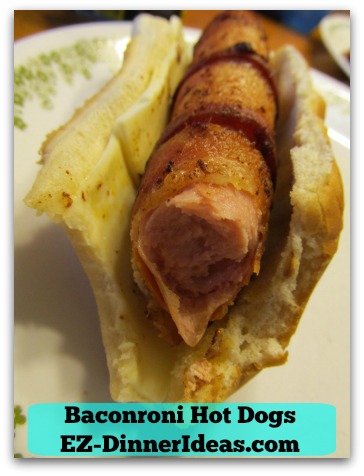 Mmmmm.....the crispy bacon adds another crisp on the outside of a hot dog. You can even hear it when you bite it
Tips
Yes, this "Baconroni" Hot Dogs recipe can be doubled.

I got a pound of bacon and use kitchen scissors to cut it in the middle to separate it into 2 halves.  I found that this method is better in getting the bacon wrapped around the hot dog more evenly.  If wrapping the dog with a whole piece of bacon is more convenient for you, please feel free to do so.
(Side note: what to do with the other half pound if not use it immediately?  As soon as separating it with the kitchen scissors, use a plastic wrap wraps it tightly and store in the fridge.  It will be good for up to 7 days.)
Baconroni Hot Dogs Recipe

Ingredients
4 Hot Dogs (I used those with natural casing because my little one prefers it to regular ones.  Whatever works for you.)
8oz  (227g) Bacon
16 Slices Pre-Sliced Pepperoni

Get everything out of the packages to make an assembly line

Line 3 half slices of bacon parallel with each other, slightly overlapping each other lengthwise
Line 4 slices of pepperoni slightly overlapping each other vertically
Line a hot dog on top of pepperoni slices
Wrap bacon and pepperoni on the hot dog and roll towards to the other end
Lay baconronni hot dog on a cold skillet or pan seam side down
Repeat from step 1 again until all hot dogs are wrapped
Turn on medium high heat and cook for 3-4 minutes until cooked and crispy
Turn down heat to medium to medium low 
Turn hot dogs to the other side and cook for 1-2 minutes
Repeat last step until all sides are cooked and crispy
Serve immediately with hot dog rolls, cheese, ketchup, mustard and/or other condiments

Recipe Ingredients and Tools

---
Serve This With: 

---

You May Also Be Interested In:

Return from Baconroni Hot Dogs Recipe page to Holiday Recipes page

Return to Easy Dinner Ideas Homepage