Fun Finger Food

Fruity Kielbasa Kebabs
With Many Healthy Ingredients
Who Can Complain This Appetizer Recipe?

A fun finger food recipe must be fun to make and fun to eat.  These fruity kielbasa kebabs fulfill every requirement you ask for.  The balance between salty and sweet flavors are so addicting that your guests will never get enough of them.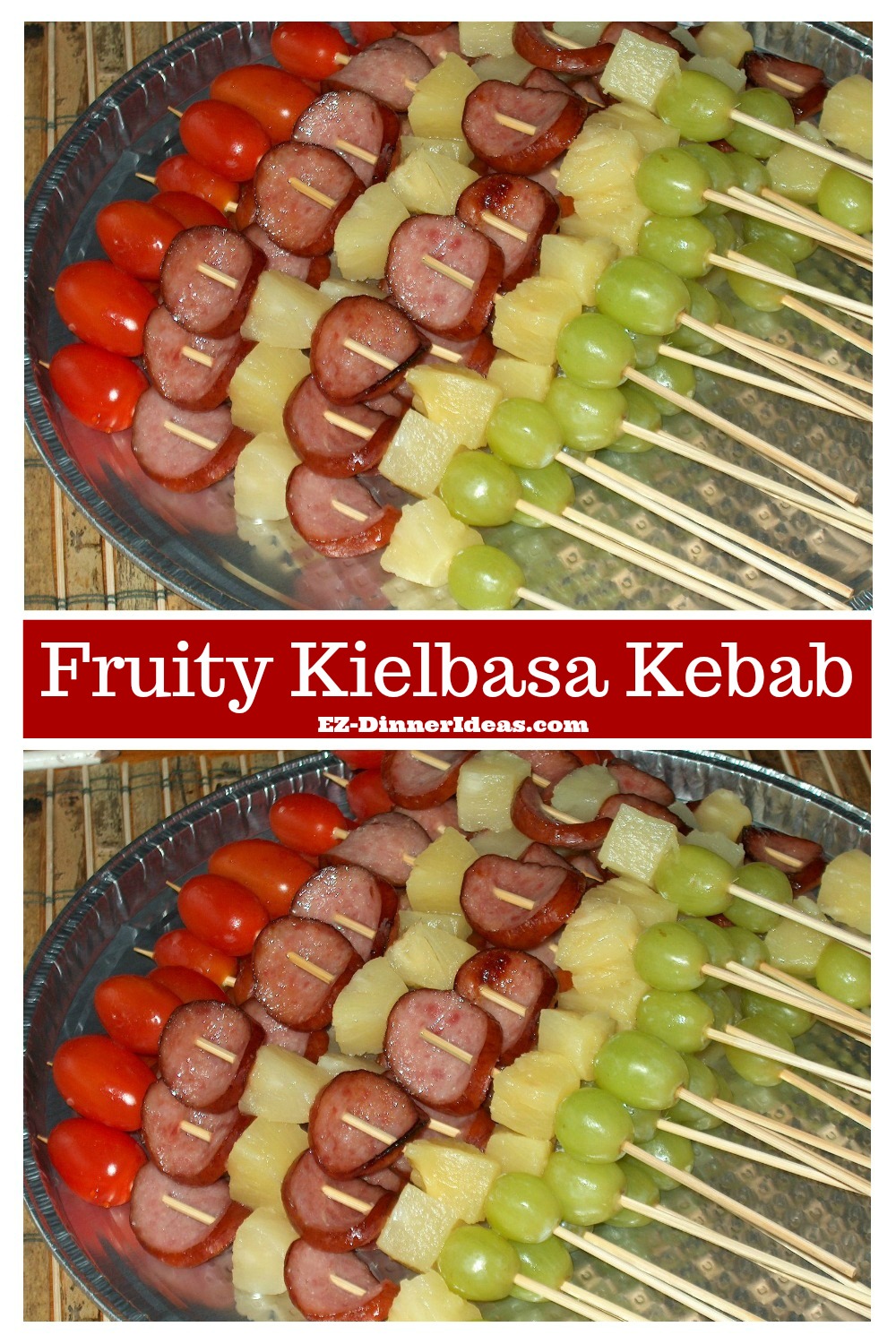 Total Time: 30 Minutes
Prep Time: 20 Minutes  
Inactive Cook Time: 8-10 Minutes  
Serving: 8


The first time I made these fruity kielbasa kebabs recipe, it was a big hit, especially for the kids.  

Many people, including myself, tend to eat more when it comes to a dinner party.  Even if there is a veggie tray in front of you, there is always a bowl of dip next to it.  Before the end of the night, you are stuffed and guilty.  Does it sound familiar?  Yes.....

This appetizer is not only fool proof, but also guilt-free.  Feel free to add more vegetables and/or fruit between the slices of kielbasa.  

Also, keep the little one occupied while you are busy at preparing the dinner party, have them to help you assembling the dish together.  Make sure to ask them not to play with the skewers.  Nobody wants to get hurt, right?

CHEF NOTES
Can be doubled.
This will be a great side dish recipe in the cook-out during summer time.
Feel free to substitute the kielbasa with mini hot dogs.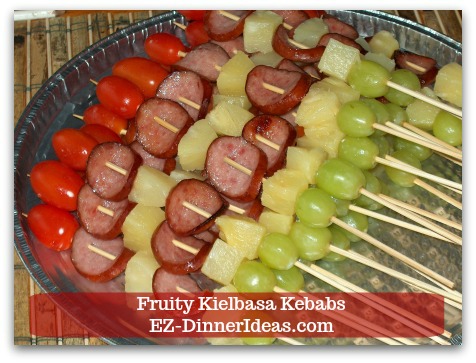 Fun Finger Food Recipe and Instructions
Ingredients

1 Can (1pound) Pineapple Chunks (drained)
1 Pint Grape Tomatoes
1 pound Cooked Kielbasa Sausage (sliced about ½" thick)
2 Cups Green Seedless Grapes
Long Skewers

Preheat broiler and line a baking sheet with aluminum foil for easy cleanup later.
Single layer the sliced kielbasa on the foil lined baking sheet.
Cook kielbasa under the broiler for about 4-5 minutes.
Turn over to the other side and cook another 3-4 minutes until desired doneness.
Let kielbasa cool at room temperature until it is cool to touch.
To assemble this fun finger food, thread food in this order (just like the picture): a grape, pineapple, kielbasa, pineapple, kielbasa and grape tomato through a medium length skewer.
Transfer to a big serving plate.
Repeat the last 2 steps until all ingredients are gone.

Fun Finger Food Steps with Photos

---

Recipe Ingredients and Tools

---

You May Also Be Interested In:

---
Home > Holiday Recipes > Fun Finger Food | Fruity Kielbasa Kebabs