One Pan California Blend Vegetables Kielbasa Bake
An Easy Side Dish
Or An Easy Dinner
This one-pan California blend vegetables kielbasa bake is the twisted recipe of one of my crowd feeder.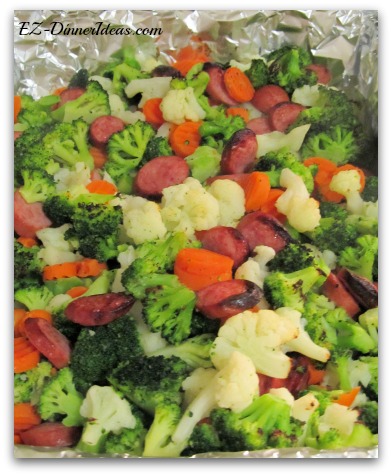 Prep Time: 10 Minutes   Cook Time: 40-50 Minutes  Serving: 4-6
I used to make broccoli cauliflower kielbasa bake. It has a lot of chopping. But my family loves it very much.

Vegetables could get very expensive when they are out of season. After coming up with this recipe, I may not go back to my original recipe again.

This recipe is very versatile. If you don't want to have kielbasa, you can replace it with all natural chicken sausage.

Or better yet, just replace kielbasa sausage with hot dogs. It will still do.

The best of all, eating so much vegetables, you are guilt-free. The great feeling can't be replaced.

So, let's get cooking. Remember, take a picture of your dish. Share with us and comment.
Ingredients

12-16 ounces Cooked Kielbasa (sliced about 1/4 - 1/3" thick; I love to either have Butterball brand turkey kielbasa or Hillshire Farm hot and spicy kielbasa)
4 pounds Frozen California Blend Vegetables (unthawed)


The vegetables and kielbasa before going into the oven
Preheat oven at 425F
Line a roasting pan with aluminum foil for easy clean up later
Add vegetables to the pan first and even them out
Add sliced kielbasa on top
Try to single layer sausage so that the kielbasa will get brown evenly
Bake for 30 minutes
Toss and bake for another 10-20 minutes until vegetables are crisp tender and serve immediately

You May Also Be Interested In:

Return from California Blend Vegetables Kielbasa Recipe page to Side Dish Recipes page

Return to Easy Dinner Ideas Homepage