30-Minute Chunky Vegetable Bean
Kielbasa Soup
A Quick And Easy Dinner
Or A Make-Ahead Meal
For Busy Night During The Week
This 30-minute chunky vegetable bean Kielbasa soup was created about the same time as the 20-minute spinach meatless meatball soup.

Now while I am transcribing it from my spiral bound notebook, my memory started to come back.  It was one of those time in life that you don't want to happen again.  It was fall of 2008.  We just sold our 2nd flip house.  My hubby thought that he could rely on doing this for a living.  But not long after that, the real estate market crashed.  We were struggling financially that I relied on some government help being the first mother.

So, I ended up having so many cans of beans in my pantry.  As you know throwing food away is always the last thing I want to see.  I ended up creating different recipes with beans.

I am so glad that that time of our lives was over.  We just need to open our eyes and hearts for a brighter future.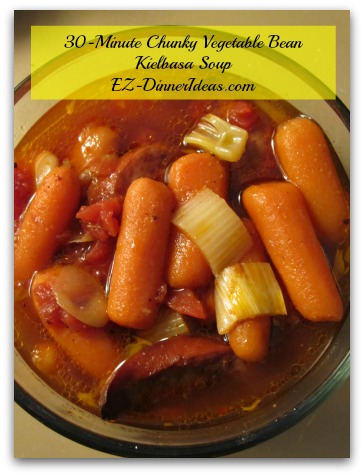 Prep Time: 10 Minutes   Cook Time: 30 Minutes   Serving: 4
Keep Your Make Ahead Soup In Room Temperature
Instead Of In The Fridge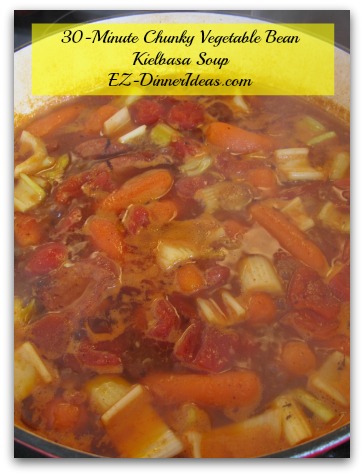 Although it only takes 30 minutes to make this soup, it could still be a luxury to some busy families.  To turn this soup into a make ahead meal, after adding carrots, tomatoes and other ingredients, let the soup comes to a rolling boil.  Cover it and turn off heat.  It will continue to cook.  At the night of serving, bring soup to a boil and add celery and beans.

This is the trick I learned from my paternal grandmother.  Hong Kong is a very small city, but full of life and energy.  Everybody from my home country lives in small apartment.  So, as the fridges.  No fridge is big enough to have a big soup pot fitted in it.  To keep soup from rotten due to the high heat and humidity, my grandmother did this:

Bring the soup to a rolling boil, cover it with lid.  Then, turn off heat.  In between, do not open the lid.  In other words, don't move or touch anything.

Repeat the same step the next day if you need to keep it for another day before serving.
My grandmother did this for years.  The soup is good for 3 days max. by staying in room temperature even in the climate of high heat and humidity.  Apply this method to any soup recipes.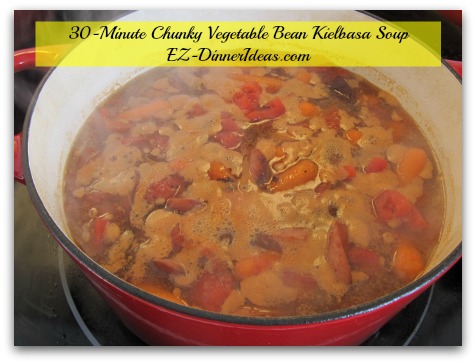 If this is a make-ahead meal, you can cover it and turn off heat once the soup comes to a rolling boil.

30-Minute Chunky Vegetable Bean Kielbasa Soup
Recipe

Ingredients
1 LB Smoked Turkey Kielbasa (sliced in diagonal 1/2" thick)
4 Ribs Celery (cut into 1/2" chunks)
1LB Frozen Crinkle Cut Carrots (thawed) or Fresh Baby Carrots
1 Can (28 oz) Diced Tomatoes with Juice
1 tbsp Garlic Powder
1/2 tbsp Onion Powder
1 Dried Bay Leaf
1 Can (15oz; drained and rinsed) Large Butter Beans
4 Cups Chicken Broth
1 pinch Crushed Red Pepper

Seasonings
1 tbsp Extra Virgin Olive Oil
Salt and Pepper To Taste

Heat extra virgin olive oil in soup pot at medium to medium high heat
Brown kielbasa about 8-10 minutes (or 3-5 minutes per side)
Add carrots, broth, tomato with juice, garlic powder, onion powder, crushed red pepper and bay leaf
Once the soup comes to a rolling boil, turn down heat to simmer and cover for 10 minutes (If this soup is a make-ahead meal, you can turn off the heat at this point.)

Add beans and celery and simmer for another 5-8 minutes
Add salt and pepper to taste and serve immediately

Recipe Ingredients and Tools


6-Quart Enameled Cast Iron Dutch Oven

You May Also Be Interested In:

Return from 30-Minute Chunky Vegetable Bean Kielbasa Soup Recipe page to Soup Recipes page

Return to Easy Dinner Ideas Homepage