Andouille Sausage Soup With Kale
Andouille Sausage Soup with Kale
No Matter How Busy You Are, You Must Spare 10 Minutes to Make This Cheesy Kale Andouille Soup

Andouille sausage soup with kale is a quick and easy soup dinner.  4 ingredients will give you a filling meal under 30 minutes.  How awesome is that, huh?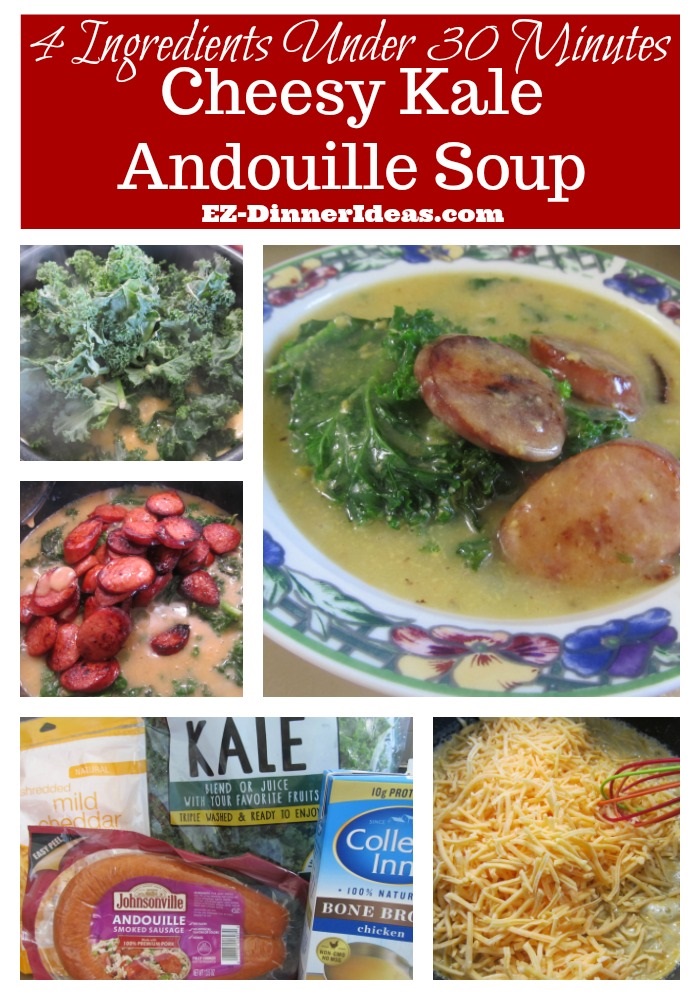 Total Time: 23-25 Minutes
Prep Time: 5 Minutes  
Active Cook Time: 18-20 Minutes  
Serving: 4-6


Originally, I was hoping to create this recipe purely for my keto diet.  However, I learned that coconut or almond flour is not a thickening agent as found on the internet.  The very first time after the soup was cooked, the soup basically separated into 2 layers, ie. cheese and keto flour mixture with broth.  

It took me a while to perfect this soup recipe.  At the end, the traditional way of using roux to make smooth and cheesy soup is the way to go.


CHEF NOTES
Andouille sausage is spicy.  If you want to stay away from any spicy food, replace it with regular cooked kielbasa sausage.

The first few times when I made this soup, I realized that the cheese didn't melt as nice and smooth as it is supposed to be.  Then, I finally learned that whisking the roux with broth little by little solves the problem.  So, here are the steps that I want you to follow so that your soup will come out perfectly for you:

When you whisk in broth with roux, the butter and flour mixture, add one cup only.  Just eyeball it.
Once the mixture is mixed and thickened, add another cup of broth.  Repeat this step with the remaining broth.
That will give the cheese a great foundation to melt it nicely later.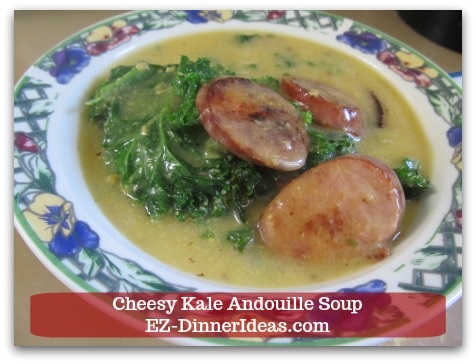 Andouille Sausage Soup with Kale Recipe and Instructions

Ingredients
1 lb Fresh Pre-Washed and Pre-Cut Kale
1 lb Pre-Cooked Andouille Sausage (sliced into bite size)
4 cups (1 lb) Pre-Shredded Cheddar Cheese
6 Cups Chicken Broth
1/4 cup Butter
1/4 cup All Purpose Flour

Brown sausage in a deep skillet at medium high heat, about 2-3 minutes each side.
Transfer sausages into a bowl and put them aside.
Use a paper towel carefully wipe the grease away and add 1/4 cup of each butter and all purpose flour.
Whisk to combine and let roux to cook at least a minute.
Whisk in broth, one cup at a time, and continue to whisk until all lumps are gone and soup is thicken.
Stir in cheese until soup is smooth.
Add kale about 1/4 of portion each time and use a soup laddie to push the kale into the soup, repeat this step until remaining kale is all in.
Add andouille sausage back into the soup.
Salt and pepper to taste and enjoy immediately.

Andouille Sausage Soup with Kale Steps with Photos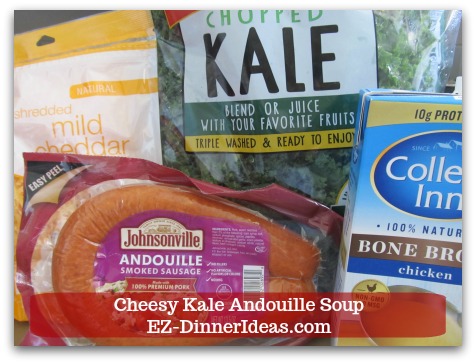 4 ingredients and dinner will be ready under 30 minutes.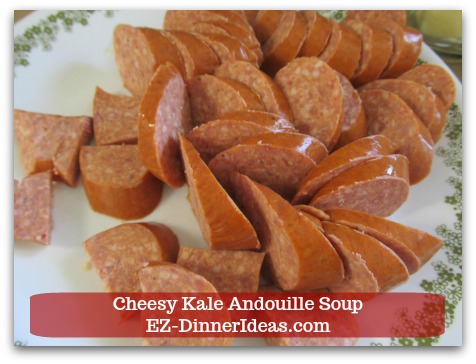 Slice cooked sausage into bite size.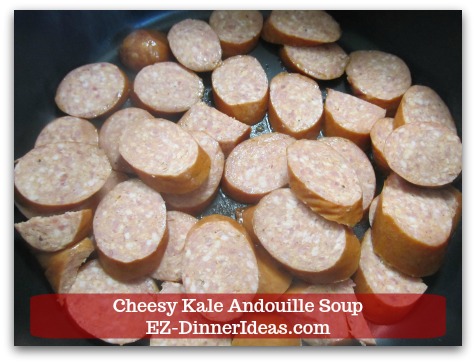 Cook 2-3 minutes each side.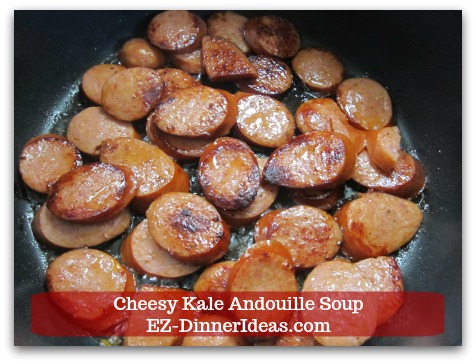 Until sausage is brown.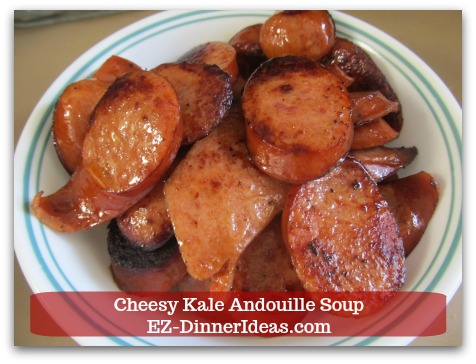 Transfer sausage to a bowl and put it aside.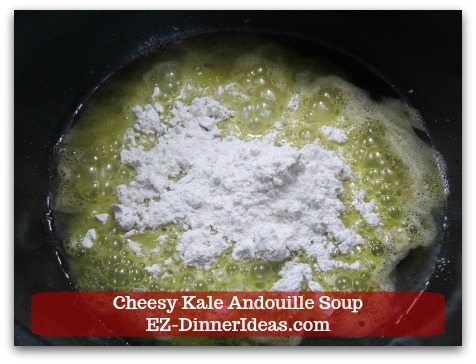 Add butter and flour into the same pot.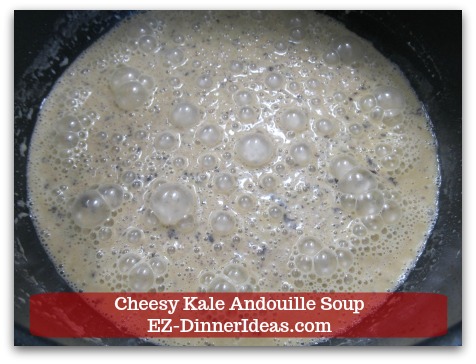 Whisk to combine to make roux.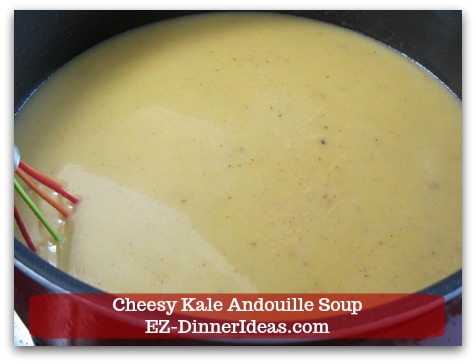 Add broth, one cup at a time, to make thick soup base.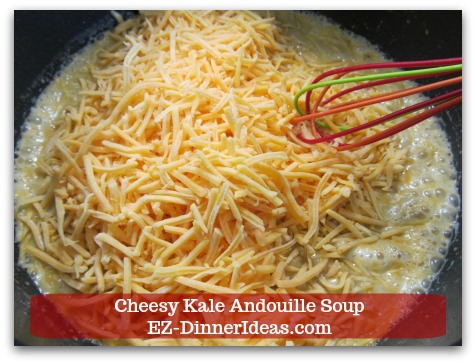 Whisk in cheese.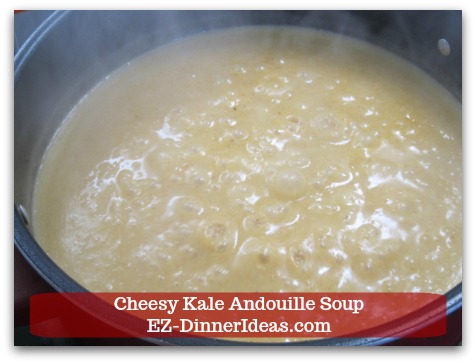 When cheese is melted and soup is boil....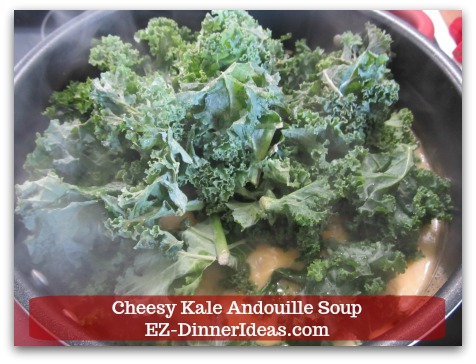 Add kale.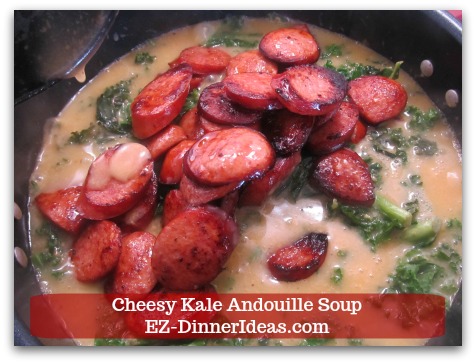 Stir in cooked sausage.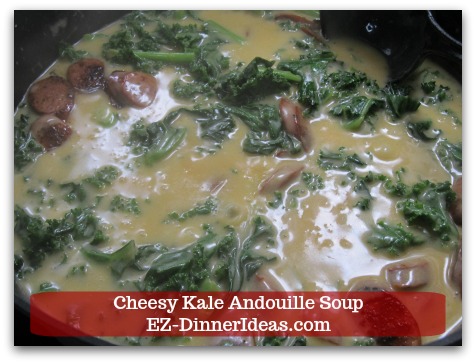 Salt and pepper to taste.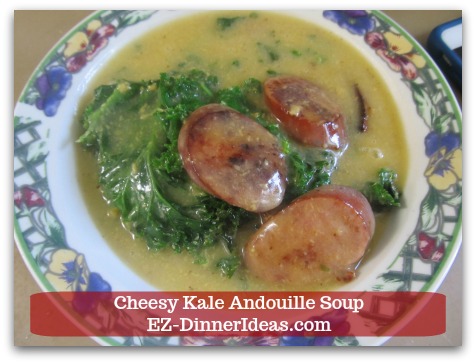 ENJOY!
---

Recipe Ingredients and Tools

---
Serve This With: 

---

You May Also Be Interested In:

---
Home > Soup Recipes > Andouille Sausage Soup with Kale