One Pan Asparagus Shrimp Kielbasa Bake
Minimal Prep Work; No Dishes
A Great Dinner No Way You Would Pass
One Pan Asparagus Shrimp Kielbasa Bake is a dinner that everybody is going to eat with their hands.  I like to shell the shrimp because the seasonings can get on the flesh instead of the shell which is more flavorful.

But you can totally skip the shelling part and let everybody to take care of that while they enjoy the food later. If that's the case, you only need 5 minutes prep time for this one-pan dinner.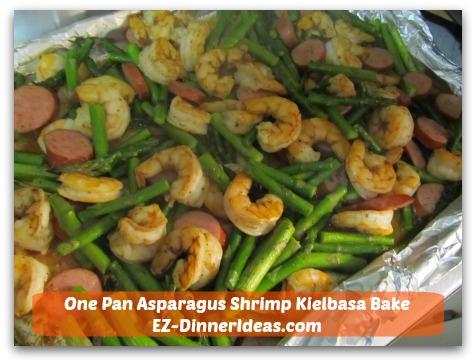 Total Time: 35-45 Minutes
Prep Time: 5-15 Minutes  
Inactive Cook Time: 30 Minutes  
Serving: 4



CHEF NOTES

This is also a recipe that you can get in and out of the grocery store like a snap.  The fish counter always have ready to cook shrimp.  If you love a Friday night fish dinner, this is an awesome alternative to feed a good crowd with very minimal prep work.

I used pre-cooked Kielbasa in this recipe.  Feel free to replace it with chicken sausage, pre-cooked Chorizo or Andouille sausage.  It depends on how much heat and spice you can take.

If you need to double the quantity, evenly separate all ingredients into 2 same size baking sheets.  Cook time will be the same. 
One Pan Asparagus Shrimp Kielbasa Bake Recipe

Ingredients

2 bunches Asparagus (ends trimmed; cut into thirds)
1 lb Kielbasa (sliced)
2 lbs Thawed Frozen Shrimp (16/20 - 21/25 counts; shelled and deveined)
1 Lime (zest and juice)
1 tsp Old Bay Seasonings
1/2 tsp Salt
1/4 tsp Black Pepper
1 tbsp Extra Virgin Olive Oil

Preheat oven at 400F
Use both hands to hold a spear of asparagus on either end and slightly bend it.  It will snap from the tough part.  Use that spear as your measurement unit and line up with the rest of the spears and cut out the tough section and discard.  Cut the spears into thirds
Combine everything in a big mixing bowl
Transfer all ingredients into the baking sheet
Bake for 15 minutes
Turn and toss and bake another 10-15 minutes until shrimp turn opaque and serve immediately

One Pan Asparagus Shrimp Kielbasa Bake Steps with Photos

Recipe Ingredients and Tools

---
Serve This With: 

---

You May Also Be Interested In:

---
Home > Seafood Recipes > One Pan Asparagus Shrimp Kielbasa Bake