Sauteed Asparagus Pepperoni
A Pantry Staple + Seasonal Vegetable
Hmm...Delicious!!!!
My husband loves pepperoni.  Of course, my son is the shadow of his father.  So, I always have at least a bag of sliced pepperoni in my pantry all the time.  My mom and my grandma always look into what they have in the pantry and make their next meal or for new recipe ideas.  So, here is one of my concussion.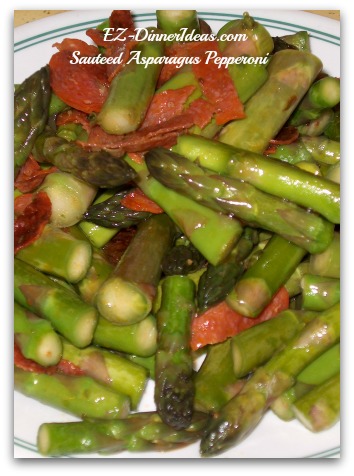 Prep Time: 10 Minutes   Cook Time: 10-12 Minutes   Serving: 2-4
Alternative for Asparagus
Some people do not like asparagus.  Or this vegetable is not in season.  So, any other alternative?  Cut green beans would be a good substitute.


Nutrition Facts
Macro of 2 Servings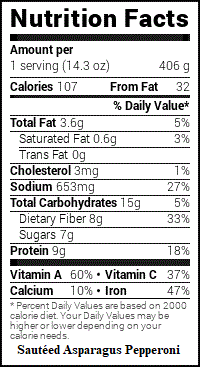 Macro of 4 Servings

Transform Sauteed Asparagus Pepperoni
To A Salad
Since the pepperoni is so tasty, you can toss it with short pasta.  Serve the salad either warm, room temperature or cold.
Ingredients
1.5-2 pounds Asparagus
1/8 -1/4 cup Diced/Sliced Pepperoni (if it's pre-sliced one, cut them into 3 parts)

1 tablespoon Extra Virgin Olive Oil
1/2 teaspoon Salt

Take a piece of asparagus, hold both ends and slightly bend it
The tough part will break apart from the tender part
Use that asparagus spear as your measuring unit and align it with the rest of the asparagus spears and cut the tough parts and discard
Then, cut the asparagus 1" long at an angle
Preheat a big skillet at medium high heat
Add Extra Virgin Olive Oil and pepperoni in and cook until the edge starts crispy; about 2 minutes
Add asparagus and cook to desired crisp tender; about 5-8 minutes
Salt and pepper to taste and serve immediately


You May Also Be Interested In:

Return from Sauteed Asparagus Pepperoni Recipe page to Easy Side Dish Recipes page

Return to Easy Dinner Ideas Homepage