Oven Roasted Pepperoni Salmon
Who Would Think
Pepperoni And Salmon
Go So Well Together?!
Oven roasted pepperoni salmon was inspired by a search to EZ-DinnerIdeas.com.  "Everything tastes better with pepperoni or bacon."  That is the mantra of my 7-year-old.  He loves salmon.  He started more than a year ago when we were watching a cooking show of Ming Tsai butchering an entire salmon and how he deboned and cut up the meat into right portion.  

The next day, we were doing our usual grocery shopping.  When we walked by the fish counter, my son asked me, "Mommy, can I try the salmon?"  Honestly, I was skeptical.  I expected that my son would hand me the whole plate after the first bite.  But what an amazing surprise.  He loves it and he can't get over his weekly salmon dinner since then.

Since my husband is not a salmon eater, I only make salmon on the day when he will be at church for Bible study group.  My little one always loves his food with big flavor.  So, when I think of putting pepperoni on salmon, I knew that he would love it.  Of course, it was no surprise there when he first saw it on his plate.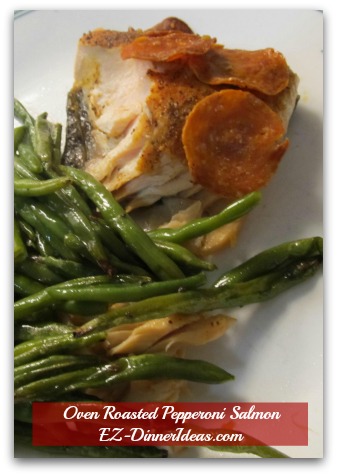 Prep Time: 5-8 Minutes   Cook Time: 12-15 Minutes   Serving: 2

Oven Roasted Pepperoni Salmon
For Big Family Dinner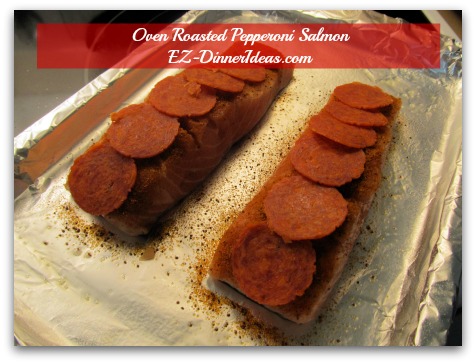 No matter how many servings you are going to cook, always leave space around the seafood. This guarantees the heat passes through and every piece cook perfectly.
Although I cook 2 servings here in this recipe, which is perfect for planning date night dinner, please feel free to double or triple the amount if you need to make a family dinner. 
All you need to do is to make sure each salmon fillet has an inch of space all around it.  Then, the cook time will be the same regardless the quantity you pop into the oven.
Seasonings
Since Old Bay Seasoning and Pepperoni are both very salty, hold the salt and pepper.  You may not need either.
Oven Roasted Pepperoni Salmon Recipe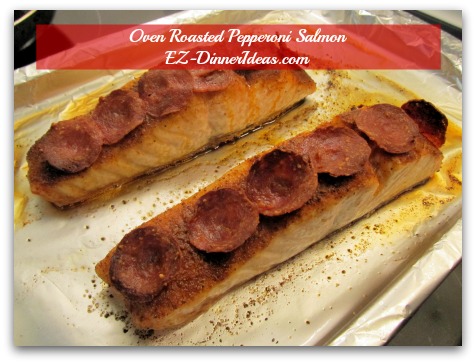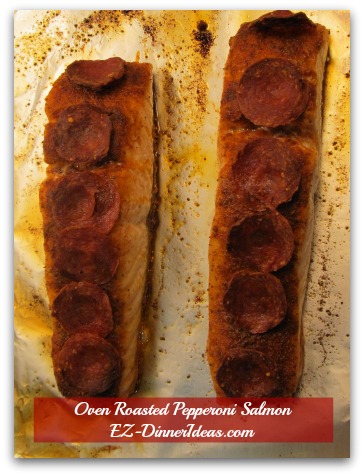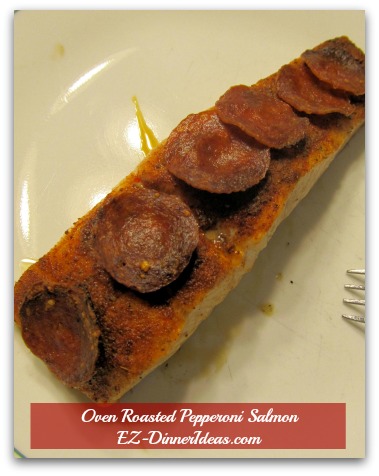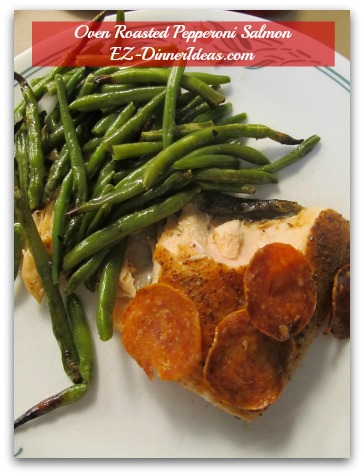 Preheat oven at 425F
Line a baking sheet with aluminum foil and coat with no-stick cooking spray (refer to "How To Line Baking Pan With Foil")

Place Salmon fillets skin side down on the baking sheet, make sure there is at least 1" space around each fillet
Add Old Bay Seasoning on top of Salmon (When it comes to Old Bay Seasoning on the salmon, I put liberal amount on it because my little one loves big flavor. Together with Pepperoni, the seafood does get spicy.  Therefore, if you are always light on your spices, just go easy on seasoning the fish.  You can always add more later.)
Cover Salmon with pepperoni slices (each pepperoni just slightly overlapping each other on the edge)
Bake in oven for 12-15 minutes until desired doneness
Let it rest in room temperature for 2 minutes and serve
---
Serve This With: 

---

You May Also Be Interested In:

Home > Seafood Meal Ideas > Oven Roasted Pepperoni Salmon