Lemon Garlic Salmon Recipe
Garlic and Herbs Olive Oil Poached Salmon is A Tasty One-Pan Dinner for Healthy Eating

Lemon garlic salmon recipe is a super easy and tasty one-pan seafood meal.  The seasonings are already in your pantry.  With very little work, dinner will be ready in no time.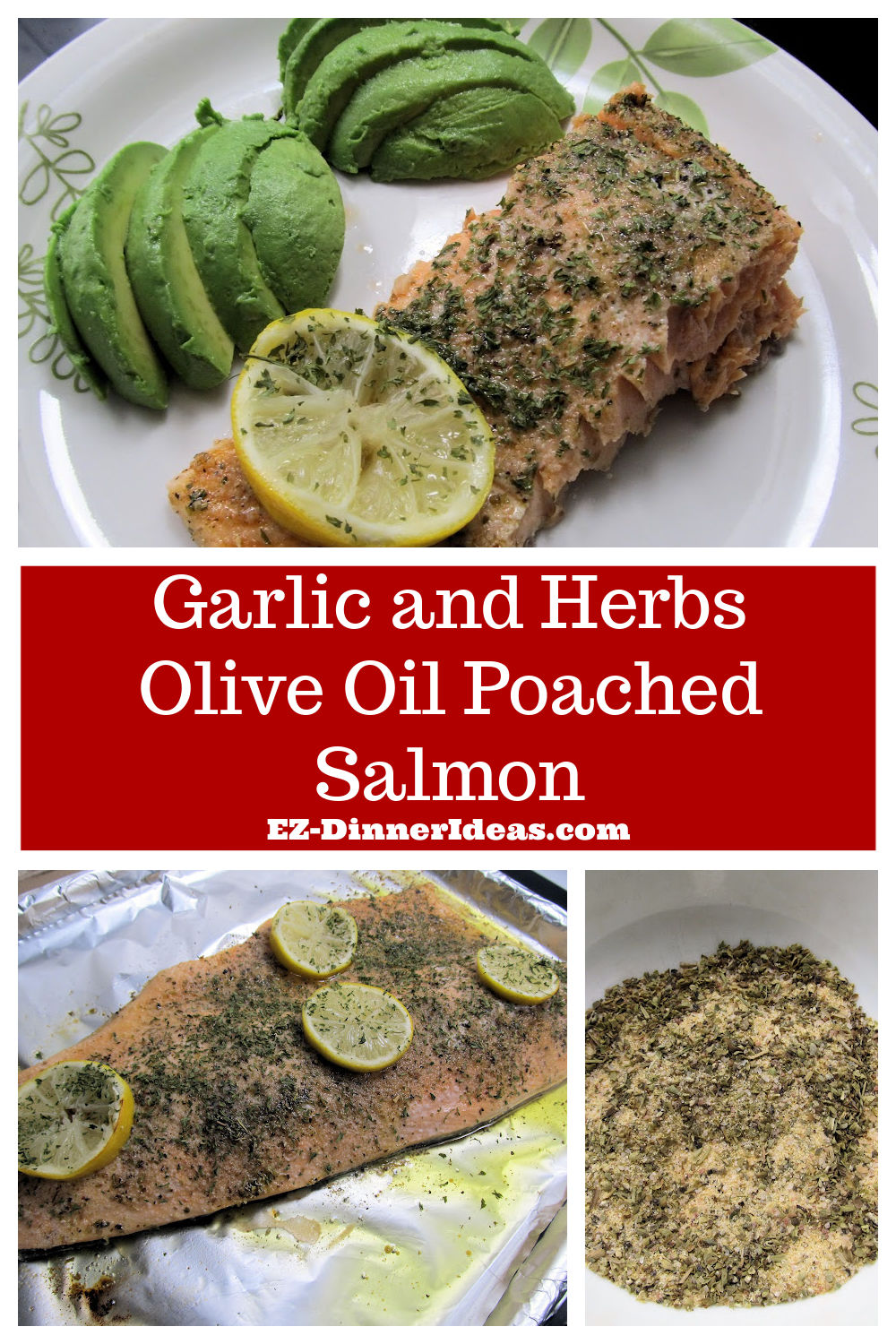 Total Time: 20-23 Minutes
Prep Time: 5 Minutes  
Inactive Cook Time: 15-18 Minutes  
Serving: 4-6


Salmon is always on our dining table because my son loves it.  

When I had the first bite, I could see it in my mind eyes that my mom would fall head over heels for this dish instantly.  She likes healthy eating and still keeps herself in great shape with youthful appearance even in her 70s.

The nice thing about this salmon recipe is that the seasonings are in your pantry already.  So, if you are a big fan of healthy eating, I know that you will love this easy dinner.

CHEF NOTES
I have never been a big fan to squeeze lemon juice in my seafood dish.  But for this seafood recipe, the lemon juice does make the flavor pop.  So, I highly recommend to cook it with lemon and some fresh squeezed lemon juice for serving.

If there is any leftover, use the meat to make salmon avocado salad.
---

Recipe Ingredients and Tools

---
Lemon Garlic Salmon Recipe and Instructions

Ingredients
1 (about 2.5 lbs) Salmon Filet
2 tbsp Extra Virgin Olive Oil
2 Lemon (one cut into slices and the other one cut into wedges)
Dry Parsley (for garnish only)

Seasonings
1.5 tsp Salt
1/2 tsp Black Pepper
1 tbsp Garlic Powder
1 tsp Italian Seasoning

Directions

Line a big baking sheet with aluminum foil for easy clean up later.
Transfer baking sheet into the oven while it is preheating to 425F.
In a mixing bowl, combine all seasonings together, i.e. garlic powder, Italian seasoning, salt and pepper.
Once oven reaches its temperature, take out the hot baking sheet and lay salmon skin side down on it.
Sprinkle seasoning mixture on the salmon (more seasoning on the thicker side of the fish) and gently pad it down.
Add olive oil on top of salmon; then add slices of lemon on top and cover the tray with a piece of foil to seal it.
Bake in oven for 15-18 minutes to desired doneness.
Sprinkle dry parsley on top to garnish (optional).
Serve immediately with lemon wedges along with a salad, avocado slices or blanched green beans.
Want More Keto/Low-Carb Recipes?!
This ebook will teach you to cook authentic Chinese food in a healthy way. It will also show you how to get the beautiful colors, texture and taste you get from your favorite Chinese restaurants.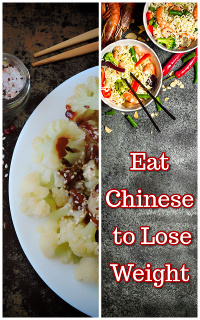 ---

Lemon Garlic Salmon Recipe Steps with Photos
Combine seasonings in a mixing bowl
Mix seasonings together
Add mixed seasoning on top of salmon
Add extra virgin olive oil on salmon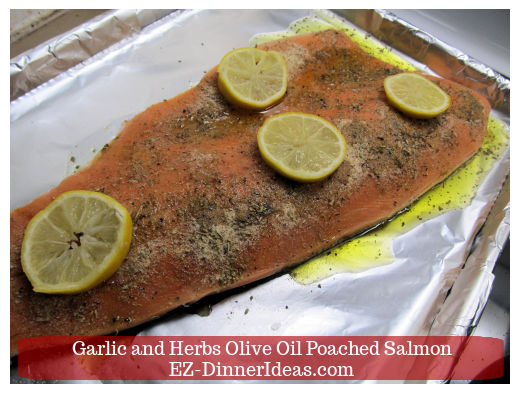 Add lemon slices on top
Cover salmon with foil and bake in the oven
Garnish salmon with dry parsley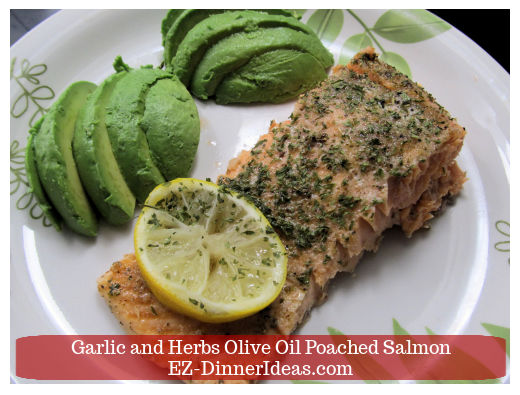 ENJOY with avocado!
---
Serve This With: 

---

You May Also Be Interested In:

---
Home > Seafood Meal Ideas > Lemon Garlic Salmon Recipe | Garlic and Herbs Olive Oil Poached Salmon