Caprese Salad Recipe
Easy Tomato Mozzarella Salad with A Light Balsamic Vinaigrette.  This Yummy Recipe Gives You Plenty of Flexibility to Switch It Up.
This caprese salad recipe is super easy.  Chop and drop is all you need to do.  Without much hassle, it is a great side dish to serve in a potluck dinner.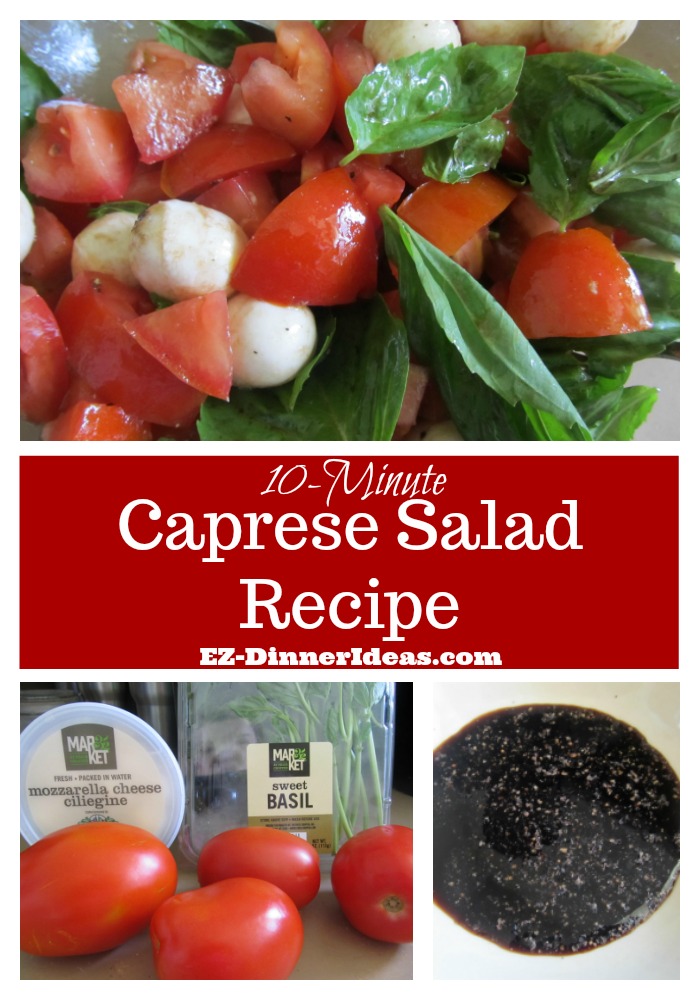 Total Time: 10 Minutes
Prep Time: 10 Minutes  
Active Cook Time: ZERO  
Inactive Cook Time: ZERO  
Serving: 4


Traditionally, caprese salad recipe always comes with the balsamic glaze.  Making balsamic glaze means extra time and extra sugar intake.  This version only sticks with balsamic vinaigrette in order to enjoy the fresh ingredient flavors instead.  Besides, it is very flexible that you can switch up the ingredients here and there and make it more convenient for you.

I served this easy tomato mozzarella salad first when we had our weekly family dinner gathering.  My sister-in-law fell in love at the first sight. 


CHEF NOTES
Any tomatoes work in this recipe.  I highly recommend Vine, Roma or grape tomatoes. 

I used low moisture mozzarella cheese before which will need some time for cutting.  However, it is more economical.  Mozarella Pearls (the one in bite size) is a bit pricier, but less work.  Pick the one works best for your budget and time.

Fresh basil leaves come into a relatively big package that it will take a while to use them all.  Dry basil is a great alternative.  If you choose to use the dry one, add one heaping teaspoon and give it a try first.  You can always add more if you want to.

Side note: Balsamic glaze is available in the store if you really want to use that instead.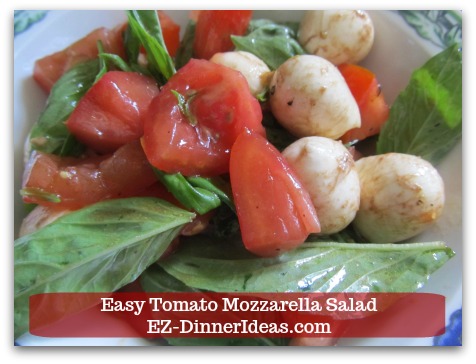 Caprese Salad Recipe and Instructions

Ingredients
1-1.5lbs Vine/Roma Tomatoes (bite size)
8oz Mozzarella Pearls (drained)
A few pieces of Fresh Basil Leaves
Dressing Ingredients
2 tbsp Balsamic Vinegar
2 tbsp Extra Virgin Olive Oil
1 tsp Italian Seasoning
Salt and Pepper to taste

In a small bowl, whisk together all dressing ingredients and put it aside.
In another large bowl, combine all salad ingredients together.
Pour in the dressing into the salad and toss to coat.
Chill it for an hour or serve immediately.

Caprese Salad Recipe Steps with Photos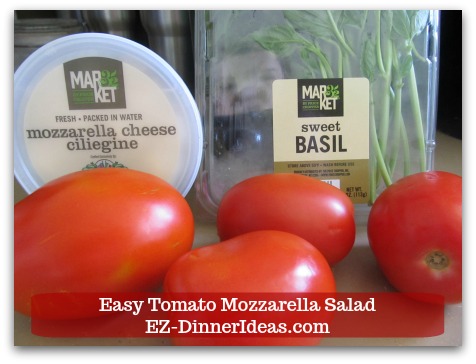 3 easy fresh ingredients. Make sure to check out the Chef Notes to find out more ways to switch it up.
---

Recipe Ingredients and Tools

---
Serve This With: 

---

You May Also Be Interested In:

---
Home > Easy Side Dish Recipes > Caprese Salad Recipe | Easy Tomato Mozzarella Salad