Quick and Easy No-Cook

Salmon Avocado Salad
A Much Healthier and More Beautiful
Twist Of Seafood Salad
This quick and easy no-cook recipe makes healthy eating very manageable.  Assemble and dive in.  This salmon avocado salad can be any meal on any day.  It is beautiful and yummy.  No way you will pass this.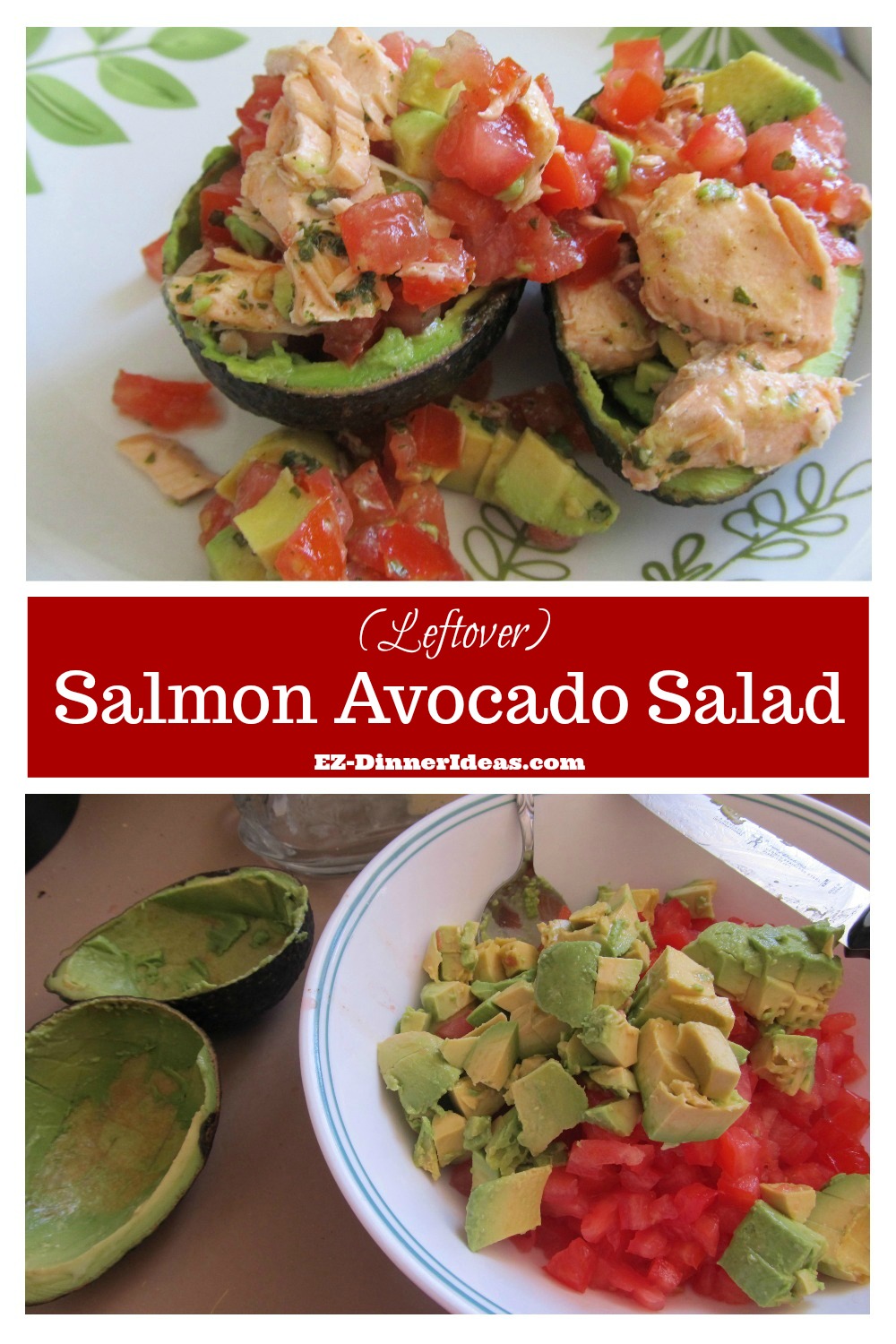 Total Time: 15 Minutes
Prep Time: 15 Minutes  
Active Cook Time: ZERO  
Serving: 2-3


This recipe was originally called leftover salmon avocado salad..... hmmm.....fish leftover???  How does that work?  Does it smell very fishy?  Well, before creating this recipe, I can tell you I have the same questions.  But seeing food in the garbage is always the last thing I want to see.  So, I decided to give it a try.
In my house, we have salmon at least once a week.  Thanks to my little one.  He fell in love with salmon about 2 years ago.  I once didn't buy it because the fish didn't look great in the market that day.  Man, oh man....he didn't let me live it down, "Mommy, why didn't you buy me salmon?"  Since then, it becomes my mission that I would find some great salmon one way or the other on a weekly basis.

As you know, it is pretty pricey when it is sold at regular price.  If you buy all natural or something in better quality, it is even more.  So, if salmon is on sale, I always buy a little bit more than usual.  Well, that "little bit" sometimes goes way overboard.  That means there would be a chance of leftover.  Fish leftover doesn't sound very appetizing.  But you know me.  Leftover is always a brand new ingredient for a different recipe idea and a great opportunity, in my opinion.

While I was brewing this recipe to use up the leftover, I just thought, "In fact, this is a very economic and healthy way to bump this dinner up in a larger volume."  The day I was thinking of that question, avocado and vine tomatoes were on sale.  Viola!  Here we are enjoying this quick and easy no-cook recipe.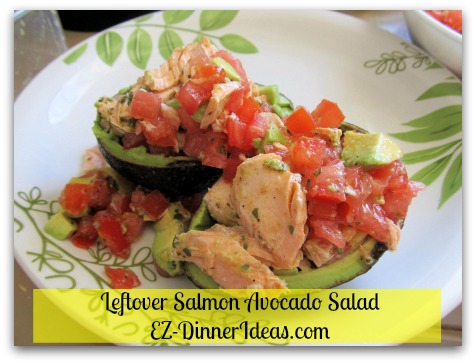 CHEF NOTES
Most of my family is not big on onion, regardless if it is cooked or raw.  So, I skipped it.  I did realize that with a little bit of onion flavor, not only add some crunch, but also balance out the strong leftover fish flavor, if there is any.  Therefore, I recommend you to add a shallot or 1/4 small red onion in this salad.

Smoked salmon is a great alternative in this recipe.  However, beware that store-bought smoked salmon and cooked salmon have very different textures.  My son feels smoked salmon a bit slimy.  So, he stays as far away as he can.  If you choose to stick with cooked salmon, the recipe here provides you instructions how to prepare it.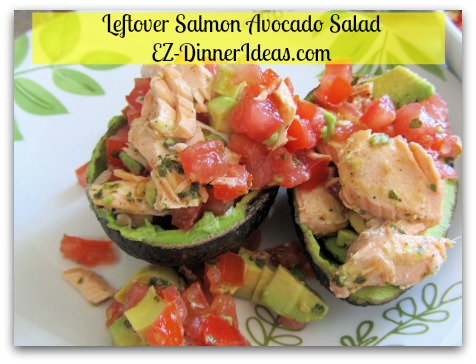 Quick and Easy No-Cook Recipe and Instructions

Ingredients

4-6 oz Salmon (or leftover)
1 1/2 tsp Old Bay Seasoning (divided)
1 Avocado (remove and discard pit and dice)
2-3 Roma/Vine Tomatoes (seeded and diced)
1 Lime (juiced)
1 tsp Dried Cilantro
Salt and pepper to taste
1 Shallot or 1/4 Small Red Onion (optional and diced)
No-Stick Cooking Spray

To Cook Salmon

Preheat oven at 425F.
Line a baking sheet with aluminum foil and coat with no-stick cooking spray.
Transfer salmon into the baking sheet skin side down ; sprinkle 1 tsp Old Bay Seasoning on top and cook for 8-12 minutes until flaky.
Let salmon cool at room temperature completely before breaking it into bite size and chill in the fridge.
To Assemble the Salad

On the day of serving, dice tomatoes and avocado as directed.
Cut Avocado into halves and spoon out the seed.
Use spoon to scope out avocado flesh and save the skin as serving bowls.
In a separate bowl, combine tomatoes, avocado, salmon, 1/2 tsp Old Bay Seasoning, lime juice, dried Cilantro, salt and pepper to taste.
Transfer salmon avocado salad into avocado bowl and serve immediately.
Quick and Easy No-Cook Steps with Photos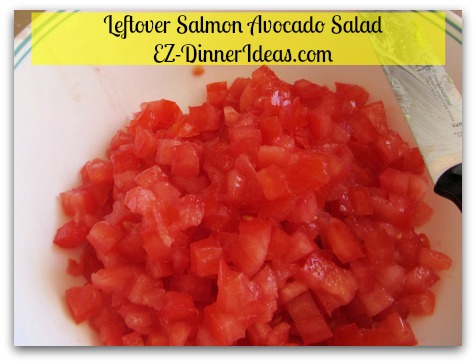 Seed and dice tomatoes.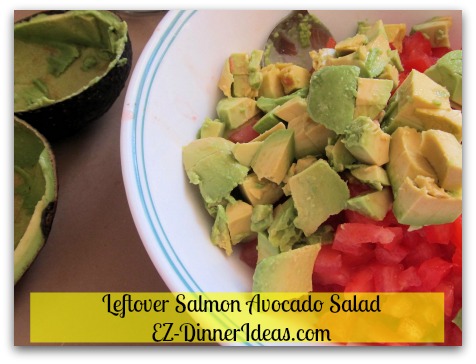 Add diced avocado and save skin for using as serving bowls.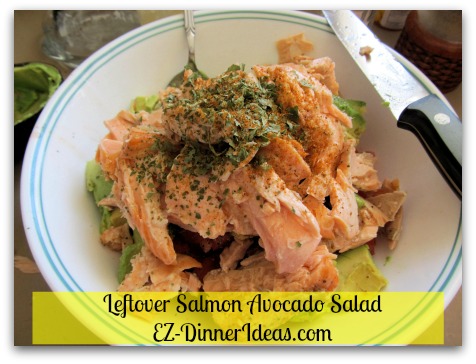 Add salmon and seasoning.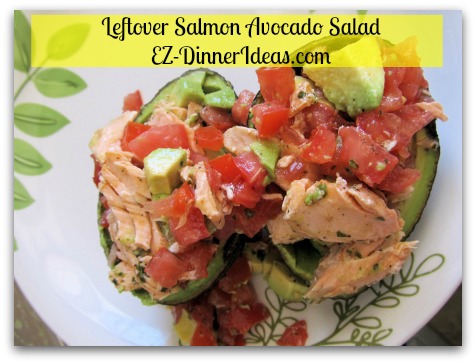 Transfer salad into avocado bowls (aka skin) and ENJOY!
---

Recipe Ingredients and Tools

---

You May Also Be Interested In:

---
Home > Seafood Recipes > Quick and Easy No-Cook | Salmon Avocado Salad