Iceberg Salad Recipe with Strawberries and Mint Jelly Dressing
Affordable, Beautiful and Refreshing!!!

Iceberg salad recipe with strawberries and mint jelly dressing uses fresh and affordable ingredients.  This is a very delightful summer salad to cool down the heat.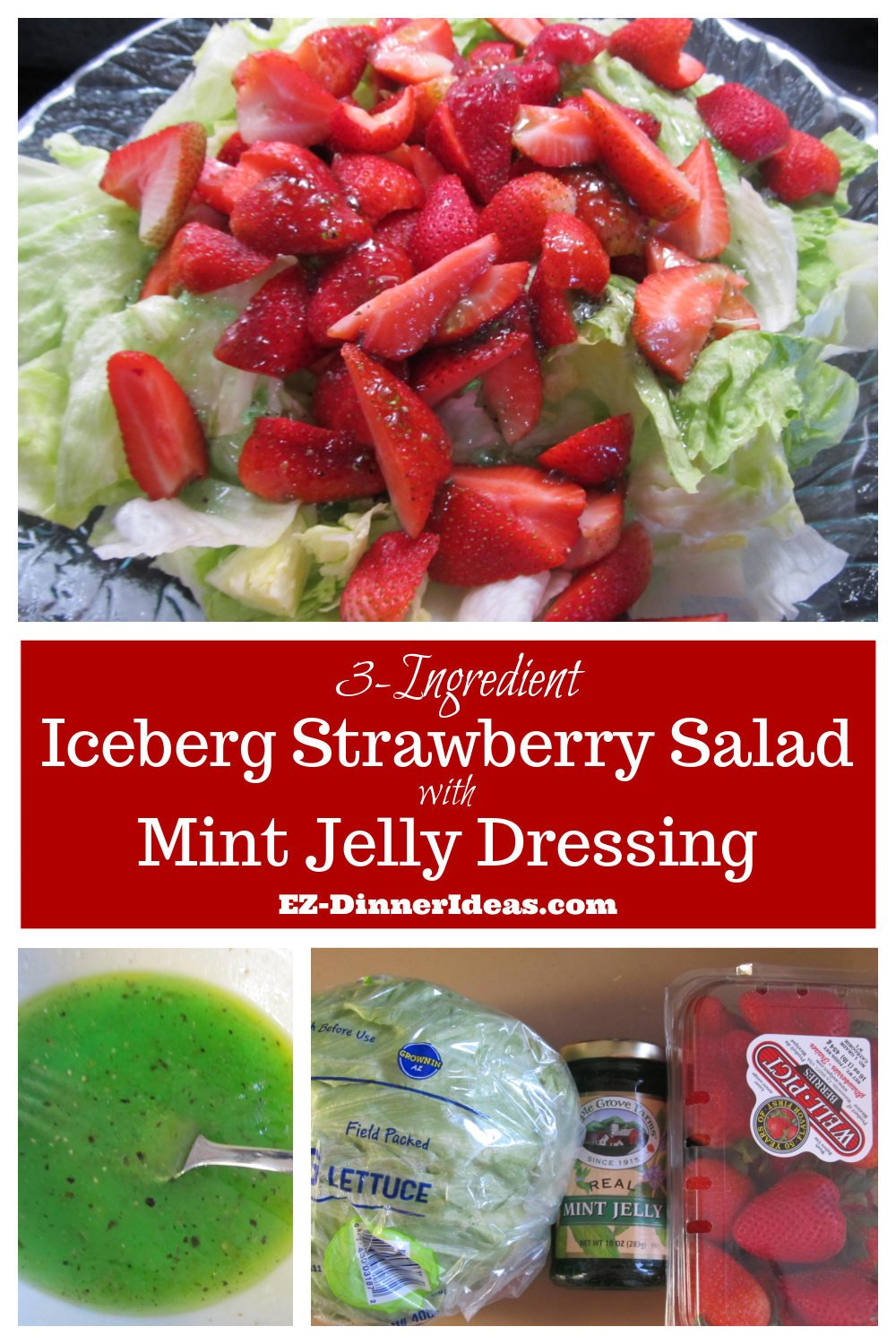 Total Time: 20 Minutes
Prep Time: 20 Minutes  
Active Cook Time: ZERO  
Serving: 3-4


This is one of the recipes that I wrote more than 10 years ago, back in 2007.  Looking back, I really came a long way.  People used to tell me that the recipe ideas were crazy.  After winning a cooking contest, I realized that everybody has his/her opinions, including people in my inner circle.  But I have been having a lot of fun to create something new.  When I share with people that I don't know, many of them appreciate it and find these recipes helpful.  So, all I need to do is to keep on going and ignore all the noises around me.

In short, don't let someone talk you out of your dreams.  Always listen to your heart. 


CHEF NOTES
I use one head of iceberg lettuce because it has more lettuce which will perfectly match with the quantity of strawberries added into this salad.

If you purchase pre-washed lettuce, it surely will cut down the prep time.  However, you need to consider to have 1.5 - 2 pounds to get the equalvalent quantity.

My original recipe used a small lemon for the acid part of the dressing.  But you can replace it with white vinegar or lemon concentrate.

Iceberg Salad Recipe and Instructions

Ingredients
1 Head Iceberg Lettuce (cored and cut into bite size; rinsed)
1 LB Strawberries (trims off the top and cut into bite size)
For Dressing
1/4 Cup Mint Jelly
2 tbsp White Vinegar
2 tbsp Extra Virgin Olive Oil
1 pinch Salt
1 pinch Fresh Ground Black Pepper

Rinse and dry cut lettuce.
Transfer it to salad bowl.
Add sliced strawberries on top.
In a separate mixing bowl, whisk all ingredients of dressing together and drizzle on top of salad.
Enjoy immediately.
---

Recipe Ingredients and Tools

---

Iceberg Salad Recipe Steps with Photos
---

You May Also Be Interested In:

---
Home > Vegetarian Recipes > Iceberg Salad Recipe with Strawberry and Mint Jelly Dressing