Pork Chop Dinner Ideas

Strawberry Pork Chops
Romantic Dinner For Two Ideas
Or Make It Double For
Double Date Dinner
Pork chop dinner ideas may go to the top of your favorite list after these strawberry pork chops.  They are delicious and melt in your mouth.  You feel like enjoying an expensive dinner in a 5-star restaurant.  Too exaggerated?  Wait till you try them and let me know your thoughts.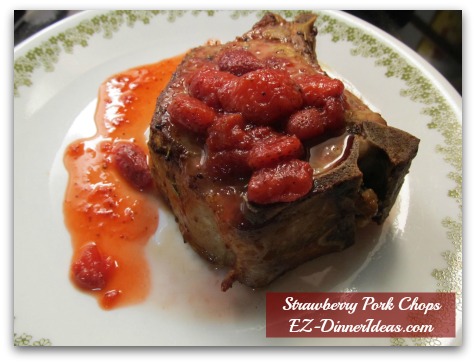 Total Time: 65-85 Minutes
Prep Time: 5 Minutes  
Active Cook Time: 20-30 Minutes  
Inactive Cook Time: 60-80 Minutes  
Serving: 2


I was reading my favorite Chinese newspaper in Hong Kong online around 2005.  There has been a section always capturing my attention because they explore new dining places in Hong Kong.  This particular article was introducing strawberry pork chops.  
The article never shared the recipe, but reviewing how delicious that dish was.  Just looking at its name, a recipe came into my mind of how to make it without flying all the way back home.

I haven't cooked it for a long time.  I cooked it lately and thought that it would be a perfect recipe for a romantic dinner or dinner for Valentine's Day.  Feel free to double the quantity to cook for an entire family or double date.
Don't forget to scroll down to the bottom of this page to the section of "Served This With" to get side dish and dessert recipes for a few more pork chop dinner ideas.
---
CHEF NOTES

If you are going to double this recipe, make sure there is at least 1" space around each piece of meat when you line them up on a roasting pan or baking dish.  This will allow the heat to go through.  Cooking time will be the same.

---

Pork Chop Dinner Ideas Recipe and Directions
Ingredients
2 1-inch thick Pork Chops (Bone-in pork chops are definitely better.)
1/2 lb Frozen Sliced Strawberries with Juice and Sugar (thawed)
2 tbsp Strawberry Preserve
1 tsp Salt
1/4 tsp Black Pepper
Marinade
1 tsp Salt
1/2 tsp Black Pepper
1/2 tsp Dried Rosemary
2 tbsp Extra Virgin Olive Oil
No-stick Cooking Spray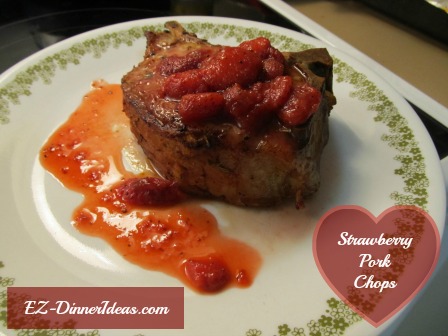 Directions
Mix marinade ingredients in a big mixing bowl.
Toss in pork chops and coat.
Cover with plastic wrap and leave meat in room temperature for at least an hour (If you plan on having this dinner later during the week, chill it in the fridge.  But make sure to allow the meat to stay in room temperature at least an hour before going into the oven.)
Preheat oven at 425F.
Line roasting pan with aluminum foil and coat with cooking spray.
Transfer meat to roasting pan (make sure there is plenty of space around each piece of meat)
Cook 40 minutes, turn over and cook another 20-30 minutes until thoroughly cooked or meat thermometer inserted horizontally into the middle of the meat with instant temperature of 170F.

Let meat rest in room temperature for 5 minutes and topped it with strawberry sauce and serve immediately.
While the meat is in the oven, during the last 20-30 minutes, transfer strawberries with juice into a medium sauce pan and bring it to simmer.
Add strawberry preserve to thicken up the sauce slightly (the sauce is relatively thin).
Salt and pepper to taste and turn down the heat to keep it warm until meat is done and add sauce on top.
---
Serve This With: 

---

Recipe Ingredients and Tools

---

You May Also Be Interested In:

---
Home > Pork Recipes > Pork Chop Dinner Ideas | Strawberry Pork Chops