Pepperoni Pizza?
No....
Pepperoni Pork Chops
This pepperoni pork chops recipe is one of the most flavorful, easy and quick dinner ideas that I can guarantee you that you will cook it over and over again.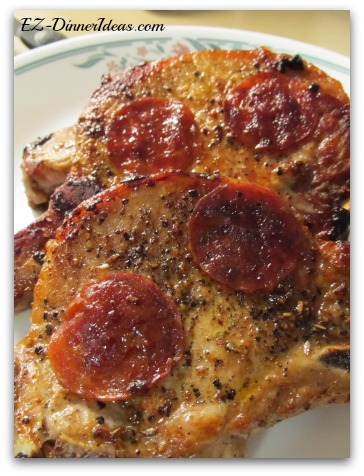 Prep Time: 5 Minutes   Cook Time: 10-20 Minutes   Serving: 4
When it comes to inspiration of new recipes, I always love to go to my fridge and see what I can find in there.  Mostly the things I have in the fridge all the time.  Then, I start to think about if I can combine this to that or these to those. 

This is one of the recipes that how I came up this idea.  And it became my husband all-time favorite dish.  You will be amazed how good it tastes. 

I personally love bone-in pork chops.  But my hubby and my son love the thinly sliced ones.  So, I included the instructions of cooking both.  So that you have the options to choose which fit you the best.  Hope you will enjoy this easy pepperoni pork chops recipe as much as my family does.
Pepperoni Pork Chops Recipe
Ingredients
8 Slices Thinly Sliced Pork Chops
16 Slices Thinly Sliced Pepperoni (2 slices for each pork chop. My family prefers Bridgford brand)
(OR 4 bone-in pork chops with 2 slices of pepperoni on each side.  Totally, 4 slices of pepperoni on each bone-in pork chop)
¼ - ½ teaspoon Dried Oregano (divided)
Seasonings
1 teaspoon Salt (divided)
½ teaspoon Freshly Ground Black Pepper (divided)
2 tablespoon Extra Virgin Olive Oil (divided)
Sprinkle half of the salt, pepper and oregano on one side of all the pork chops
Press down 2 slices of pepperoni on top of each pork chop
(For bone-in pork chops, you need to season both sides and press down 2 slices of pepperoni on the meat on both sides before cooking)
Preheat 2 big skillets at medium to medium high heat and add a tablespoon of oil in each skillet
Seasoned side down onto the skillet
Salt and pepper the side facing up
(I highly recommend you to cover the skillets with the splatter screen, if you have any.  It will keep the heat and easy for clean up later.  I use the OXO brand with folding handle.)
Cook about 3-5 minutes each side or until thoroughly cooked and brown and serve
(If you cook the bone-in pork chops, it will take about 6-8 minutes for each side)
TIPS
Sometimes, the bone-in pork chops are thicker than usual.  To make sure the meat is cooked through, it should be fork tender.  Or, if the juice comes out clear when you poke it with a fork, it is ready to serve.

---
Serve This With: 

---

You May Also Be Interested In:

---
Home > Pork Recipes > Pepperoni Pork Chops