Best Pepperoni Pizza Recipe
Best Pepperoni Pizza Recipe
Why Would You Sacrifice Your Taste Bud If You Can Make the Best Pizza in Town?
Perry's best pepperoni pizza recipe?!  Well, I must say that it is most likely the best pepperoni pizza that anybody could have ever come across.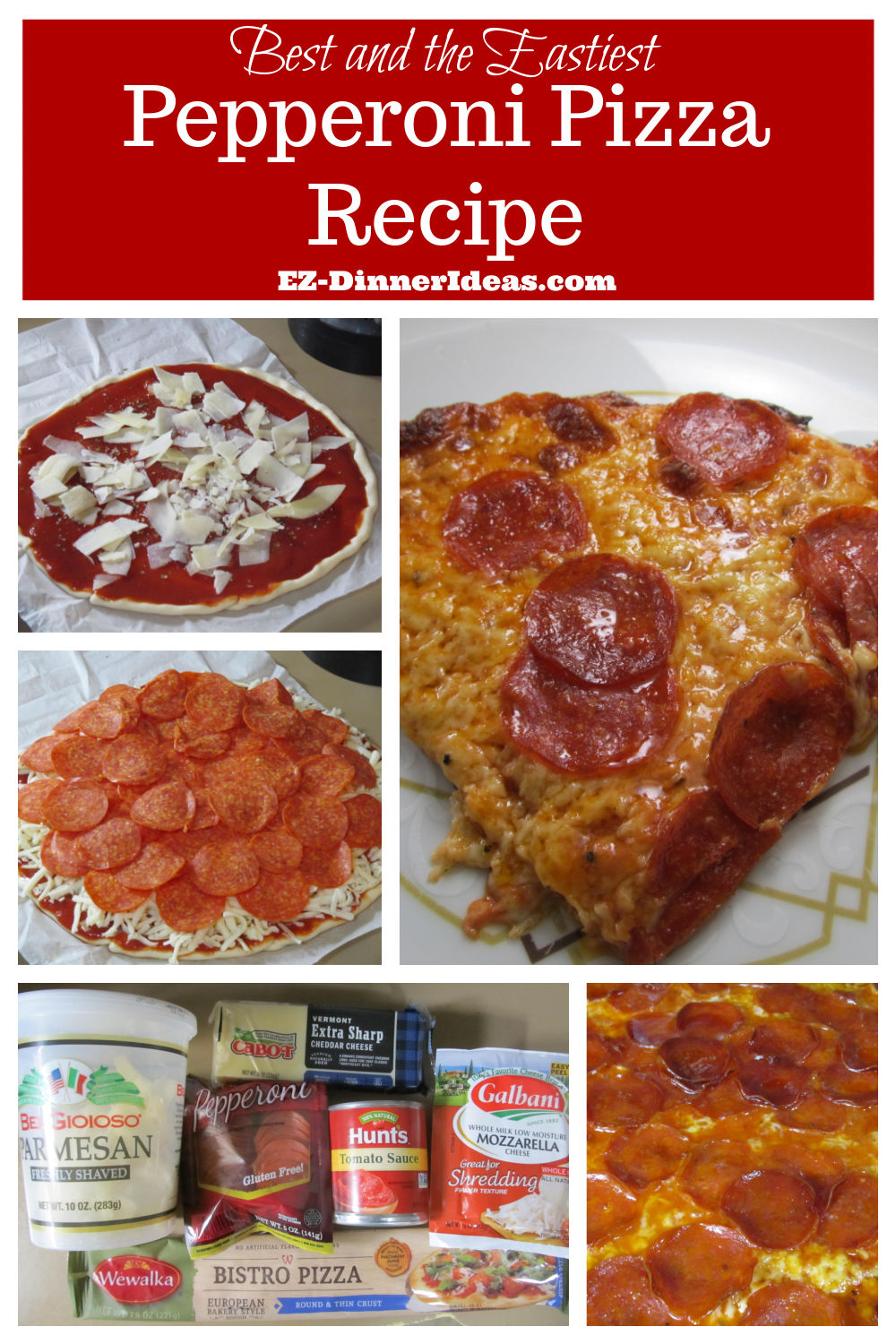 Total Time: 28-30 Minutes
Prep Time: 8-10 Minutes  
Inactive Cook Time: 20 Minutes  
Serving: 2-4


My husband has been making his own version of pepperoni pizza since 2010, or maybe before that.  But why wait till now to share this recipe?

Well, I had never thought that it is such a big deal until a conversation with a relative who moved away from upstate NY to Pennsylvania.  What we heard was that there is no restaurant serves good pizza, not to mention great.  

And that family member is very open-minded when it comes to food.  She and her husband have the balance of home cook meals and dining out.  Then, it was a spark of the idea that I really need to share the easiest and the best pepperoni pizza recipe.

Well, my husband, Perry, started out to make his own pizza based on that similar story.  He always criticizes the pizzas he came across.  He always told me that something in this or that pizza is missing.  After so many times of hearing the complaints, I finally told him one day, "Make your own pizza."  Then, that's how it started.

Throughout the years, this recipe evolved many times.  It is always around the brand of ingredients that we use.  

So, the chef notes section is much longer than usual this time.  It is not because they are my paid sponsors (not yet.  Hopefully in the near future). Each brand of ingredient plays a very important role in making this best pepperoni pizza recipe unbeatable, awesome and more standout.

CHEF NOTES
First of all, you may have your favorite brand of ingredients to make this pizza.  So, do feel free to skip this section.

The brand of pizza crust we use comes with a piece of parchment paper.  So, it is very easy to transfer a pizza loaded with topping onto the hot pizza pan.  If you are using a different brand, you may need to set a piece of parchment paper on the counter before assembling  everything together.

When my hubby first made his own pizza, we bought store-bought frozen dough.  Once it is thawed, you will need to roll it out.  If you are able to roll it out like the pro, which Perry was able to do eventually, that is an option for you.

A setback is that it takes a lot of work and time to roll out the dough.  Same applies to buying dough out of the tube.

Low Moisture Mozzarella Cheese
This specific blend of mozzarella cheese has less moisture.  If you look into the same brand, there is a different kind which we used in the past.  But as soon as this blend was available, we switched it over and found that it works out much better.
We highly recommend to stay away from any pre-grated Parmesan cheese which is available in the pasta aisle with longer shelf life.  The flavor will never work out with the freshly grated ones.  So, stick with the fresh one; either shredded or shaved would work.
Extra Sharp Cheddar Cheese
Perry started to add sharp cheddar cheese relatively recently.  As he claimed, it gives a bite to the pizza.  If this is not for you, feel free to skip it.
Pepperidge brand of pepperoni is always our go-to one.  However, we did find a local smokehouse brand is even better.  The only challenge is that the store is almost 90 minutes of drive away.  If we ran out of the smokehouse brand, we would go back to our go-to one.  Throughout the years of evolution of this recipe, we stumbled in several different local brands of pepperoni.  Some were really good.  But they were either lack of supply most of the time or the quality is unstable.  Our recommendation is that being open-minded to try out different brands and blends.  At the same time, find a brand of pepperoni that you can always go back to.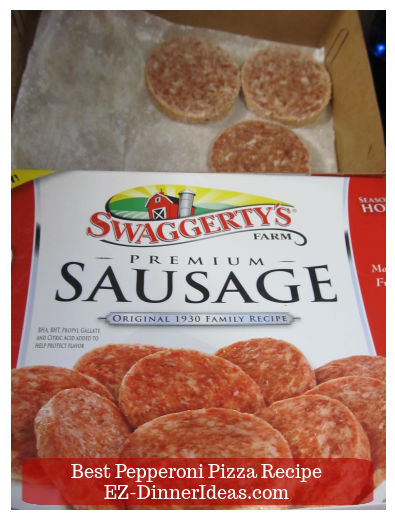 Raw Frozen Sausage Patties
Sausage is always an optional ingredient in this pizza.  We tried many different kinds, brands and shapes of sausages in the past.  Frozen sausage patties so far work the best.  Pre-cooked sausage can only be added after the pizza is cooked.  Or, the sausage will be burned.  In other words, you hardly have any chance to blend in the sausage flavor during the cooking process.

Raw sausage link is a possibility which depends on your time availability.  Cutting up a sausage link can get messy because everything will be out of the casing in no time.  So, to prevent this mess, you must cook the link through, not just halfway through.  As a result, the flavor of the sausage is left behind in the pan instead of in your pizza.  Therefore, raw sausage patties work the best.  If they are frozen, like the kind we always use, take them out and sit in the kitchen counter while you are assembling the pizza.  When it is time to add sausage, the patties will be soft enough, but NOT thawed, for you to break into pieces.
Due to his promise to his Creator, Perry has stopped eating bacon for many years.  But our son loves bacon on his pizza.  So, what we usually do would be adding bacon bits on the hot pizza immediately which will help them to stick.  Therefore, bacon is another optional ingredient for any meat or bacon lovers.
Dry Oregano in Bunches
Dry oregano is a common herb you can find in any grocery store.  We came across this wild mountain oregano.  Man, oh man, it is out of this world.  And for the price we pay for a regular size jar of herbs, you will be surprised how much you can get out of this one from the bunches.  If you happen to see this, go for it.  It is worthy of your every penny.
If you only like cheese pizza, you can follow this recipe and skip all the meats.  That's how Perry sometimes does when it hits his mood.
---

Recipe Ingredients and Tools

---
Best Pepperoni Pizza Recipe and Instructions

Ingredients
Please note that these are not our sponsors.  We recommended these ingredients based on our search and many trials.
Store-bought ready to bake thin crust (I use Wewalka brand Bistro Pizza Round and Thin Crust)
1 can (8oz / 227g) Tomato Sauce (I recommend Hunts brand)
1 (4oz / 113g) Extra Sharp Cheddar Cheese (shredded; I highly recommend Cabot brand Vermont Extra Sharp Cheddar Cheese blend)
1 (8oz / 227g) Mozzarella Cheese (shredded; I use Galbani Whole Milk Low Moisture blend)
1/4-1/3 cup (2- 2.6oz / 59-79g) Freshly Shredded Parmesan Cheese (Bel Gioioso brand is great)
1/2 bag Pre-sliced Pepperoni
1 (4oz / 113g) Raw Frozen Sausage (optional; cut into big bite size.  Swaggerty's Hot and Spicy blend)
Bacon bits (optional)
Dried Oregano (Krinos Organic Mountain Oregano is the best.)
Salt and pepper to taste

Preheat oven and your pizza pan at 425F (218C).
Shred cheese first if you have not done yet.
Roll out pizza dough on the counter and roll up the edges a little bit to prevent the sauce and topping from spilling out of the pizza crust during the cooking process.
Add sauce and spread it out evenly on the pizza dough, sprinkle dry oregano (about 1/3 tsp max.), salt and pepper.
Add cheeses in this order Parmesan, cheddar and mozzarella the last.
Add pepperoni and/or sausage the last.
Use the parchment paper as leverage and carefully transfer pizza on the preheated pizza pan.
Bake for 15-20 minutes, spin the pan 180 degree halfway through cooking time until pizza is cooked to desired doneness.  Rest for 2-3 minutes before slicing and enjoy immediately.
---
Best Pepperoni Pizza Recipe Steps with Photos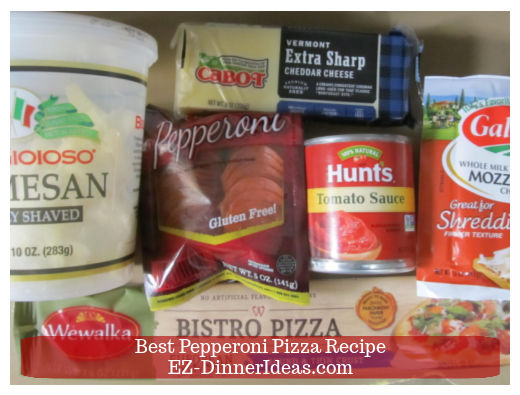 All recommended store-bought ingredients to make the best pizza in town.
Shredded sharp cheddar cheese
Shredded low-moisture Mozzarella cheese
Fold up the edge of the pizza dough slightly to prevent sauce and cheese spilling over.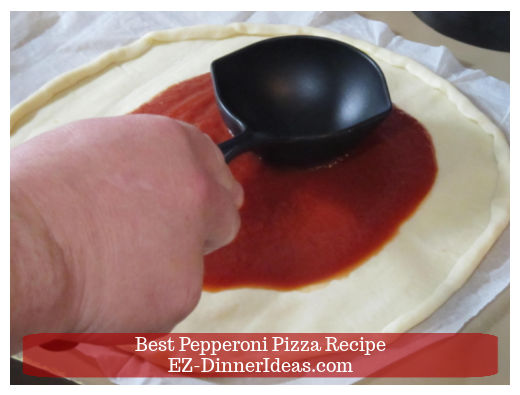 Pour tomato sauce in the middle of the pizza dough.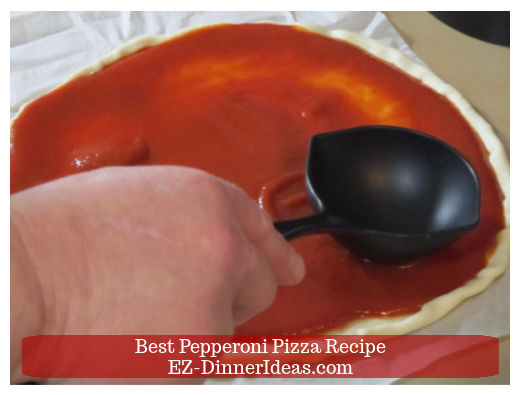 Use a ladle gently to spread the sauce and cover the entire pizza dough.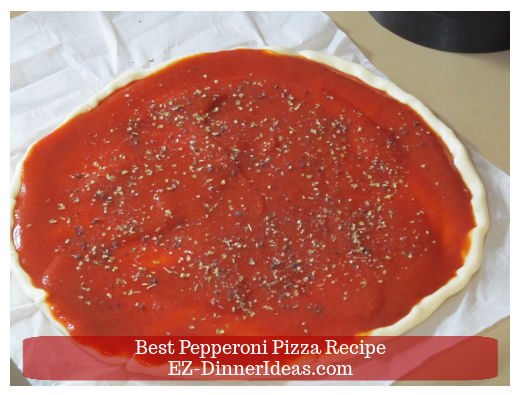 Sprinkle dry oregano, salt and pepper on top of sauce.
Add shaved/grated Parmesan cheese on top of pizza sauce.
Add sharp cheddar cheese evenly on top of pizza sauce.
Mozzarella cheese is added. If you purely want to have cheese pizza, this is ready to go into the oven.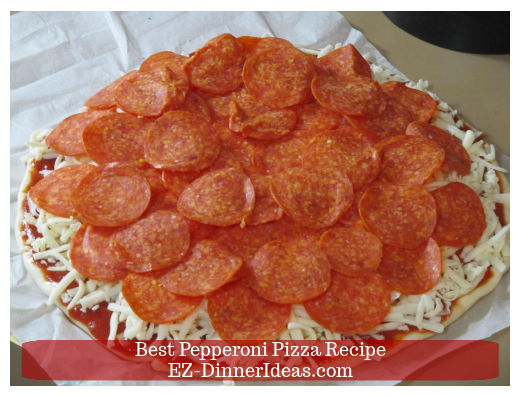 Nice thing about DIY is that you can LOAD it up with pepperoni or any kind of your favorite toppings.
If you want pepperoni and sausage pizza, add raw sausage pieces on top of pepperoni before popping the pizza into the oven.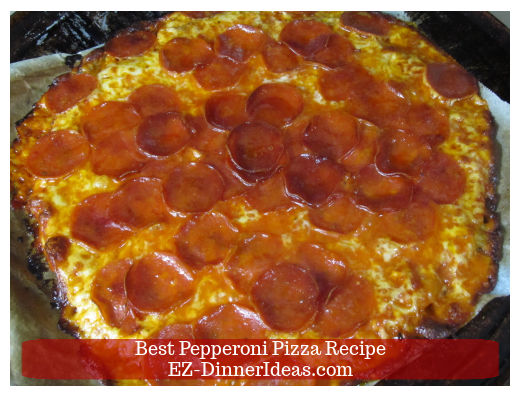 Look so yummy already!!!!
Need to sit for 2-3 minutes before cutting this baby up.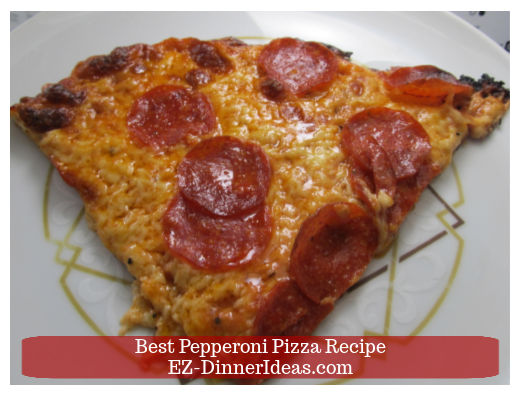 ENJOY!
---
Serve This With: 

---

You May Also Be Interested In:

---
Home > Dinner Party Ideas > Best Pepperoni Pizza Recipe